This is what 100 squats a day for one month will do to your body
Thicker and stronger lower-body muscles, more leg power and a better butt—would you do 100 squats a day for one month?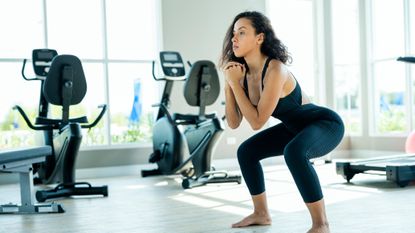 (Image credit: Getty Images)
Squats are one of the best exercises you can do for improving the lower body. You don't need any special equipment to get started: just comfortable clothes and a bit of floor space.
Sure, you can add some extra weight by holding one of the best kettlebells or best adjustable dumbbells, but at its core, after learning how to do a squat you can make it harder, like push-ups, by doing lots of reps in quick succession. As it's an exercise you can do anytime, anywhere, from first thing in the morning to last thing at night, it's no surprise that some people have started to take on the challenge of doing 100 squats a day for a month.
Why take on a challenge like this? For one thing, because it's fun. For another, it's because setting an achievable goal will make you motivated to work harder. One recent study (opens in new tab) examined young adults undertaking a 30-day push-up challenge, and found online fitness challenges like this one "showed a positive effect on increasing motivation".
Doing 100 squats a day for a month doesn't need any special equipment. Squats are a very basic exercise anyone can learn to do properly, and it's a low-impact exercise, which means it has an extremely low risk of injury.
It's also proven to be very effective: a study examining 94 adolescent boys performing 100 squats a day, every day, for 30 days found an increase in muscle thickness, lean body mass, strength and jumping power.
Whether weighted or unweighted, Harvard University (opens in new tab) found bodyweight squats help to increase the range of motion in the hips, knees, feet, and ankles, so regular squatting also improves your mobility in addition to boosting leg, glute and core strength. This increase in lower-body mobility and strength, combined with the low-impact nature of squats, makes the challenge ideal for older exercisers looking to stay strong and active as they age.
If 100 is too many reps for you, you could take it down to 75 or even 50 squats a day.
In the video below, courtesy of Buzzfeed Multiplayer, three different people took on the challenge of doing 100 squats a day, posting before and after photos of themselves. One woman found she gained an inch of muscle on her glutes, while another man found he could squat heavier weights at the end of the challenge. All three participants reported extra tone and thicker quads.
Check out the full video below. Would you take on the challenge? If not, there are other exercises and challenges you can take on, such as our 30-day HIIT challenge.
Matt Evans is an experienced health and fitness journalist and News Editor at Fit&Well, covering all things exercise and nutrition on the Fit&Well website. Matt originally discovered exercise through martial arts: he holds a black belt in Karate and remains a keen runner, gym-goer, and infrequent yogi. His top fitness tip? Stretch.