Three core exercises that every runner should try
Got a free day in your running schedule? Try working on your core with these three simple moves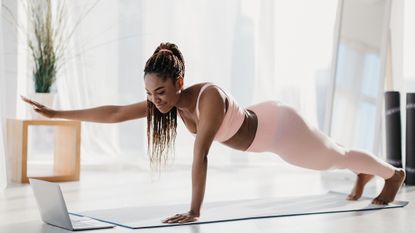 (Image credit: Getty)
It's all too easy to neglect strength training when you're a runner. If hitting a steady pace on the streets is your first real love, then you might loathe the idea of lifting weights in a gym. But according to Idalis Velazquez, an NASM-certified trainer and running coach, strength training could help you avoid injury and make you faster, too.
She's pulled together a simple, three-move routine that will get your core fired up. Working on this muscle group will improve your trunk stability and could decrease your risk of injury, so it's worth tagging this short routine onto the beginning of a lengthy run session.
You only need some dumbbells and an exercise mat to get started. Velazquez suggests using fairly light weights for most of the moves, so you could use bottled water or cans to add some light resistance. If you're in need of something a little tougher, scroll through our round-up of the best adjustable dumbbells, which allow you to play around with weight settings.
Watch the video below to make sure you've mastered the correct form for each exercise, and read through the captions to check how many reps you should be doing. Velazquez recommends aiming for two to four rounds overall, depending on how much of a challenge you fancy.
Three move core workout from Idalis Velazquez
This routine is fairly short, so it's easy to do before or after a run. You could also pair it with one of our leg workouts or arm workouts, if you wanted to build strength across a broader range of muscles.
Strength training can have all manner of benefits for runners. According to research published in the Journal of Strength and Conditioning, it can actually improve your running economy (RE). RE refers to the way in which your body uses oxygen and energy while you're running—get this in order and you could see your finish times improve and your runs generally feel a bit easier.
On top of this, strength training can help you build more powerful muscles for your runs, so you can go at faster speeds for longer periods, and it can help you avoid injuries too. So the next time you're having a no-run day, try throwing some weights around and building up your muscles.
Ruth Gaukrodger is the fitness editor for Fit&Well and its sister site Coach, responsible for editing articles on everything from fitness trackers to walking shoes. A lot of her time is spent setting up testing protocols for our in-depth buying guides and making sure everything is reviewed to a set standard, so you can be confident we only recommend the best products on the market.
When she's not wrestling with equipment in our dedicated testing centre, you can find her pursuing running PBs around the streets of London or improving her yoga skills from the comfort of her living room. She's a keen believer in working out for enjoyment first and is always open to hearing about new, fun ways to exercise.