Trouble sleeping? Olympic athlete Greg Rutherford reveals his top tips for improving sleep
Former Olympic long-jump champion recommends adults replicate a child's bedtime in order to sleep better at night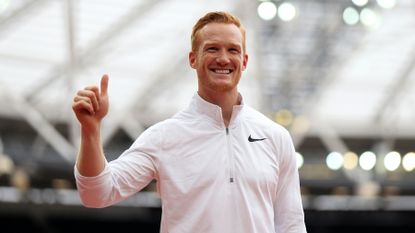 (Image credit: Getty)
Aside from training and diet, sleep is perhaps the third most important part of an athlete's training schedule and Olympic athlete, Greg Rutherford, makes no exceptions for this. He recently said that sleep is his 'superpower' and shared how you can improve your own sleep.
Rutherford is all for creating a nice and relaxing sleep environment. Perhaps some of you already taking action on this and have yourself one of the best mattress toppers from our guide. Maybe you light a candle, or plug in one of the best diffusers for essential oils, to create a more zen sleep setting.
But you may still have bad habits getting in the way of you experiencing a fuller night's sleep. And according to research, this isn't uncommon. Bed specialist Dreams, the official sleep partner to Team GB, revealed in a study that just 27% of UK adults have a bedtime routine. In addition to these numbers, they found that the average person only gets around five hours of quality sleep a night.
Rutherford claims that having a bedtime routine is essential for him if he wants to get a good night's sleep. If you don't know exactly what a healthy bedtime routine could involve, the Olympian compares it to mirroring a child's bedtime routine.
Watch Greg Rutherford's top sleep tips below:
"As an athlete, sleep is up there with being one of the most important elements in influencing our performance, whether in training or just before a competition. But as we can see from the research, many adults are struggling with a good routine and they aren't quite nailing a good night's sleep – which isn't good.
"Sleep is our superpower! Having a bedtime routine is an essential part of my evening - I call it my 'reverse warm up' and it follows a similar structure to my kids' routines," stated Rutherford.
Moreover, if you want to form a routine to help you wind down and feel sleepy, blue light is a big no-no. The study also found that adults have an average of 23 minutes staring at their screens before putting their head to pillow. If you are guilty of late-night scrolling or just struggle with sleep in general, read Rutherford's top tips for improving sleep below. If you struggle to wake up, check out our list of the best sunrise alarm clocks to ease you into your day.
45 minutes no screen time: This stops you from getting distracted by notifications and will help prevent your brain from 'whirring' according to Rutherford.
Have a warm bath: This can encourage your body to go into a relaxation mode, and helps soothe your muscles - especially after exercise.
Listen to relaxing music: This is good if you feel like you aren't going to switch off easily. The Olympian opts for relaxing tunes to help him drift off.
Read a book: This is another trick for unwinding and keeping a book or two by your bed acts as a friendly reminder.
Use a lavender pillow spray: Rutherford said that him and his children use this often. It's also good to take when you are sleeping elsewhere so that things feel more like home.
Organise your bedroom: Getting things sorted a couple of hours before bed saves too much activity before bed that could risk making you more awake.
Get the Fit&Well Newsletter
Start your week with achievable workout ideas, health tips and wellbeing advice in your inbox.
Jessica is an experienced fitness writer with a passion for running. Her career in journalism began in local news and she holds a Masters in journalism. Jessica has previously written for Runners World, penning news and features on fitness, sportswear and nutrition.
When she isn't writing up news and features for Fit&Well covering topics ranging from muscle building, to yoga, to female health and so on, she will be outdoors somewhere, testing out the latest fitness equipment and accessories to help others find top products for their own fitness journeys. Her testing pairs up nicely with her love for running. She recently branched out to running 10Ks and is trying to improve her time before moving on to larger races. Jessica also enjoys building on her strength in the gym and is a believer in health and wellness beginning in the kitchen. She shares all of this on her running Instagram account @jessrunshere which she uses for accountability and for connecting with like-minded fitness lovers.