Walking three hours a week helps prevent early death (and lower stroke risk)
Walking is a habit that everyone should adopt, reducing risks of strokes – but it's extra beneficial for stroke survivors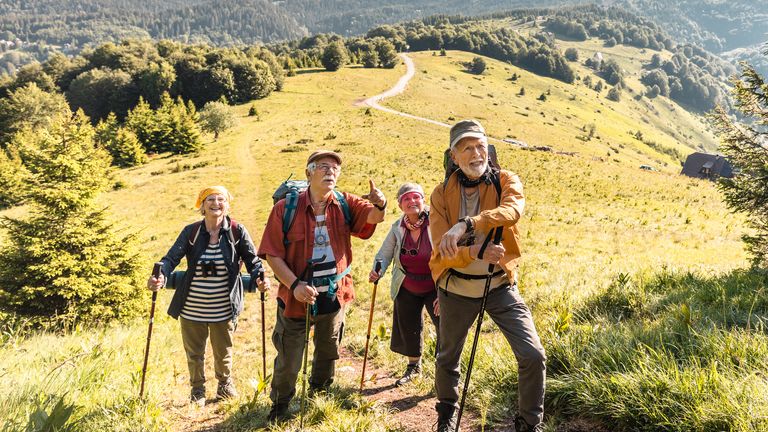 (Image credit: Getty Images)
By Jessica Downey published
Moving more is everything when it comes to losing weight and improving health, and walking is one of the easiest ways to incorporate movement into your day. Whether you opt for a stroll at lunch, you walk to work rather than take the car or you spend the weekend hiking in the hills, walking's great for burning calories, but it's also great for our heart health, improving circulation and reducing the risk of early death.
None of this is particularly new information – you can check out our guide to walking to lose weight here. What you may not know, however, is just how transformative regular walks can be for stroke survivors.
In a recent study published in the online issue of Neurology, scientists found 'those who walk at least 3-4 hours a week after experiencing a stroke may have a 54% lower risk of death from any cause.' If you have experienced a stroke, moving more throughout the week – whether it's an organised walk or several short commutes – could be the first step to a healthy and positive recovery
After a stroke, it is important that the brain has stimulation to relearn any motions it may have lost. As walking has been proven to rebuild stroke survivors balance alongside strength and stamina, it's definitely something you should think about adding to your weekly activity. We can help you find the best shoes for walking for when you are back on your feet again.
It is common for stroke survivors to experience weakness in the body, numbness, and struggles associated with balance and coordination. Weight gain can inevitably occur as your body will be capable of less physical exertion
Rebekah Davison is a PhD researcher at the University of Ulster who is researching the benefits of physical activity for stroke survivors. We asked her for expert advice on how walking can have such positive results for stroke survivors.
"As well as the physical benefits of walking there are also psychological and cognitive benefits," says Rebekah. "Cognitive impairment is common after stroke with up to 83% of survivors living with cognitive difficulty which may include issues with memory and attention. Walking is a promising treatment for cognitive impairment, as exercise pumps oxygen to the brain which stimulates the growth of new neural connections."
Exercise in general is great for our physical health, improving our fitness and lowering our blood pressure. While it can improve mobility and balance for stroke survivors, it can also shrink your risk of suffering from a stroke in the future, regardless of whether you've had one or not.
If you're already overweight, with high blood pressure, incorporating walking into your day is a great way to burn fat and improve circulation, reducing your risk of all-cause mortality. You can keep an eye on your step count, calories burned and even your location with one of our best fitness watch choices – ideal if you're keen to progress to hiking.
Jessica is Staff Writer at Fit&Well. Her career in journalism began in local news and she holds a Masters in journalism. Jessica has previously written for Runners World, penning news and features on fitness, sportswear and nutrition. She is a keen runner and is currently sweating her way through a 10k training plan. Jessica also enjoys building on her strength in the gym and is a believer in health and wellness beginning in the kitchen - which she loves sharing with others on her healthy living-inspired Instagram account, @jessrunshere. Despite her love for nutritious cooking, she stands by the saying 'everything in moderation' and is eagerly conquering the London food and drink scene!