Best fitness watch: Top GPS & smartwatches from Fitbit, Samsung & more
The best fitness watches do so much more than just tell the time - track your activity and more with our top picks...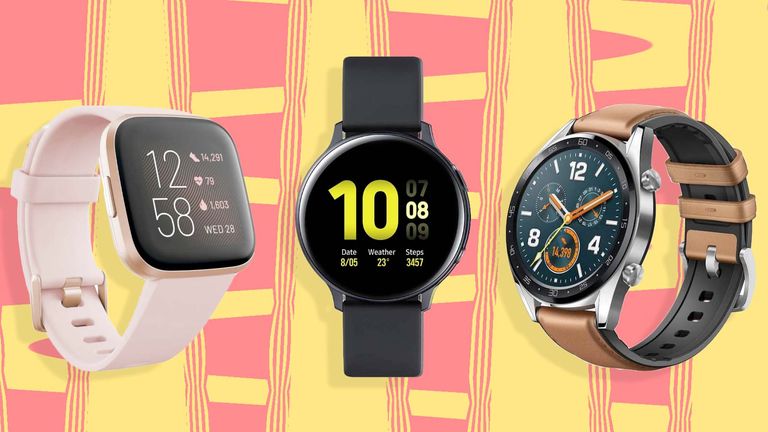 (Image credit: Fitbit / Garmin / Huawei )
The best fitness watches cater to all manor of needs, because no-one wants to wear multiple watches (one for the time, one for exercise tracking, and an Apple Watch for when you watch to show off).
However, this category of tracker is much more diverse than our relatively simple list of the best fitness tracker bands.
The borders between them are blurred, but the five fitness watches we recommend below all meet a few important criteria. For our money, the Huawei GT 2 is the choice that ticks the most boxes for most people, with great tracker technology and excellent battery life - even if at first glance it's not what you'd expect from a fitness watch.
You'll find this pick in our top five recommendations further down this page, or read on for a more detailed explanation of what to look for.
How to choose the best fitness watch
There are three main types to consider. The semi-smart fitness watch is the kind we recommend to most people.
These are made by Samsung, Huawei and Fitbit, and were initially made as a response to smartwatches that only last a day off a charge. They last up to two weeks, have bright and colourful screens, and both GPS and heart rate sensors for the full fitness watch experience.
You won't get as many apps or features as a full-fat smartwatch, but basics like notifications, weather reports and support for music cover what we want day-to-day.
If you want more smart features, Google Wear OS and Apple watches are the ticket. These aren't fitness watches per se, but are just as good as the dedicated kind when you put them to the test.
Some people find these full-on smartwatches a bit fiddly, as they have more complicated interfaces, needed to fit in their many features. And, the main drawback, they only last a day to a day and a half before needing a rest on the charger.
If, on the other hand, you want to get as far from a smartwatch as possible but still own one of the best fitness watches around, you want what is known as a hybrid watch. These look much more like an analogue watch, but have extra tech inside to count your steps and, in some cases, record your heart rate.
Garmin, Skagen and Withings are the brands to investigate if you like the idea of a fitness watch that looks just like an ordinary analogue one.
Only a single hybrid watch has made it into our best fitness watch list below, but largely because it captures more metrics than most. The Skagen Hagen/Connected and Garmin Vivomove series watches are lovely in their own right. Just want to track steps? Pick the one that suits your tastes best.
The issue with these hybrid watches is they have, at most, a very basic screen and no GPS. Those who run a lot likely want this location-tracking tech as it lets you see maps of your workouts, and tracks distance much better than a motion sensor.
Got an idea of what you want from the best fitness watch for you? Here are our top models to choose from...
1. Huawei GT 2 46mm
The best fitness watch for most people
Specifications
Dimensions: 45.9 x 45.9 x 10.7mm
Weight: 41g
Screen: 1.39in 454 x 454 AMOLED
GPS: Full GPS
Battery life: Up to 14 days
Water resistance: 5ATM
Reasons to buy
+
Great tracker tech and accuracy
+
Bold OLED screen
+
Excellent battery life
Reasons to avoid
-
Limited smarts
-
No third-party apps
You may mistake the Huawei Watch GT 2 (opens in new tab) for something else when you first see it. This is a low-fuss, easy to use watch with excellent fitness tracking, good water resistance and the ability to store around 500 songs it can fling over to your Bluetooth headphones. However, at first glance it seems the very picture of a fancy smartwatch. It isn't really one. The Huawei GT 2 sticks to the smart basics. It doesn't have an app store, so you're stuck with the weather, music and fitness apps, plus a few others, that come preinstalled.
In return you get superb battery life of up to two weeks, and likely still around a week even if you go for a few long GPS-tracked runs. Given you can still receive notifications and take calls with the thing, do you need anything more? Well, there's one missing feature you may want. The Huawei GT 2 does not have a Spotify app. Any music or podcasts have to be transferred over to the watch itself, although it can also act as a remote for tunes played on your phone.
2. Samsung Galaxy Watch Active 2 44mm
The best premium fitness watch
Specifications
Dimensions: 44 x 44 x 10.9mm
Weight: 42g
Screen: 1.4in 360 x 360 AMOLED
GPS: Full GPS
Battery life: Up to 2 days
Water resistance: 5ATM
Reasons to buy
+
A smartwatch and fitness watch combined
+
Charming curved glass facia
Reasons to avoid
-
2-day battery life
-
It's not cheap
Samsung likes to be number one. It makes many of the most popular TVs and phones, and the Galaxy Watch Active 2 (opens in new tab) is its latest attempt to challenge the Apple Watch. It's a lovely looking thing, topped with curved glass whose outer ring acts as a digital bezel you flick around to wind through the interface. There's a feature most other fitness watches lack too, an electrocardiogram. This monitors the electrical impulses from your heart rather than just tracking its bpm, to look out for unusual rhythm.
The Active 2 is a 'do everything' contender, with downloadable apps and stacks of faces. You pay for this in money, as the watch is more expensive than simpler models, and battery life. It lasts around two days between charges. A more demanding wrist buddy than some.
3. Withings Steel HR
This hybrid option is the best budget fitness watch
Specifications
Dimensions: 39.5 x 39.5 x 13mm
Weight: 49g
Screen: OLED
GPS: Connected GPS
Battery life: Up to 25 days
Water resistance: 5ATM
Reasons to buy
+
Very long battery life
+
Elegant appearance
Reasons to avoid
-
Best for casual exercise, not training
-
No GPS
The Withings Steel HR (opens in new tab) is elegant, with slim silver hands and a separate dial to show how close you are to reaching your daily step count. This is our hybrid watch pick, offering the soul of an analogue watch with added tracking skills.
The dark circle is home to a simple display that shows your heart rate. There's no particularly advanced fitness tracking here. The Withings Steel HR automatically recognises when you start working out and then files away the data in the phone app, but does not have any form of GPS for truly accurate distance measurements. Check out the pricier Steel HR Sport if you want Connected GPS. The pay-off is 25-day battery life. And if you're not bothered about seeing heart rate readings you should buy the standard Withings Steel instead. It just counts steps, but looks oh-so-stylish doing so. It's also much cheaper and the non-rechargeable battery lasts six months.
4. Garmin Vivoactive 4S
Hardcore Garmin activity features with an accessible face
Specifications
Dimensions: 40 x 40 x 12.7mm
Weight: 40g
Screen: 1.1in 218 x 218 MIP LCD
GPS: Full GPS
Battery life: Up to 7 days
Water resistance: 5ATM
Reasons to buy
+
App offers in-depth stats
+
Excellent outdoors screen visibility
Reasons to avoid
-
Not as pretty or glossy as some
-
Rudimentary smarts
Next up in our ranking of the best fitness watches is the Garmin Vivoactive 4S (opens in new tab). Garmin simmers down the style of its ultra-high-end runner's watches in the Vivoactive line. You end up with something that looks less imposing, and a little more stylish, that you operate with a touchscreen rather than side buttons. This watch still leans heavily on the fitness side, though, so is better for those who exercise a lot and like to see stats after a run or bike ride.
The Vivoactive 4 has a memory-in-pixel LCD screen, which looks exceptionally clear in daylight but has to use a front light at night, a bit like an old digital Casio watch. It's practical, but not glossy like an OLED display. You only get fairly basic smartwatch features, but one of the most important are here. You'll see notifications and a Spotify app lets you download playlists for listening phone-free while you run.
5. Fitbit Versa 2
The fitness watch most likely to make you smile
Specifications
Dimensions: 40 x 40 x 12mm
Weight: 40g
Screen: 1.39in 300 x 300 AMOLED
GPS: Connected GPS
Battery life: Up to 6 days
Water resistance: 5ATM
Reasons to buy
+
Cute design
+
Accessible interface and app
Reasons to avoid
-
You'll need your phone for full tracking
-
Slightly pricey for the tech inside
The Fitbit Versa 2 (opens in new tab) is hands-down the sweetest-looking fitness watch around. Its rounded contours, bright colours and friendly style make this perhaps the least nerdy tech-packed watch you'll find. Fitbit drops the tech obsession with looking sleek and serious in every area, and will almost certainly put a smile on your face.
The Versa 2 has most of the core fitness feature we look for too. There's a heart rate scanner, it's waterproof to 50M and has room for around 300 songs. You can leave your phone at home while you go for mind-cleansing walk. There's a 'but', a significant one. The Fitbit Versa 2 does not have full GPS, only Connected GPS, so if you want to map your runs you will still have to take your phone.
6. Moto 360 (3rd Gen)
The latest WearOS watch, ready for real fitness tracking
Specifications
Dimensions: 42.8 x 42.8 x 11.68mm
Weight: 52g
Screen: 1.2in 390 x 390 AMOLED
GPS: Full GPS
Battery life: Up to 1.5 days
Water resistance: 3ATM
Reasons to buy
+
Classy watch casing design
+
It's a true smartwatch
Reasons to avoid
-
Short battery life
-
WearOS feels fiddly
The Motorola Moto 360 (opens in new tab) is the latest WearOS watch at the time of writing. WearOS is Google's smartwatch operating system. You can't mistake one of the key pros here. The Moto 360 is a beautiful watch, particularly if you go one of its leather straps rather than the more practical silicone.
WearOS lets you use virtually endless watch faces, and install far more apps than any of the other picks here. It handles notification well and lets you reply to messages with Google-suggested snippets. Fitness features like GPS, a good heart rate scanner and swim-ready water resistance are present too. However, the Moto 360 is fiddlier to use because of all that scope, and does not feel as immediate. That said, you can customise one of the bezel buttons to launch the Google Fit Workout tracker app if you like. As with every WearOS watch, the Moto 360's battery life may sting. At a day to a day and half between charges, upkeep is similar to an Apple Watch.
Another great (albeit pricier) Samsung option
Specifications
Dimensions: 46.2 x 45 x 11.1mm
Weight: 53.8g
Screen: 1.4in 360 x 360 AMOLED
GPS: Full GPS
Battery life: 2 days
Water resistance: 5ATM
Reasons to buy
+
Its intuitive control bezel feels great
+
Bold OLED screen
+
Solid tracking accuracy
Reasons to avoid
-
2-day battery life
-
It's certainly not cheap
The Samsung Galaxy Watch 3 (opens in new tab) is the fitness watch that competes best, face-to-face, with an Apple Watch. But its style is quite different. This is a round watch with a rotating bezel that plays a crucial role in its appeal.
It acts as the Galaxy Watch 3's main control interface, outside the touchscreen. This feels great, and the software is built around it. Superb build, good looks and that control wheel put Samsung's top watch in a class of its own. GPS and heart rate tracking are solid too.
Battery life is the potential stumbling block. The Samsung Galaxy Watch 3 only lasts a couple of days off a charge. Longer than an Apple Watch, then, but nowhere near as long as the less feature-packed Huawei alternatives. There are 41mm and 45mm diameter versions of this watch. Pick the larger for slightly better battery life.
Andrew is a freelance contributor to Fit&Well. He has written about health and fitness for more than a decade, specializing in consumer tech. When not testing fitness tech for Fit&Well he writes about fitness for Forbes and contributes to publications including WIRED, TechRadar, Stuff, Trusted Reviews and others. Andrew runs to keep fit, and can often be round jogging around the parks of South London with several wearables and a heart rate strap attached. He also enjoys indoor cycling, using a turbo trainer and platforms like Zwift to get some kilometers in while avoiding London's busy streets.