Best exercise watches 2023: top models from Garmin, Fitbit, and Apple tested
The best exercise watches help you keep tabs on your workouts and hit your fitness goals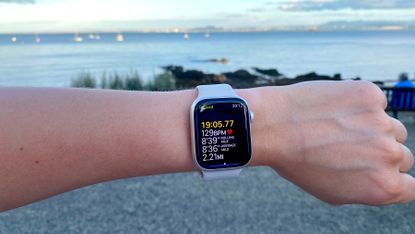 (Image credit: Future)
Along with telling the time, the best exercise watches can count your steps, monitor your activity levels, and send gentle reminders to help you keep on top of your daily fitness activities. Want to time your run, check your messages, or monitor your heart rate as you power through a weight-lifting session?
Many of the best exercise watches can do just that. At first glance, these smartwatches might seem similar to fitness trackers or general-use smartwatches. But once we delve deeper, they have a handful of differences. As they're physically larger, they have larger batteries too, so they'll last longer between charges.
And while the best fitness trackers can record workouts, the best exercise watches have more preset activities, often come with GPS built-in for location tracking, and smartwatch-like features, like notifications, music playback, and heart monitoring ECG scans.
After we strapped up the best exercise watches for testing, we felt that the Garmin Venu 2 Plus deserved the top spot, thanks to its built-in GPS, storage for over 600 songs for phone-free workouts, and outdoor-focused sensors like a barometric altimeter.
If that doesn't sound quite like what you're looking for, don't worry, there are plenty of choices out there. We've tested out the best exercise watches from Fitbit, Garmin, and Apple to help you find the right fitness companion to help you reach your goals.
The best exercise watches available right now
The best exercise watch for most people
Specifications
Built in GPS: Yes
Battery life: 8 days
Waterproof rating: Up to 50m
Weight: 51g
Reasons to buy
+
Good battery life
+
High-quality display screen
+
Range of features
Reasons to avoid
-
Expensive
-
Only one size available
The Venu 2 Plus is a stylish much-welcomed addition to the Garmin family and is a step up from its predecessor (the Venu 2) as it's kitted out with a speaker, microphone, and a built-in GPS mode to track your runs with precision.
Along with tracking your miles, when we tested the Garmin Venu 2 Plus, we soon discovered you can also record various health metrics such as sleep quality, heart rate, stress levels, and blood oxygen levels. That's along with your menstrual cycle and day-to-day health stats like your steps. And you can view the data on the watch's high-res display.
Outdoorsy exercise people might particularly like the model's barometric altimeter, which uses barometric pressure to track the changes in elevation and the pressure brought on by weather conditions. And while outside or away from your phone, you can listen to your favorite music, as the Venu 2 Plus can hold up to 650 songs.
Priced at around $449.99/£399.99, the Garmin Venu 2 Plus is on the expensive side. Although, as you can see, it comes with many features. But if you wouldn't use all of these modes and features, consider an alternative Garmin watch or another of the best exercise watches to make sure you get more bang for your buck.
What the users say
The Garmin Venu 2 Plus went down a storm on Amazon, scoring an impressive 4.5 stars out of five. Owners particularly liked its bright and punchy color screen, broad range of features, and overall look and feel.
However, users marked this watch down for its price tag, while others said they would like to see an improvement in its sleep software.
---
The best Fitbit exercise watch
Specifications
Built in GPS: Yes
Battery life: 6 days
Waterproof rating: Up to 50 meters
Weight: 28.5g
Reasons to buy
+
Comes with GPS
+
Large, bright screen
+
Plenty of fitness-focused sensors
Reasons to avoid
-
Not the most accurate heart rate sensor
-
Short charging cable
There's a lot to like about the Fitbit Versa 3. Along with its better-than-average battery life and ability to track various workouts ― from runs to bike rides ― the budget-conscious smartwatch also comes with a large and impressive display.
The price makes the Versa 3 attractive as an exercise watch, as you don't need to break the bank for a wearable with GPS, the ability to listen to Spotify playlists, or contactless payments with Fitbit Pay. It also has the option to track your calories, count your steps and store how much water you've drunk if you remember to input this manually.
However, when we tested the watch, we felt there were a few areas where things could be improved, like the heart rate readings. Although you can view these on the watch, the data can be hard to dive deep into using the Fitbit app.
And although the Versa 3 gives you the option to listen to music, you can't download playlists meaning no phone-free runs. Overall, this watch isn't for an avid runner, keen hiker, or someone who wants to nosedive into stats. But it would suit someone who wants an all-purpose wearable that can do a little bit of everything.
What the users say
The Fitbit Versa 3 is well-liked in the world of wearables if its Amazon ratings are anything to go by. The watch has scored a 4.5-star rating from more than 44,000 reviews. Users particularly liked the large face, the considerably long battery life, and the fact you can receive calls and text messages.
However, one area reviewers marked the Versa 3 down was the short length of the charger cable and the questionable heart rate tracking. Some users also felt that the heart rate monitor was inconsistent.
---
The best exercise watch for iPhone users
Specifications
Built-in GPS: Yes
Battery life: 14 hours
Waterproof rating: Up to 50m
Weight: 42.3g
Reasons to buy
+
Speedy charge time
+
Attractive display screen
+
Easy to use
Reasons to avoid
-
Need to charge daily
-
Not compatible with Android smartphones
If you use an iPhone as your main smartphone, the Apple Watch Series 7 is easily one of the best exercise watches. The latest iteration of Apple's fitness-focused watch integrates with all of the company's services, as we found in our Apple Fitness+ review.
The watch is available in five colors, and we tested the Starlight edition and used it to track workouts, keep on top of steps, reply to messages and take phone calls. Its easy-to-read ring-based system makes it simple to check your activity levels throughout the day, as in one quick tap, you can check your movement, exercise goals, and standing time.
Despite these positives, the Apple Watch Series 7 isn't designed for long-distance runs or multi-day hikes, as we found that you needed to charge it daily. Apple only recently added sleep tracking, too, and this feature is relatively limited compared to its competitors, like Google's Fitbit devices.
What the users say
The Apple Watch Series 7 scored a healthy 4.8 stars out of 5 on Amazon. Buyers praised the accuracy of the GPS, its heart rate tracker, and the small nudges it gives you to stand up and stay on top of your health and fitness goals.
Although most reviewers are happy with the feature-packed smartwatch, three issues repeatedly came up; its battery life, top-notch price point, and the fact it comes with a charging cord and no plug adapter.
---
4. Withings ScanWatch
The best exercise watch for battery life
Specifications
Built in GPS: No
Battery life : 30 days
Waterproof rating: Up to 50m
Weight: 58g
Reasons to buy
+
Long 30-day battery life
+
Hybrid design
+
Quick recharge
Reasons to avoid
-
Can be inconsistent with syncing data
-
ECG only available in certain regions
If you like a traditional-looking watch with many must-have smartwatch credentials, like a daily step count, heart rate, and workout tracking, consider the Withings ScanWatch.
At first glance, you could be fooled into thinking this piece of tech only tells the time. But once you click the dial on the watch's right, it will activate the smartwatch display. Impressively, it allows you to stay on top of your blood oxygen levels, track your sleep, and monitor your heart health thanks to the ECG feature.
We tested this feature, by placing a finger across the ScanWatch, and it analyzed our heart's electrical activity, though it didn't flag any issues. Although this feature is region-locked, it can also detect any possible atrial fibrillation, so you can only access this design if it has been approved in your area.
Another point to keep in mind before you invest is the display. Via the watch, you'll only be able to view the step count and heart rate data. Everything else syncs to the smartphone app, which you'll need your phone for. Although you may need to be patient, this process sometimes takes a little while.
What the users say
Scoring a 4.2 out of five rating on Amazon, there is a lot to like about the Withings ScanWatch. The hybrid design means it doubles up as a watch and fitness tracker, and users praised the device for its long battery life, range of features, and heart health monitoring.
But not everyone got along with the small smartwatch display, and an unlucky few got caught out by the regional ECG feature.
---
5. Fitbit Sense
The best exercise watch for health tracking
Specifications
Built-in GPS: Yes
Battery life: 6 days
Waterproof rating: Up to 50m
Weight: 31.75g
Reasons to buy
+
Clear display
+
Stress tracking feature
+
More sensors than any other Fitbit
Reasons to avoid
-
Most expensive watch in Fitbit range
The Fitbit Sense smartwatch sits at the top of the company's fitness tracking range, coming with more features than the company's other devices and a price tag to match. It has a large color screen, heart rate monitoring, GPS, stress tracking, and 20 different exercise modes.
Two features that make this model stand out from the competition are its stress tracking and ECG readings. To track stress, the watch uses an EDA scan that measures the electrical activity of your palm to see how your body is reacting to stress.
This feature is generally marketed at busy professionals, but we decided to use it to see how exercise changed our mental state once the workout was over. It's hard to say if it's accurate, but it's certainly interesting and could be a good way to track trends over the long term.
In testing, we found the Sense just as comfortable as the Versa 3, which is expected since they share the same chassis. Still, after a run, we enjoyed using the EDA scan to see how exercising changed our mental state once the workout endorphins flowed.
Along with being the first in the Fitbit family to do so, it's also one of the first widely available smartwatches to be able to monitor stress levels too. At the same time, the ECG scan can help to detect signs of an irregular heartbeat.
What the users say
The Fitbit Sense has a pretty impressive score of 4.4 stars out of 5 on Amazon, with users praising the attractive design, comfortable fit, and vast amount of sleep data available.
Although one gripe was with the accuracy of the heart rate monitor. Others mentioned the questionable battery life; instead of lasting six days, some users said two-day battery life was more accurate, though we didn't find it dipped that low during testing.
---
How to choose the best exercise watch
When you're looking for a watch to track your fitness, health, and workouts, there are some key considerations to keep in mind.
Battery life
It might not be the most exciting part of a new tech device, but battery life is one of the most practical factors. Generally, the best exercise watches should last at least several days, while some reach almost a month between charges.
The most notable exception is the Apple Watch Series 7, which needs to be charged daily. But iPhone users may find the deep integration with Apple's other products and services worth the inconvenience.
It's worth thinking about the style of exercise you do regularly, too. Long-distance runs with location tracking, and multi-day hikes will need more extended battery life watches than 20-minute high-intensity workouts.
Smartwatch features
Smartwatches have been around for over a decade, and in that time, they've expanded from notification-mirroring wearables to fully-functional health and wellbeing trackers.
However, smartwatches aren't generally designed for exercise, and some designs are bulky, not waterproof, or have sweaty straps that aren't great for warm workouts.
The best exercise watches combine the greatest strengths of fitness trackers and smartwatches to make a watch with long battery life, plenty of workout tracking features, and a rugged, lightweight design.
This often means downsizing some of the more premium smartwatch features like cellular connection, taking calls from your watch, and dedicated app stores.
GPS
If you exercise outdoors, GPS is an excellent way to keep track of your route. Your phone has GPS sensors, which use satellites to monitor where you are. Many smartwatches also have these sensors, so you can track your workouts without needing to take your phone with you.
The tradeoff is that these exercise watches are generally more expensive than their GPS-free counterparts and will use more battery. You might not need this feature if you mostly train at home or the gym.
How we tested the best exercise watches
To help you find the best exercise watch for your workouts, we tested each watch in this guide to see how they performed. We kept the process uniform between devices for easy comparison.
We kept each watch on our usual watch wrist for several days, with a comparison device on the other wrist, and tracked core metrics like steps, calories burned, and sleep performance.
But the main priority was to test out the workout tracking and analyze the resulting data. We wore the watches while walking, running, weightlifting, swimming (where waterproofing allowed), and yoga to put them through their paces.
This also allowed us to record heart rate data during exercise and at rest. Although you can view limited data on the watches, we used the companion smartwatch apps to drill down into the details and test whether you could share data to aggregation platforms like Google Fit and Apple Health.
FAQs
What's the difference between a fitness watch and a fitness tracker?
They might sound the same, but once you decipher the details, fitness watches and fitness trackers are two very different pieces of tech.
For one, a fitness tracker usually comes at a cheaper price point. Our guide to the best fitness trackers saw top-rated options from $50/£30 up to $299.95/£219.99. In contrast, some top-rated fitness watches can start at around the $180/£170 marker.
In terms of their design, fitness trackers can come in various styles. For example, along with finding a design in a watch form, some fitness trackers can be strapped around your chest to monitor your heart rate and track your activity levels. While, as its name alludes to, you can only wear a fitness watch around your wrist.
Another difference between the two is the number of features they have. In their most basic form, fitness trackers are there to track your fitness. Whether this is your step count, run time, sleep or minutes spent working out in the gym. While many exercise watches can switch from cardio mode to weights mode, some have GPS-tracking technology, and you can discover your Vo2 max levels all the while playing music through your headphones.
Essentially, these two designs of fitness tracking tech are better suited for different users. A fitness tracker might be your best bet if you just use a piece of tech to solely track your fitness levels. But if you're looking for something that can do it all — both business and play — an exercise watch might be a better fit.
Get the Fit&Well Newsletter
Start your week with achievable workout ideas, health tips and wellbeing advice in your inbox.
Becks is a freelance journalist and writer with more than 7 years of experience in the field. She writes health and lifestyle content for a range of titles including Live Science, Top Ten Reviews, Tom's Guide, Stylist, The Independent, and more. She also ghostwrites for a number of Physiotherapists and Osteopaths.
Health has been a big part of Becks' lifestyle since time began. When she's not writing about the topic of health, she's in the gym learning new compound exercises. And when she's not in the gym, she's most probably reading.