Why TikTok stars are eating Rice Krispies bars before the gym (for big results)
Plateauing in the gym? This TikTok trend could be your new pre-workout essential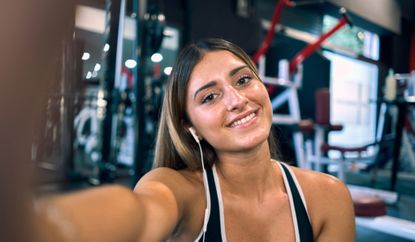 (Image credit: Getty Images)
Pre-workout powders are very popular. Often arriving in luminous green packaging and sporting dubious names with the word "extreme" in them, they're designed to be mixed with water, providing a lot of short-term energy and caffeine to help you train harder than normal.
Workout nutrition and fuel isn't just for the gym junkies: anyone enjoys working out can benefit from incorporating pre and post workout nutrition into their training regimes. Things like the best protein powder for weight loss, or more specifically, best protein powder for women are just some of the options out there in terms of post-workout nutrition.
But when it comes to pre-workout nutrition, some TikTok users are a bit less discerning: one trend currently doing the rounds are vids claiming that eating Rice Krispie Treats, of all things, before working out can massively enhance your training. One video below shows a man beating his personal record after eating a Rice Krispie bar pre-workout:
@ko0maaa

Rice Krispies for an insane pump #fyp #foryoupage #fypシ #fitness #bodybuilding #motivation #preworkout #squats #ricekrispietreats

♬ Runaway - Kanye West
The guy in the video is clearly working his quads, glutes and hamstrings as he squats with the barbell, blowing past his PBs. But it's hard to tell from a short TikTok video if eating Rice Krispie Treat bars before exercise is really that beneficial for you.
This is where Caroline Klinger comes in. Klinger is a sports dietician, working with athletes specifically, and posted her own TikTok responding to the one above.
"Because they hit your stomach, they get digested really quickly, they enter your bloodstream," explains Klinger, "And boom you have carbs to power your workout."
She says dieticians often recommend that people eat cereal before a workout for the same reason. Of course some people don't drink milk and this is why pre workout bars like Rice Krispie treats are perhaps so popular.
However, she does warn that the second ingredient in these snack bars is high-fructose corn syrup. This is an ingredient often found in fizzy drinks and one that science has linked with health issues such as insulin resistance, obesity, type 2 diabetes and high blood pressure.
More everyday ways to fuel pre-workout
Fit&Well caught up with Personal Trainer, Christopher Barker, to learn about other ways to fuel your body before a workout.
"I would usually recommend eating a balanced meal 2 to 3 hours before exercise", Barker notes, "This gives the body enough time to digest the food and make sure your glycogen stores are topped up ready for the workout."
The personal trainer takes into account that sometimes you might not have much of an appetite before a workout or are feeling a bit lethargic and recommends eating a banana or drinking a black coffee within one hour of starting your workout.
There is scientific evidence to suggest that drinking coffee before a weight loss workout can actually increase the amount of calories you burn. As long as it is a fairly strong coffee (3mg of caffeine per kg of bodyweight) research suggests that it should increase 'maximum fat oxidation' as you workout.
If you are planning a long and or hard session, Barker advises bringing a sports drink to sip as you train. The best water bottle for the gym can not only contain your sports drink of choice but it is also just great for reminding you to drink water and stay hydrated as you workout.
A really important factor that the health and fitness expert mentions is that what you eat or drink before a workout really depends on your goals.
"If the goal was weight loss you wouldn't want to eat a load of sugar beforehand. Carbohydrates are the primary source of energy and fuel used by the body and this is why if you needed added fuel you would go down this route."
Get the Fit&Well Newsletter
Start your week with achievable workout ideas, health tips and wellbeing advice in your inbox.
Jessica is an experienced fitness writer with a passion for running. Her career in journalism began in local news and she holds a Masters in journalism. Jessica has previously written for Runners World, penning news and features on fitness, sportswear and nutrition.
When she isn't writing up news and features for Fit&Well covering topics ranging from muscle building, to yoga, to female health and so on, she will be outdoors somewhere, testing out the latest fitness equipment and accessories to help others find top products for their own fitness journeys. Her testing pairs up nicely with her love for running. She recently branched out to running 10Ks and is trying to improve her time before moving on to larger races. Jessica also enjoys building on her strength in the gym and is a believer in health and wellness beginning in the kitchen. She shares all of this on her running Instagram account @jessrunshere which she uses for accountability and for connecting with like-minded fitness lovers.