Best water bottles for gym workouts
We've rounded up the best water bottles for gym workouts, so you can stay hydrated during exercise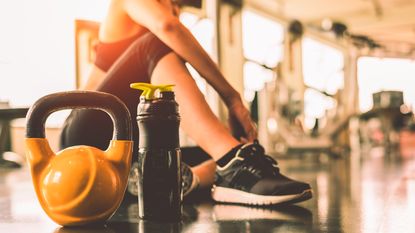 (Image credit: Getty)
Buying one of the best water bottles for gym workouts is a smart way to cut back on single-use plastic and stay hydrated at the same time. The trick is finding one that doesn't leak in your bag all over your gym kit and that you can use with one sweaty hand.
Water bottles for the gym share many of the same traits as regular reusable water bottles. They should be leak-proof, be BPA-free and, if you're willing to spend more, insulated to keep your water refreshingly cold. Models designed for the gym, however, will also pay attention to how they feel in your hand and how easy it is to unlock the cap and spout.
The best water bottle for gym workouts are very similar to the best water bottles for hiking, so it's worth considering that style too while you're shopping.
Here's our selection of the water bottles we use when working out in the gym.
Best water bottles for the gym
1. Takeya Actives Insulated Bottle
Best water bottle for the gym overall
Specifications
Capacity: 530ml/18oz
BPA-free: Yes
Material : Powder-coated stainless steel
Lid type: Screw cap with spout
Reasons to buy
+
Carry handle
+
Screw cap prevents leakage
Reasons to avoid
-
Lid can be tricky to clean
-
Material can scratch easily
With a wide handle that boasts a sweat-free grip, the Takeya Actives Insulated Bottle is perfect for most gym goers. It has a double-wall made from stainless steel that keeps your drink cold throughout a workout – and the rest of your day.
The Takeya Actives Insulated Bottle also comes with a removable silicon base that protects the bottle from scraps and scratches, and helps to keep it in place in treadmill trays or cup holders.
I loved the addition of the lid hinge lock to the drinking spout, which prevented it from flapping back and hitting us on the nose whilst we sipped between sets. You can unscrew the entire lid for easy cleaning, or if you want to add ice. You also don't have to worry about hand washing this bottle either, because it is dishwasher safe.
If 18oz isn't large enough for you, the Tekeya Actives Insulated Bottle is also available in 22oz, 24oz, 32oz and 40oz sizes, and nine stylish colorways. While I did find it slightly on the heavy side, I didn't need to hold it during our workout, so I didn't find this much of an issue.—Lee Bell
What the users say
Customers love the Takeya Actives Insulated Bottle, with the product scoring an impressive 4.8 out of five stars on Amazon.com. One user noted,"Keeps my water cold even after being in the car parked for hours", while another wrote, "It's completely leakproof, and it's 'chuggable' as well."
---
2. Camelbak Eddy+
Best affordable water bottle for gym goers
Specifications
Capacity: 1L/32oz
BPA-free: Yes
Material : BPA-free plastic
Lid type: Flip-close straw
Reasons to buy
+
Large capacity
+
Easy to clean
Reasons to avoid
-
Too big for standard cup holders
-
Straw can be tricky to use
If you're looking for a great value water bottle to take to the gym, the Camelbak Eddy+ is a fantastic option. It holds an impressive 32oz of water, so it's ideal if you get particularly thirsty during a workout. If this is too much for you, the bottle is also available in 20oz and 25oz designs.
The water is delivered through a drink straw that you flip up and bite to release the liquid. But don't worry about spillages—it's designed to prevent leaks when closed and spills when open, however this does mean you'll need a strong bite to get a good drink.
The bottle isn't insulated, so if you want super cool water, you'd be better off opting for stainless steel over BPA-free plastic. Having said this, it's great value for a solid design, and it's available in over 12 different colourways too.—LB
What the users say
The CamelBak Eddy+ scores 4.7 stars on Amazon, with users loving the straw design. One user wrote: "Switching from the smaller eddy to the liter size has changed my life for the better. I only wish it was insulated because I like my water cold, so it gets condensation everywhere."
---
3. Aquafit 1 Gallon Water Bottle
Best large water bottle for gym goers
Specifications
Capacity: 1 gallon/128oz
BPA-free: Yes
Material : BPA-free plastic
Lid type: Straw and spout
Reasons to buy
+
Massive size
+
Very easy to carry
Reasons to avoid
-
Not dishwasher safe
-
Not travel friendly
If you're looking for an easy way to drink more water, the Aquafit 1 Gallon Water Bottle can help you to hit your hydration goals.
This hefty vessel holds 128oz of water, so you don't have to worry about constantly going back and forth to the water fountain. If you're wanting to keep track of how much water you're drinking, there's a time marker on the side to track how much you drink too.
You get two lids with this bottle: a spout lid and a straw lid, along with a handy carry strap (although the bottle itself is shaped for easy carrying, which I loved as I have to walk to my local gym).
However, due to its large size it's not the most convenient bottle to pack in a small gym bag, so make sure you have plenty of room! Also note that the bottle is not dishwasher safe, but does come with a special brush for cleaning.—Alice Ball
What the users say
The Aquafit 1 Gallon Water Bottle scores 4.6 stars on Amazon, with many users commenting that it makes it effortless to stay hydrated. One particular user wrote: "Absolutely love this bottle! The handle on the bottle and the strap make it easy to carry around as well."
---
4. Innermost Shaker Bottle
Best water bottle and protein shaker
Specifications
Capacity: 600ml/21oz
BPA-free: Yes
Material : Tritan
Lid type: Screw cap with spout
Reasons to buy
+
Doubles up as a protein shaker
+
Fitted with a carry strap
+
Secure screw cap prevents leakage
Reasons to avoid
-
Tricky to hand clean
-
No straw
Do you find yourself carrying two bottles at once—your water bottle and your protein shaker? Innermost's Shaker Bottle can perform both functions so you can lighten the load in your gym bag.
The BPA and BPS-free bottle comes with a removable stainless steel whisking ball, so you can fill up with water to hydrate while you work out, then add the steel ball, a scoop of protein powder and fresh water to mix up a post-workout protein shake.
Leakproof and lightweight, the bottle is made from Tritan which makes it dishwasher friendly. Although, if you haven't got a dishwasher, be prepared to invest in a bottle cleaner so you can get to hard-to-reach spots.
Measurements printed on the side are a simple design element but a welcome one, since it helps you keep track of how much water you've consumed.—Becks Shepherd
What the users say
Reviews for this bottle are from its own website where users scored the product five stars out of five. Along with being easy to use, leakproof and lightweight, users also highlighted how easy it is to carry. However, one reviewer found the bottle opening a little small to fit a standard size protein scooper in.
---
5. Larq Bottle Filtered
Best filtered water bottle for the gym
Specifications
Capacity: 500ml/17oz
BPA-free: Yes
Material : Stainless steel
Lid type:: Flip-close straw spout
Reasons to buy
+
Filtered water wherever you are
+
Effortless low pressure drinking
Reasons to avoid
-
Filters need replacing every two months
-
Large filter restricts how much water you can fill
Ah, filtered water. If only you could get it into your water bottle without awkwardly pouring it from a filter jug, missing the opening, and soaking yourself in the process. Well, you can. In this case, it's Larq Bottle Filtered, a reusable water bottle made for workouts that filters water as you drink.
It features a double layered filter, with activated carbon to trap contaminates like chlorine and VOCS, and Nano Zero technology to grab onto heavy metals. The overall result? Great-tasting water, which you drink through a low pressure straw.
Sipping really did feel effortless, although I would have preferred the 25 oz version to the 17 oz, as you're restricted by how much water you can actually put in the bottle due to the fact that the filter pushes the volume up.
For portability, the bottle comes with a silicone-coated detachable carabiner so you can attach the bottle to a rucksack or gym bag. A double-wall insulated BPA-free stainless steel keeps your water cold for up to 24 hours.
Although, be warned: the filters need replacing every two months, and they're not exactly cheap.—AB
What the users say
Larq Bottle Filtered scores 4 stars on Amazon.com, with users commenting that it is stylish and easy to use. Many do note having to refill the bottle quite often as the filter takes up quite some space, however. One user in particular wrote: After using this I did notice an improvement in the taste. I like the straw feature too, it makes it easy to drink from. I am not a fan of having to replace the filters, but that seems to be the best option for now."
---
6. Camelbak Podium Chill Water Bottle
Best water bottle for gym spin classes
Specifications
Capacity: 710ml/24oz
BPA-free: Yes
Material : BPA-free plastic
Lid type: Self-sealing flow mouthpiece
Reasons to buy
+
Fits securely in bottle cages
+
Leak proof
Reasons to avoid
-
Can be tricky to squeeze to release water
It's happened to the best of us: you didn't quite close the lid properly on your water bottle before throwing it into your gym bag. Before you know it, your wallet is soaked, your earphones are unresponsive and your back is left with a suspicious wet patch. This is where the Camelbak Podium Chill Water Bottle comes in.
To get liquid through the flow spout, you need to squeeze both sides of the bottle. The self-sealing design of the valve also prevents leaks or spills, although if you're worried there is a locking mechanism too. I shook the bottle upside down for 30 seconds and didn't detect any spillage, so this is definitely one you can chuck into any gym bag.
The Camelbak Podium Chill Water Bottle is designed to fit into most bottle cages, making it a great option if you're a spin-fanatic or fancy a spot of cross training on the bike. It also comes apart for easy cleaning and is dishwashing safe, provided the temperature isn't too high.
This is because it contains a layer of insulation to help keep your liquid cool. Plus, if it's style you're after, the CamelBak Podium comes in a variety of colors and geometric designs.—LB
What the users say
The Camelbak Podium Chill Bottle scores an impressive 4.7 stars out of five on Amazon. Unsurprisingly, cyclists favor the bottle for its leak-proof lid, with one user noting: "Let me be clear by saying that you are not paying for a water bottle. You're paying for the exemplary design/engineering that went into the lid/spout. With that being said, this bottle is awesome."
---
How to choose the best water bottle for the gym
There are so many water bottles available and in stock right now it can feel totally overwhelming to work out which one is right for you. But don't worry, as we've done the hard work for you and sifted through the options to find the best ones on the market.
But how do you choose the right water bottle for the gym? The first consideration is size. If you like a long workout like an endurance run on the best treadmill, you'll want a bottle that is big enough to fit in as much liquid as you need without having to stop to refill, ideally 750ml or bigger. If you're doing a strength class, then a 500ml bottle is probably the best size.
Other criteria to consider are, do you want your water bottle to have cooling technology? Do you want to filter your drinking water? Or perhaps you are a design junkie who wants an Instagram-friendly bottle? Pick something that's going to suit your workout and lifestyle.
FAQs
Are water bottles BPA-free?
BPA stands for the chemical Bisphenol A, which is listed by the National Institute of Environmental Sciences (opens in new tab) as an 'endocrine disruptor'. Put simply, this chemical mimics, blocks, or interferes with hormones in the body's endocrine system.
BPA is commonly found in the coating of tin cans, other consumer products and polycarbonate plastics – the material used to make standard, single use water bottles. So what about your gym water bottle and is it safe?
A study by Chemosphere put reusable plastic, aluminum and stainless steel water bottles to the test to work out if the drinking water would be contaminated by BPA. The good news is they couldn't find any traces of BPA in the drinking water of any of the reusable water bottles that claimed to be BPA-free, or no trace was detectable. So if you are concerned about BPA content, just make sure you buy a BPA-free bottle – which will be way safer than a standard polycarbonate bottle you buy from the store.
Should you take a water bottle to the gym?
Most gyms and fitness centers have free water dispensers, so you might be wondering why you should take a water bottle to the gym, especially as you could easily buy a bottle from the venue or grocery store.
But pre-bottled water can be expensive, while refilling a bottle is generally free, particularly if you use the gym's water dispensers or a tap at home. Plus, reusable bottles are better for the environment than single-use plastic varieties.
Then there's the fact that water dispensers usually come with inconvenient paper or thin plastic cups without lids. So, you'd need to take a longer break or quickly down the drink and get back to your workout.
The best water bottles for the gym are designed to help you stay hydrated throughout your session, whether you're grabbing a sip between HIIT moves or quenching your thirst during a cardio workout.
Lee Bell is a London-based journalist, copywriter, specializing in all things tech and lifestyle. He is also a qualified personal trainer. He started his journalism career a decade ago as a reporter covering the latest gadgets and innovations at tech tabloid The Inquirer. Lee went freelance in 2016 to broaden his expertise, moving into news, reviews and feature writing for a host of national print and online lifestyle titles such as GQ, Forbes, Esquire, Men's Health, Wired, The Metro, and The Mirror. He has an insatiable appetite for travel, Dharma yoga, and the odd outdoor challenge.