We've tested the best water bottles for gym workouts to keep you hydrated and cool
The best water bottles for gym workouts are durable, easy to carry, and don't spill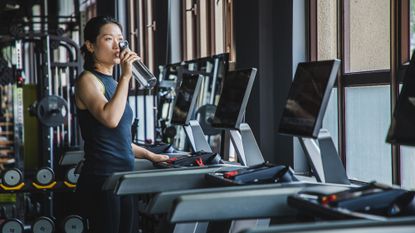 (Image credit: Getty Images)
It's crucial to keep one of the best water bottles for gym workouts nearby while you're exercising. Switching to a reusable bottle saves on single-use plastic, but it also helps you stay hydrated during your training sessions.
According to Cara D'Orazio, a personal trainer and owner of C.G.M. Fitness, you should look for a bottle that is, "leak-proof, BPA-free, and insulated to keep your water cold. Ergonomic curves also help you quickly grip the bottle mid-workout."
To save you hours scrolling online or browsing your local stores, we've tested the best workout water bottles that are convenient to use, keep your water cool, and won't leak all over your gym bag.
Best gym water bottles to stay hydrated
1. Takeya Actives Insulated Bottle
Best water bottle for the gym overall
Specifications
Capacity: 18 oz
BPA-free: Yes
Material : Stainless steel
Lid type: Screw cap with spout
Reasons to buy
+
Carry handle
+
Screw cap prevents leakage
Reasons to avoid
-
Lid can be tricky to clean
-
Material can scratch easily
With a wide handle that boasts a sweat-free grip, the Takeya Actives Insulated Bottle is perfect for most gym goers. It has a double-wall made from stainless steel that keeps your drink cold throughout a workout – and the rest of your day.
The Takeya Actives Insulated Bottle also comes with a removable silicon base that protects the bottle from scraps and scratches, and helps to keep it in place in treadmill trays or cup holders.
I loved the addition of the lid hinge lock to the drinking spout, which prevented it from flapping back and hitting us on the nose whilst we sipped between sets. You can unscrew the entire lid for easy cleaning, or if you want to add ice. You also don't have to worry about hand washing this bottle either, because it is dishwasher safe.
If 18 oz isn't large enough for you, the Tekeya Actives Insulated Bottle is also available in 22 oz, 24 oz, 32 oz and 40 oz sizes, and nine stylish colorways. While I did find it slightly on the heavy side, I didn't need to hold it during my workout, so this wasn't much of an issue.
---
2. Camelbak Eddy+
Best budget water bottle for gym workouts
Specifications
Capacity: 32 oz
BPA-free: Yes
Material : Plastic
Lid type: Flip-close straw
Reasons to buy
+
Large capacity
+
Easy to clean
Reasons to avoid
-
Too big for standard cup holders
-
Straw can be tricky to use
If you're looking for a great value water bottle to take to the gym, the Camelbak Eddy+ is a fantastic option. It holds an impressive 32 oz of water, so it's ideal if you get particularly thirsty during a workout. If this is too much for you, the bottle is also available in 20 oz and 25 oz designs.
The water is delivered through a drink straw that you flip up and bite to release the liquid. But don't worry about spillages — it's designed to prevent leaks when closed and spills when open, however this does mean you'll need a strong bite to get a good drink.
The bottle isn't insulated, so if you want super cool water, you'd be better off opting for stainless steel over BPA-free plastic. Having said this, it's great value for a solid design, and it's available in over 12 different colourways too.
---
3. Stanley Water IceFlow Flip Staw Tumbler
Best large water bottle for gym goers
Specifications
Capacity: 20 oz/30 oz
BPA-free: Yes
Material : Stainless steel
Lid type: Screw lid with flip straw
Reasons to buy
+
Flip straw easy to drink from
+
24 color options and two sizes
+
Quick to clean
Reasons to avoid
-
The insulated design doesn't keep water ice-cold all day
-
The large tumbler can be hard to grip
The Stanley Quencher is an incredibly popular gym water bottle, made famous through the social media platform TikTok. This isn't that bottle, but a very similar one that's not constantly out of stock or on a waiting list.
The Stanely IceFlow Flip Staw Tumbler comes in two sizes — 20 oz and 30 oz — and there are a massive 24 color options to choose from. We tested both sizes and found that the 20 oz was perfect for carrying around with you, but the 30 oz was too large for gym sessions.
Thanks to the insulated design, it kept water chilly for several hours while we carried it around in a backpack in the middle of summer. Although still cool, it was no longer cold, so don't expect ice-cold water after a day out, but it's ideal for a trip to the gym, especially if you put some ice in.
The entire lid unscrews for easy cleaning, and the only detachable part is the plastic straw, which only takes a second to push back into the rubber slot. And the foldable straw opening is durable, so it's not going to break if you knock it, and easy to drink from.
Unlike some strawed bottles, you don't have to tip the IceFlow to continue drinking, so we found that placing it on a table or flat surface was a great way to take quick, refreshing sips between sets. But as it is technically open, be careful not to knock the bottle over. [Reviewed by James Frew]
---
4. Aquafit 1 Gallon Water Bottle
Best gallon water bottle for gym workouts
Specifications
Capacity: 128 oz
BPA-free: Yes
Material : Plastic
Lid type: Straw and spout
Reasons to buy
+
Massive size
+
Very easy to carry
Reasons to avoid
-
Not dishwasher safe
-
Not travel friendly
If you're looking for an easy way to drink more water, the Aquafit 1 Gallon Water Bottle can help you to hit your hydration goals.
This hefty vessel holds 128 oz of water, so you don't have to worry about constantly going back and forth to the water fountain. If you're wanting to keep track of how much water you're drinking, there's a time marker on the side to track how much you drink too.
You get two lids with this bottle: a spout lid and a straw lid, along with a handy carry strap (although the bottle itself is shaped for easy carrying, which I loved as I have to walk to my local gym).
However, due to its large size it's not the most convenient bottle to pack in a small gym bag, so make sure you have plenty of room! Also note that the bottle is not dishwasher safe, but does come with a special brush for cleaning. [Reviewed by Alice Ball]
---
5. Innermost Shaker Bottle
Best water bottle and protein shaker for gym workouts
Specifications
Capacity: 21 oz
BPA-free: Yes
Material : Plastic
Lid type: Screw cap with spout
Reasons to buy
+
Doubles up as a protein shaker
+
Fitted with a carry strap
+
Secure screw cap prevents leakage
Reasons to avoid
-
Tricky to hand clean
-
No straw
Do you find yourself carrying two bottles at once; your water bottle and your protein shaker? Innermost's Shaker Bottle can perform both functions so you can lighten the load in your gym bag.
The BPA and BPS-free bottle comes with a removable stainless steel whisking ball, so you can fill up with water to hydrate while you work out, then add the steel ball, a scoop of protein powder and fresh water to mix up a post-workout protein shake.
The bottle is made from Tritan, a BPA-free plastic, which makes it leakproof, lightweight, and dishwasher-friendly. Although, if you haven't got a dishwasher, be prepared to invest in a bottle cleaner so you can get to hard-to-reach spots.
Measurements printed on the side are a simple design element but a welcome one, since it helps you keep track of how much water you've consumed. [Reviewed by Becks Shepherd]
---
6. Larq Bottle Filtered
Best filtered water bottle for the gym
Specifications
Capacity: 17 oz
BPA-free: Yes
Material : Stainless steel
Lid type:: Flip-close straw spout
Reasons to buy
+
Filtered water wherever you are
+
Effortless low-pressure drinking
Reasons to avoid
-
Filters need replacing every two months
-
Large filter restricts how much water you can fill
Ah, filtered water. If only you could get it into your water bottle without awkwardly pouring it from a filter jug, missing the opening, and soaking yourself in the process. Well, you can. In this case, it's Larq Bottle Filtered, a reusable water bottle made for workouts that filters water as you drink.
It features a double layered filter, with activated carbon to trap contaminates like chlorine and VOCS, and Nano Zero technology to grab onto heavy metals. The overall result? Great-tasting water, which you drink through a low pressure straw.
Sipping really did feel effortless, although I would have preferred the 25 oz version to the 17 oz, as you're restricted by how much water you can actually put in the bottle due to the fact that the filter pushes the volume up.
For portability, the bottle comes with a silicone-coated detachable carabiner so you can attach the bottle to a rucksack or gym bag. A double-wall insulated BPA-free stainless steel keeps your water cold for up to 24 hours.
Although, be warned: the filters need replacing every two months, and they're not exactly cheap. [Reviewed by Alice Ball]
---
6. Camelbak Podium Chill Water Bottle
Best water bottle for gym fitness classes
Specifications
Capacity: 24 oz
BPA-free: Yes
Material : Plastic
Lid type: Self-sealing flow mouthpiece
Reasons to buy
+
Fits securely in bottle cages
+
Leak proof
Reasons to avoid
-
Can be tricky to squeeze to release water
It's happened to the best of us: you didn't quite close the lid properly on your water bottle before throwing it into your gym bag. Before you know it, your wallet is soaked, your earphones are unresponsive, and your back is left with a suspicious wet patch. This is where the Camelbak Podium Chill Water Bottle comes in.
To get liquid through the flow spout, you need to squeeze both sides of the bottle. The self-sealing design of the valve also prevents leaks or spills, although there is a locking mechanism too. I shook the bottle upside down for 30 seconds and didn't detect any spillage, so this is definitely one you can chuck into any gym bag.
The Camelbak Podium Chill Water Bottle is designed to fit into most bottle cages, making it a great option if you're a spin-fanatic or fancy a spot of cross training on the bike. It also comes apart for easy cleaning and is dishwasher safe, provided the temperature isn't too high.
This is because it contains a layer of insulation to help keep your liquid cool. Plus, if it's style you're after, the CamelBak Podium comes in a variety of colors and geometric designs.
---
How to choose the best water bottle for the gym
Choosing a water bottle for your gym workouts can be a bit overwhelming — there are a lot of options, they all look similar, and there's a vast range of prices, from budget-friendly bottles to premium designs.
First, you'll want to decide how big you need the bottle to be. According to the American Council on Exercise (ACE), as a rough guide, you should aim for 7-10 ounces of water every 10-20 minutes during a workout.
"There aren't exact rules for how much water to drink while exercising," explains Cara D'Orazio. "Factors such as sweat rate, heat/humidity, clothing, and how long/hard you are exercising need to be considered, Of course medical conditions such as diabetes and heart disease come into play as well."
It's also important to decide whether you need your bottle to keep your water cool for hours (in which case you'll need an insulated bottle), and what lid you prefer, though a straw cap is generally the easiest to quickly sip from while exercising.
Cara D'Orazio is a certified personal trainer, group fitness instructor, and sports conditioning specialist. She founded C.G.M. Fitness and runs virtual, on-demand, and in-person workout classes and training sessions.
FAQs
Are water bottles BPA-free?
BPA stands for the chemical Bisphenol A, which is listed by the National Institute of Environmental Sciences as an endocrine disruptor. This chemical mimics, blocks, or interferes with hormones in the body's endocrine system.
BPA is commonly found in the coating of tin cans and polycarbonate plastics — the material used to make standard, single-use water bottles. So what about your gym water bottle and is it safe?
A study by Chemosphere put reusable plastic, aluminum and stainless steel water bottles to the test to work out if the drinking water would be contaminated by BPA.
The good news is they couldn't find any traces of BPA in the drinking water of any of the reusable water bottles that claimed to be BPA-free, or no trace was detectable.
So, if you are concerned about BPA content, just make sure you buy a BPA-free bottle — which will be safer in the long-run than a standard plastic bottle you buy from the store.
How much water should you drink at the gym?
Keeping hydrated throughout the day is a great self-care idea and can aid your memory, boost your mood, and improve your mental performance. But this is also true at the gym while you're working out. But how much do you really need to drink to stay hydrated?
"In exercises with high metabolic costs and thermoregulatory demands, such as interval training in a hot environment, dehydration can negatively impact cardiovascular function and overall performance," explains Alan Ruddock, senior lecturer in Sport and Exercise Science at Sheffield Hallam University.
But the amount you need varies depending on your environment and the type of exercise you're doing. In an air-conditioned gym with normal humidity, it's fine to drink just the amount that you need to satisfy your thirst without any adverse effects.
However, if you're not in an air-conditioned space, or you're doing a high-intensity session, like a HIIT workout for fat loss, where you generate a lot of heat, you'll need to drink more than you might normally to keep hydrated.
Ruddock suggests weighing yourself before and after your workout to estimate the fluid lost through sweat. It won't account for what you've drunk, but it gives you an approximate idea. However, he says the best method is to monitor your thirst and drink accordingly.
Alan Ruddock is an accredited sport and exercise scientist and a fellow of the British Association of Sport and Exercise Sciences, and has supported Olympians, Paralympians and World, Commonwealth, European and British champions in a range of sports.
Should you take a water bottle to the gym?
Most gyms and fitness centers have free water dispensers, so you might be wondering why you should take a water bottle to the gym, especially as you could easily buy a bottle from the venue or grocery store.
But pre-bottled water can be expensive, while refilling a bottle is generally free, particularly if you use the gym's water dispensers or a tap at home. Plus, reusable bottles are better for the environment than single-use plastic varieties.
Then there's the fact that water dispensers usually come with inconvenient paper or thin plastic cups without lids. So, you'd need to take a longer break or quickly down the drink and get back to your workout.
The best water bottles for the gym are designed to help you stay hydrated throughout your session, whether you're grabbing a sip between HIIT moves or quenching your thirst during a cardio workout.
This is crucial if you want to feel and perform at your best. "As sweat evaporates from your skin, it begins to remove heat from the body, but you also lose body fluid. You need to drink water while exercising to replace the fluids lost through sweating," explains D'Orazio.
"This will maintain normal body function and performance levels, while reducing the risk of heat stress. Water also regulates body temperature and lubricates the joints. If you are not hydrated, the body can't perform at its highest level, and can lead to tiredness, muscle cramping, and dizziness."
Get the Fit&Well Newsletter
Start your week with achievable workout ideas, health tips and wellbeing advice in your inbox.
Lee Bell is a London-based journalist, copywriter, specializing in all things tech and lifestyle. He is also a qualified personal trainer. He started his journalism career a decade ago as a reporter covering the latest gadgets and innovations at tech tabloid The Inquirer. Lee went freelance in 2016 to broaden his expertise, moving into news, reviews and feature writing for a host of national print and online lifestyle titles such as GQ, Forbes, Esquire, Men's Health, Wired, The Metro, and The Mirror. He has an insatiable appetite for travel, Dharma yoga, and the odd outdoor challenge.