Will this Bluetooth-connected resistance band change the way you work out?
A new smart resistance band has launched and it could be the latest essential for those who work out from home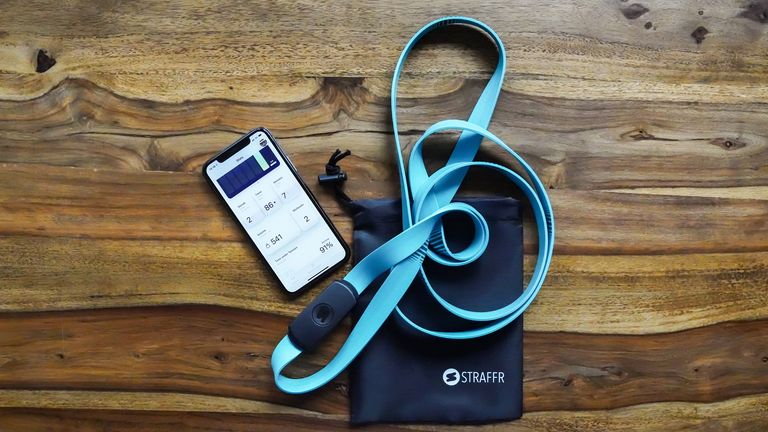 (Image credit: Straffr)
Home workout equipment has become extremely popular since the pandemic began, and now many people favour exercising at home over a busy gym.
You may already own a set of best resistance bands to train at home, but we're betting you don't have a resistance band with a smart chip in it. A German startup brand called Straffr has recently launched an interactive smart resistance band, which can offer you an interactive workout experience by connecting to an app and providing feedback on your session.
The portable workout bands are equipped with a sensor, and this electrical resistance runs around the expandable rubber. The band, which comes in medium strength or strong varieties, will connect to the app via Bluetooth connection.
As you pull the band, it will track your reps, power and velocity and the app will deliver verbal cues and nudges if you pull too fast. At the end of each workout you will also receive feedback on your overall performance.
The CEO of Straffr, Stefan Weiss, said that the brand focus on combining functional and portable training with the component of tracking quality.
Online personal trainer Scott Laidler says training with normal resistance bands are great for varying the resistance you work at by simply adjusting your hand position. "This can be good, but also bad if you can't track it: it introduces an unintended randomness variable which may be antithetical to maintaining progressive overload and slowing your results."
Laidler says that the ability to track resistance and cadence alongside a workout would solve this issue.
At a cool $100, the Straffr smart band is a costly investment compared to standard resistance bands; you can grab a perfectly usable set of different-strength bands for less than $25, perfectly usable for our best chest workout with resistance bands. However, the market for smart fitness tech is constantly growing with the likes of the NURVV smart insoles giving you detailed running stride information and Oura smart rings designed to optimise your sleep.
Today's age of fitness tech presents a debate of how essential these advancements are in our everyday lives. We'll look forward to testing this first smart resistance band, to figure out whether these detailed analytics prevents it from becoming just another piece of elastic.
Jessica is Staff Writer at Fit&Well. Her career in journalism began in local news and she holds a Masters in journalism. Jessica has previously written for Runners World, penning news and features on fitness, sportswear and nutrition. She is a keen runner and is currently sweating her way through a 10k training plan. Jessica also enjoys building on her strength in the gym and is a believer in health and wellness beginning in the kitchen - which she loves sharing with others on her healthy living-inspired Instagram account, @jessrunshere. Despite her love for nutritious cooking, she stands by the saying 'everything in moderation' and is eagerly conquering the London food and drink scene!