Worried about high cholesterol? Eating pecans has dramatic results, study finds
Pecan nuts can massively improve bad cholesterol levels – and also boost long term health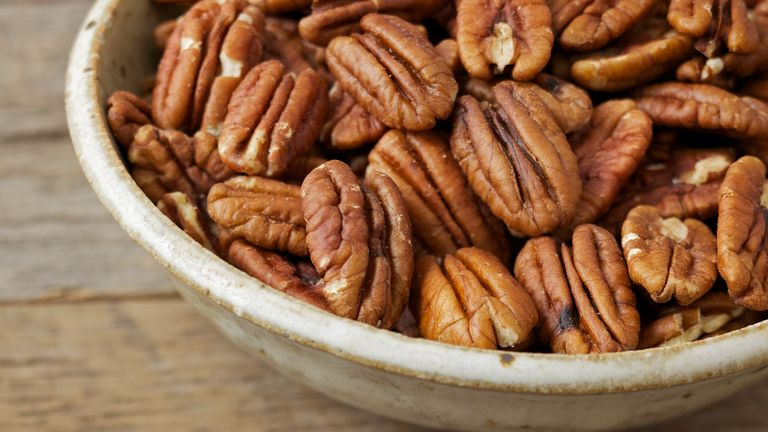 (Image credit: Getty Image)
By Jessica Downey published
Nuts are known for being a relatively healthy snack option. They are high in energy as a result of their high fat content, a healthier unsaturated fat than, say, a bacon sandwich. Even better news is that researchers at the University of Georgia have recently discovered that eating pecans can significantly lower cholesterol levels.
The study carried out across 52 participants saw improvements in total cholesterol, triglycerides and in low-density lipoprotein (LDL). LDL is known as the 'bad cholesterol' for its ability to collect in the walls of our blood vessels. It doesn't sound pretty and it can be very unkind to our overall health, making us more susceptible to a heart attack or a stroke.
You can keep a weather eye on your heart health by tracking what you eat, and getting plenty of exercise. Too many processed foods and especially processed meats can put you at risk of an early death, while sugar and simple carbohydrates can accelerate weight gain, placing a further strain on your heart. Recording your diet and weight loss progress with some of our best fitness apps, and one of the best heart rate monitors can help you keep tabs on your ticker.
The good news is that the study saw between 6% and 9% reduction in LDL and an average 5% drop in total cholesterol among the participants. Jamie Cooper, one of the researchers behind the University of Georgia study, wrote: "We had some people who actually went from having high cholesterol at the start of the study to no longer being in that category after the intervention."
The scientists behind the study believe that pecans contain bioactive properties which could be potential mechanisms behind cholesterol improvement. The healthy fatty acids and fibre inside the nuts have been linked to reducing cholesterol levels. . If you want to lower your cholesterol, then adding pecans into your diet could be a great start. For a more comprehensive overview, you can check our our guide on how to lower your cholesterol.
Like with most foods, it is good to eat nuts in moderation. UK based dietician, Ro Huntriss, recommends the best way to consume pecans while maintaining balance in our diets:
"Along with other sources of unsaturated fats, pecans can be incorporated into your diet as a healthy snack or within recipes for your main meals.Remember when buying pecans or any other nuts, to buy ones which are plain and not salted or coated in sugar."
"Also be mindful of portion sizes, so aim to consume a small handful of nuts at a time (around 30g of nuts per serving) as their high fat content means that they can be high in calories too when eaten in excess."
Jessica is Staff Writer at Fit&Well. Her career in journalism began in local news and she holds a Masters in journalism. Jessica has previously written for Runners World, penning news and features on fitness, sportswear and nutrition. She is a keen runner and is currently sweating her way through a 10k training plan. Jessica also enjoys building on her strength in the gym and is a believer in health and wellness beginning in the kitchen - which she loves sharing with others on her healthy living-inspired Instagram account, @jessrunshere. Despite her love for nutritious cooking, she stands by the saying 'everything in moderation' and is eagerly conquering the London food and drink scene!