You don't need to run to boost your metabolism—try this four-move kettlebell workout instead
Build strength and improve your cardio fitness with this kettlebell circuit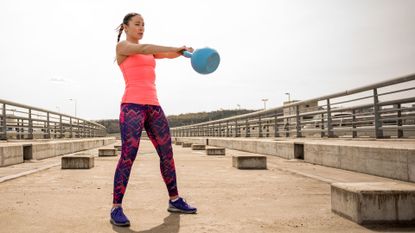 (Image credit: Getty / EXTREME-PHOTOGRAPHER)
Running can be a great way to boost your fitness (and mood), but it's not for everyone. Fortunately, if you're looking to get your cardio fix without pounding the pavement, we've got just the ticket.
This kettlebell circuit works your muscles and your lungs, so you can improve your strength and stamina in one fell swoop.
Designed by husband and wife training team Andrew and Kate Bustos (AKA Bustos Training), you only need one kettlebell and about 20 minutes to give it a go.
To get started, perform each of the moves in turn for the prescribed number of repetitions, resting as little as possible between each one. Once you've finished all five, return to the first exercise and repeat this sequence for a further four rounds to complete the workout.
Watch Andrew Bustos' video below for a demonstration of all four exercises, then practice each one (particularly the coordination-testing figure-eight to hold) before diving into the full workout.
Watch Bustos Training's 10-minute kettlebell workout
This workout kicks off with 15 kettlebell swings; a compound exercise that hits a range of muscles in your upper and lower body at the same time.
Used as part of a circuit like this, they can also raise your heart rate, boost your metabolism and improve your cardio fitness, as well as providing a considerable core workout for beginners and advanced athletes alike.
If you want to learn more about this exercise, check out our guide on how to do kettlebell swings, or find out what happened when our writer resolved to do 100 kettlebell swings a day for a month.
Continuing on with Bustos' workout, the curls will build strength in your biceps and the overhead presses are an excellent way to develop your shoulders and triceps.
The final movement—the figure-eight to hold—may look like a sure-fire way to tie yourself in knots, but it's actually an effective exercise for recruiting your deep core muscles, legs, glutes, shoulders and arms, as well as working on your stability.
Put them all together and you have a short circuit workout capable of helping you build strength and fitness simultaneously.
If you want to try more similar sessions, try this five-move kettlebell workout to build a stronger core and boost your metabolism. Or, if you're short on time, this single-kettlebell workout takes just six minutes.
Harry Bullmore is a Fitness Writer for Fit&Well and its sister site Coach, covering accessible home workouts, strength training session, and yoga routines. He joined the team from Hearst, where he reviewed products for Men's Health, Women's Health, and Runner's World. He is passionate about the physical and mental benefits of exercise, and splits his time between weightlifting, CrossFit, and gymnastics, which he does to build strength, boost his wellbeing, and have fun.
Harry is a NCTJ-qualified journalist, and has written for Vice, Learning Disability Today, and The Argus, where he was a crime, politics, and sports reporter for several UK regional and national newspapers.