You only need 20 minutes and a set of dumbbells to build leg muscle
This short resistance training workout develops lower body strength, works your core, and boosts your metabolism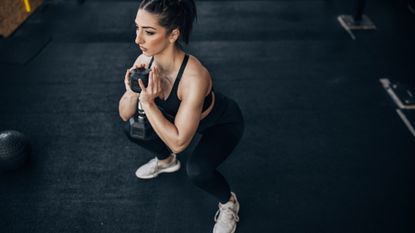 (Image credit: Getty Images)
If your goal is to build muscle, it's tempting to focus on your upper body and train your arms, back, and shoulders. But developing leg strength is just as important, and you only need a set of dumbbells and 20 minutes to get started.
If you're exercising at home, it's worth investing in a set of the best adjustable dumbbells. These customizable weights combine several dumbbells in one, and you can quickly change the load, even mid-workout, so you can use the progressive overload technique to challenge your muscles.
Luckily, you don't have to break the bank to invest in a high-quality set of adjustable dumbbells, as there are some great savings on weights available right now with these Prime Day deals.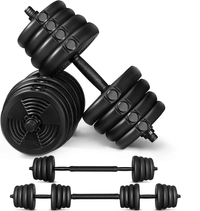 Redriver Adjustable Dumbells Set | Was $129.99, now $89.99 at Amazon
If you're just getting into weight training, this adjustable dumbbell and barbell set are a great way to start. With adjustable plates ranging from 5.5lbs up to 66lbs on the barbell, these flexible set can grow with you as you develop strength. Save 31% before the deal ends.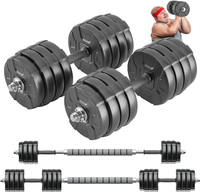 RUNWE Adjustable Dumbbells Barbell Set | Was $289.99, now $179.99 at Amazon
If you want to challenge your muscles, this adjustable dumbbell set (with a barbell) reaches up to 45lbs on each side. There are eight weight plates and the dumbbell and barbell come rubber-coated handles to improve your grip. Don't miss out on this impressive 38% saving.
When you're at the gym, you can use these beginner strength training tips to find a weight that'll work you hard but isn't so heavy it affects your form. With weights by your side, you're ready to take on this short lower body workout from Joe Wicks, popularly known as The Body Coach.
To get the most from your session and to avoid injury (a particular concern when you're exercising with weights), it's crucial to focus on your form. Fortunately, you can follow along with Wicks' demonstrations to perfect your technique.
Across the 20-minute routine, you'll do two rounds of 10 exercises, with variations on moves like dumbbell squats, reverse lunges, deadlifts, and dumbbell swings. To pack all of this in, you'll train for 40 seconds, take a 20-second rest, then start on the next exercise.
Watch The Body Coach's 20-minute lower-body workout
This training style is known as high-intensity resistance training (HIRT), which encourages you to work out intensely in short bursts with only minimal rests. This helps you pack an effective muscle-building workout into a short session, but there are other benefits.
HIRT is much like high-intensity interval training (HIIT), though with a focus on strength training rather than cardio-based moves. Still, both techniques help raise your heart rate with little recovery time between activities.
As a result, you increase the energy you burn during the session while sustaining an elevated heart rate also helps boost your metabolism for all-day fat-burning results. This is why many people turn to a HIIT workout for fat loss when they want to drop pounds.
Wicks' routine is also ideal if you're not usually a fan of leg-focused workouts, as he focuses on multi-muscle compound exercises which work several areas simultaneously to strengthen your legs, core, and upper body all at the same time.
Alternatively, you could pick up one of the best kettlebells and learn how to do kettlebell swings. This fat-burning, muscle-building compound move works your whole body, raises your heart rate, strengthens your core, and boosts your metabolism.
James is a London-based journalist and Fitness Editor at Fit&Well. He has over five years experience in fitness tech, including time spent as the Buyer's Guide Editor and Staff Writer at technology publication MakeUseOf. In 2014 he was diagnosed with a chronic health condition, which spurred his interest in health, fitness, and lifestyle management.
In the years since, he has become a devoted meditator, experimented with workout styles and exercises, and used various gadgets to monitor his health. In recent times, James has been absorbed by the intersection between mental health, fitness, sustainability, and environmentalism. When not concerning himself with health and technology, James can be found excitedly checking out each week's New Music Friday releases.