You only need 30 seconds to boost your energy levels with this quick breathwork session
This simple breathing technique can improve energy and focus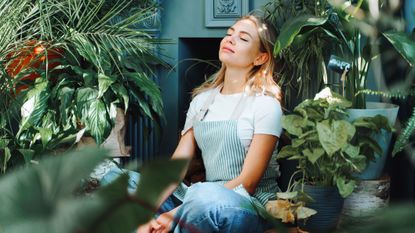 (Image credit: Getty)
Breath work has gained popularity in recent years. The self-care tool can improve mental and physical health, helping you combat everyday stress and anxiety. There's some evidence that it can have a positive effect on your long-term energy levels and cognitive function, too.
It's a mindful practice that breathing expert and peak performance coach Stuart Sandeman (opens in new tab) swears by. Known as Breathpod (opens in new tab) to his 54K Instagram followers, the author of Breathe In Breathe Out has worked as a breath coach to award-winning artists, Olympic athletes and top business executives.
Sandeman says: "When our minds are stretched across 20 conversations, 10 apps, our worries, to do lists, should and should not lists, shopping lists, every kinda lists – it's like we have a million tabs open and no wonder it's hard to focus. This breath technique is a great way to hit the reset button for your mental state. This technique can help balance the hemispheres of your brain – the creative and logical – soothe the nervous system and clear brain fog."
You can watch his full mini masterclass below.
Watch Sandeman's breathwork masterclass
When we're anxious or stressed, our sympathetic nervous system kicks in and affects our bodily functions; our heart rate increases, our breathing quickens and our blood glucose levels shoot up. Activating the sympathetic nervous system actually consumes a lot of energy. In the short term you might feel a rush of energy when this 'fight-or-flight' response kicks in, but if you're spending a lot of time in this zone you can end up feeling pretty drained.
Breathing slowly and purposefully can trigger our parasympathetic nervous system instead, which sends a signal to the brain that we are not in danger. This slows our heart rate and consumes much less energy – which is why you might find that a breathwork session actually increases your energy levels in the long run.
A study published in the Journal of Clinical Medicine also found that breathing exercises could improve other cognitive functions such as learning, attention and memory.
If you're interested in trying other things to calm the mind and reduce anxiety, see our yoga for anxiety flow or try this 10-minute Chris Hemsworth breathing exercise.
Maddy is a freelance journalist and Level 3 personal trainer specializing in fitness, health and wellbeing content. She has been a writer and editor for 22 years, and has worked for some of the UK's bestselling newspapers and women's magazines, including Marie Claire, The Sunday Times and Closer. She also manages Fit&Well's Instagram account.
Maddy loves HIIT training and can often be found running on her treadmill or working out while her two young daughters do matching burpees or star jumps. As a massive foodie, she loves cooking and trying out new healthy recipes (especially ones with hidden vegetables so the kids eat them). She makes a mean margarita and has twice won awards in previous staff jobs as the "office feeder".