You only need four moves and a set of dumbbells to build leg muscle
This short routine strengthens your core and builds lower body muscle with just four moves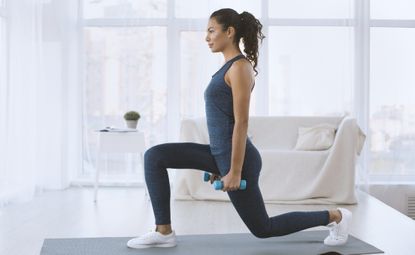 (Image credit: Future)
You don't need a fully-stocked gym to build leg muscle, just two dumbbells, four exercises and less than 30 minutes of your day. And the beauty of this workout is you can do it almost anywhere.
Each exercise can be performed in the gym with fixed free weights, at home with the best adjustable dumbbells (opens in new tab), or even without any kit at all — try using a pair of water bottles in place of a set of dumbbells, just make sure they're heavy enough to challenge you and both bottles weigh the same.
Once you've worked out which dumbbell weights you should use (opens in new tab), you can take on this session from fitness YouTubers Tiff x Dan (opens in new tab), who specialize in crafting testing yet accessible home workouts they post on their Instagram account and YouTube channel.
This workout promises to deliver an effective workout using a pair of dumbbells and just four leg exercises; the high squat, rear lunge, Romanian deadlift, and sumo squat. Each of these moves may engage other muscles, such as those in your core and shoulders, but they primarily target your leg muscles.
This session tasks you with performing 10-12 repetitions of each movement (demonstrated by Dan below) for four sets. We recommend resting for one minute between exercises to allow your legs to recover before you launch into your next set. Following this structure, you will amass an impressive total volume of 80 or more repetitions in less than 30 minutes.
Watch Tiff x Dan's dumbbell leg workout
If you're wondering how to build muscle (opens in new tab), this workout is a great place to start. It helps build leg muscle with moves that put your hamstrings, quads and glutes under mechanical tension. While this term may sound confusing, it's any force that tries to stretch our muscles.
A systematic review exploring ways to maximize the muscle-building process, published in the International Journal of Environmental Research and Public Health (opens in new tab), found that mechanical tension is a key component. So, if you're looking to add muscle to your legs, you need to perform exercises like squats (opens in new tab) and lunges that engage your lower body.
If you'd rather learn a bit more about training with weights before jumping into a fully-fledged workout, these beginner strength training tips (opens in new tab) are a great place to start. Or, if you want to alternate this with an upper body session, it's worth learning how to do dumbbell pullovers (opens in new tab).
Just make sure you're eating enough protein to support your activity levels. If you pick up one of the best protein powders for weight loss (opens in new tab), you can use these high protein breakfast ideas (opens in new tab) to boost your recovery and build lean muscle.
Harry Bullmore is a fitness writer covering everything from reviews to features for LiveScience, T3, TechRadar, Fit&Well and more. So, whether you're looking for a new fitness tracker or wondering how to shave seconds off your 5K PB, chances are he's written something to help you improve your training.
When not writing, he's most likely to be found experimenting with a wide variety of training methods in his home gym or trying to exhaust his ever-energetic puppy.
Prior to joining Future, Harry wrote health and fitness product reviews for publications including Men's Health, Women's Health and Runner's World. Before this, he spent three years as a news reporter with work in more than 70 national and regional newspapers.