You only need six moves and one dumbbell to develop lower-body muscle
Strengthen your legs, work your lower body, and develop your core in just 30 minutes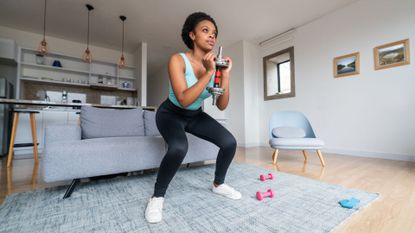 (Image credit: Getty)
What if we told you that all you need for a great lower body workout is a single piece of kit?
Simplicity is the name of the game in this session from yoga and fitness trainer Rhiannon Bailey (opens in new tab). It uses just one dumbbell and a quickfire circuit of six moves to set your legs and core on fire.
It won't take long either; the session only lasts 30 minutes, but in that short time it promises to target your lower body muscles top help you feel the burn and build strength.
If you don't have a dumbbell for this workout, we recommend picking up one of the tried and tested products on our roundup of the best adjustable dumbbells (opens in new tab). Or, if you're new to this style of training, you can always give this workout a go with a full water bottle.
To complete the session, perform each exercise one after the other as a circuit. Work for 45 seconds, take a quick 15-second rest to catch your breath, then move on to the next exercise. Repeat this six-move circuit five times to finish the workout as your watch hits the half-an-hour mark.
Watch Bailey's video below to see the six moves you'll need to learn, then practice each one to make sure the dumbbell you're using is the right weight and you're using the correct form.
Watch Rhiannon Bailey's single dumbbell lower-body workout
Bailey's use of short bursts of work and even shorter rest times is sure to keep your heart rate high throughout. These characteristics are hallmarks of HIIT workouts for fat less, with benefits including improving your aerobic capacity, boosting your metabolism and burning calories at a considerable rate of knots.
However, by programming a range of resistance-based compound exercises (opens in new tab) like goblet squats and kettlebell swings (opens in new tab), Bailey's session falls under the umbrella of high-intensity resistance training (opens in new tab) (HIRT).
By stressing the muscles (often by adding load with a free weight like a dumbbell, barbell or kettlebell), resistance training has the extra benefit of helping you build muscle and strength.
This style of training can leave your legs feeling sore, particularly if it's not something you've tried before. We advise giving your lower half at least 24 hours off from heavy lifting after completing it to allow your muscles to recover, adapt and grow.
If you're looking for an alternative way to stay active during this period, why not try our chest and back workout (opens in new tab), or lower the intensity with these anti-aging yoga moves (opens in new tab).
Harry Bullmore is a fitness writer covering everything from reviews to features for LiveScience, T3, TechRadar, Fit&Well and more. So, whether you're looking for a new fitness tracker or wondering how to shave seconds off your 5K PB, chances are he's written something to help you improve your training.
When not writing, he's most likely to be found experimenting with a wide variety of training methods in his home gym or trying to exhaust his ever-energetic puppy.
Prior to joining Future, Harry wrote health and fitness product reviews for publications including Men's Health, Women's Health and Runner's World. Before this, he spent three years as a news reporter with work in more than 70 national and regional newspapers.