Best elliptical machines for home workouts 2023
Need a low-impact workout that's easy on the knees? Try one of the best elliptical machines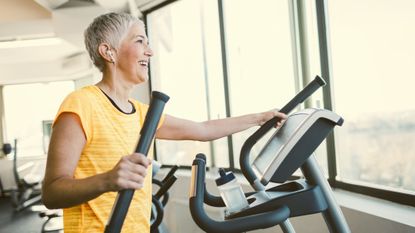 (Image credit: Getty)
If you're looking to burn calories and boost your fitness, but don't fancy subjecting your legs to the stresses of running, the best elliptical machines are a great way to go. These clever contraptions offer a low-impact way to get your cardio fix, using rotating platforms to save your knees and hips from the repeated impact of pounding the pavement.
But which elliptical machine should you buy? There are a huge range of products available, covering price points from a few hundred bucks to thousands of dollars. They also offer a vast array of different features, from fancy metric tracking to interactive video workouts.
To help you make up your mind, we've selected the best elliptical machines on the market, with options to suit all budgets.
Best elliptical machines 2022
1. Sole E95
The best elliptical machine for most people
Specifications
Dimensions: 66 x 23 x 34 inches/ 168 x 58 x 8 cms
Weight: 236lbs/ 107kg
Flywheel weight: 27lbs/ 3kg
Resistance levels: 20
Stride length: 8-20 inch/ 20-51cm (adjustable)
Incline: 20%
Max weight: 400lbs/ 181kg
Reasons to buy
+
Adjustable stride length
+
20 resistance levels
+
Built-in speakers
Reasons to avoid
-
Tricky to assemble
-
Large footprint
The stylish, all-black Sole E95 Cross Trainer is the definition of versatility and guarantees a smooth, peaceful, reliable workout. It has even scooped up several "Best Buy" awards since launching.
This model is fitted with a 10.1 TFT LCD display, in-built cooling fans, Bluetooth speakers, water bottle holder, a USB charging port, and an integrated tablet holder. You can connect your smart device, pump out some motivational music, and even track and download your workout data via the Sole app (or others like Fitbit and Apple.)
Made from a heavy-duty steel frame to offer ultimate support and stability, this machine boasts a weighty 27 lbs magnetic resistance flywheel and whisper-quiet front-drive system, allowing you to glide along to your favorite tunes in peace. Sole has packed in plenty of resistance levels (20, to be exact), plus forward and reverse motion and power incline.
All decent cross trainers have oversized foot pedals, but Sole has made them customizable with an inward slope (designed in collab with a physical therapist) to minimize joint discomfort. They've also added quick controls and pulse sensors to the handlebars with multi-position grip to add further workout versatility for your upper body. The machine is chest strap compatible for those seeking more in-depth heart rate tracking.
If you're short on space, it's worth checking the specs before you buy, as this machine doesn't fold and could eat into your living space pretty easily.
What the users say
This model banked 4.2 out of 5 stars on Amazon. Many users were impressed with the resistance and stride range and how silent the flywheel was. But others were frustrated with damage to the machine on arrival and subsequent issues with booking repairs.
---
2. Sunny Health and Fitness SF-E3912 Elliptical Machine
Best cheap elliptical machine
Specifications
Dimensions: 55 x 23 x 64.5 inches/ 140 x 58 x 164 cm
Weight: 104.8 lbs/ 48kg
Resistance levels: 16
Stride length: 15.5inches/ 39cm
Incline: N/A
Max user weight: 330 lbs/ 150kg
Reasons to buy
+
Affordable
+
Can use manually
Reasons to avoid
-
Small stride length
-
Fiddly to set up
This machine is fairly simple, but if you're looking for a basic cross trainer it could be a great fit. It comes with a straightforward performance monitor that tracks things like time, distance covered, speed and calories burned. You can also track your heart rate on here, thanks to the in-built pulse sensors.
While there's no flashy screen for classes, there is a simple device holder for a tablet or phone. This means you can follow a workout class on your device, as long as you have a subscription for a relevant platform. Or you can just watch Netflix as you burn through some calories.
One good thing to note about this machine is that you can use it without power; simply set the resistance to your desired level while it's plugged in, then power down and save your electricity. You won't get any live metrics if you work out this way, but you will be able to save on your running costs.
The machine fairly sturdy, with a steel frame and floor stabilizers built into the bottom. And you can move it around easily, thanks to its transportation wheels.
It's not the flashiest machine, but this will satisfy beginners who want a simple, low-impact machine for their home.
What the users say
This machine has netted an impressive 4.2 out of 5 stars on Amazon, with users praising its low price point. There are a few niggles, though; a lot of people have complained about how noisy the machine is, and several customers have pointed out that it can take around two hours to assemble.
3. NordicTrack FS14i
Best high-tech elliptical machine
Specifications
Dimensions: 59 x 29.9 x 74 inches / 150 x 76 x 188 cm
Weight: 284lbs/ 129kg (in box)
Flywheel weight : 20lbs/ 9kg
Resistance levels: 26
Stride length: 32 inches/ 81cm
Incline: -10% to +10%
Max weight: 375lbs/ 170kg
Reasons to buy
+
Variable incline
+
3-in-1 user experience
Reasons to avoid
-
Light flyweight for this price
-
Large footprint
Coming in slightly more expensive than the Sole E95 at the top of this guide is the NordicTrack FS14i model, designed by the hugely reputable NordicTrack brand. This exercise machine is a 3-in-1 elliptical, stepper and treadmill that intuitively and automatically adjusts to your stride. Featuring a 14" Smart HD screen, 35 onboard workouts, and a 30-day iFit subscription with live and on-demand classes and personal training, this model is ideal for anyone seeking an immersive, interactive workout experience.
There isn't much missing, to be honest. The machine houses inbuilt fans and dual amplified speakers and is also Bluetooth compatible. The dash features quick controls for resistance and incline, and trainers can auto-adjust both of these on the move, leaving you with nothing else to do other than puff and pant your way to the finish line. If you fancy mixing it up, you can even draw your own workout route using integrated Google Maps for a change of scenery.
In terms of the machine design itself, you've got an insane amount of stride length, with a punishing -10% decline to +10% incline and 26 resistance levels that can challenge even the most seasoned elliptical lovers. The center-drive system means that the flywheel is located on either side of the machine, which (generally) creates a more compact, smooth, and quiet experience.
The downside is that this machine isn't subtle or lightweight, and your iFit subscription comes at a cost after your initial free trial. Also, 20lb is fairly light for a flyweight on a machine at this price – other machines may offer a smoother ride thanks to a heavier weight, although they're unlikely to have the superb incline and decline options found on this model.
What the users say
Users awarded this machine a 4.2 on Google, but it was quite hard to locate reviews in general. The machine was praised for its ability to smoothly mimic your natural running, walking, and climbing stride. However, some warned that this model is very heavy and has a large footprint, so we recommend measuring your space first.
4. ProForm Carbon EL
The best mid-range elliptical machine
Specifications
Dimensions: 67.5 x 25 x 68.5 inches/ 171 x 63.5 x 174 cm
Weight: 196 lbs/ 89kg
Flywheel weight: 15 lbs/ 7kg
Resistance levels: 18
Stride length: 19 inch/ 48cm (adjustable)
Max weight: 275 lbs/ 125kg
Reasons to buy
+
Affordable
+
30-day iFit subscription
Reasons to avoid
-
Basic display
-
Not foldable
If you want to balance features with a price, this elliptical machine is your perfect pick; you'll benefit from 30 days of iFit membership when you purchase this bit of kit, giving you unlimited access to tons of on-demand and live workouts to get you started.
This machine is fairly entry-level – ideal if you're not fussed about flashy features. It comes fitted with a 5" multi-color basic console display, an integrated shelf for your tablet or smartphone, dual speakers (and audio port), a water bottle holder, and front-mounted transport wheels for easy storage regardless of the cumbersome front-drive.
You can connect to your tablet via Bluetooth and stream your classes via iFit to your device, and trainers can adjust your 18 resistance levels mid-workout. However, you will have to cough up for your subscription after 30 days which slightly ramps the price up.
The carbon model is made from heavy-duty steel, ensuring you're not left wobbling around as you crank up the intensity, and the oversized pedals provide a 19-inch power adjustable stride length to fit your natural motion. If you're looking for simplicity with the option to get immersive, ProForm could be your go-to.
What the users say
Users on Google gave it 4 out of 5 stars and were impressed with the smooth operation of this model, and how solid and sturdy it was. Many users rated this as great value for money and enjoyed how quiet the flywheel operated. Some did state that the machine is quite tall and heavy, taking some time to assemble.
5. Bowflex Max Trainer M9
Best elliptical trainer for compact storage
Specifications
Dimensions: 49.2 x 30.5 x 65.1 inches/ 125 x 77 x 165 cm
Weight: 148.8 lbs/ 67kg
Resistance levels: 20
Stride length: N/A
Incline: None
Max weight: 300 lbs /136kg
Reasons to buy
+
Space savvy
+
1-year JRNY membership
+
Lots of features
Reasons to avoid
-
Wi-Fi is required for the touchscreen
-
Expensive
If you're tight on space but keen to step up your home workout game – Bowflex has you covered. The M9 is the most advanced model in the Bowflex elliptical range and boasts a much more modest footprint than models like the NordicTrack FS14i or Life Fitness Platinum Club Series; it also comes with integrated transport wheels for super quick and easy storage.
This model has a Wi-Fi-enabled 10.1" HD touchscreen, Bluetooth speakers, a heart rate armband, and a built-in tablet shelf. Bowflex even throws in a 1-year JRNY membership upon purchase which allows you to track metrics and jump into an array of immersive workout programs like fat burn, calorie burn, and stairs. If you're keen to catch up on your shows as you sweat, your JNRY membership allows you to log in to Netflix, Prime, Disney+ (and others) from your touchscreen console.
You've got 20 levels of resistance to move through using an adjustable dial, and if that gets your pulse racing, you can monitor your heart rate using the integrated heart rate monitor hand grips or armband. We reckon the 4-grip handlebars are a lovely extra touch, allowing you to adjust your upper body positioning to target muscles differently as you work.
It's ideal for small spaces but comes with a pretty hefty price tag for the privilege.
What the users say
This model was rated 4.7 out of 5 stars on Google and the Bowflex website. Users have rated it as good-looking and applauded the sturdy quiet design. Some users have reported the console losing connection or shutting off on occasion – although this doesn't appear to be a problem for many others.
6. Horizon EX-59 Elliptical
Best elliptical machine for an easy set-up
Specifications
Dimensions: 74 x 25 x 64.5 inches/ 188 x 63.5 x 164cm
Weight: 145 lbs/ 65kg
Resistance levels: 10 levels
Stride length: 18in/ 45.7cm
Incline: N/A
Max weight: 300lb/ 136kg
Reasons to buy
+
Flywheel and pulley system promises smooth performance
+
Good value for money
+
Lifetime warranty on frame
Reasons to avoid
-
Only 10 levels of resistance
The EX-59 is Horizon Fitness's best-selling and most-decorated elliptical machine for good reason. It's a quality product that can be picked up for well under $1,000, making it a strong contender if you're after value for money. The brand also promises it's simple to set up in less than 30 minutes, and features intuitive controls so you don't have to fight your way through fiddly menus to get to the meat and drink of your workout.
The EX-59 benefits from a 14.3lb flywheel and pulley system, designed to avoid any unnecessary jerking and deliver smooth, quiet performance. The foot plates are placed closer together than many competitors to provide a more comfortable running position, there are 10 levels of resistance and the sturdy frame comes with a lifetime warranty.
The console comes loaded with a choice of preset programs including interval sessions and weight loss focused workouts. You can also run freely or set a calorie goal to hit. And, if you're going for a slower-paced session, you're able to plug a phone or tablet into the machine's rapid-charge USB port, place it in the device holder above the console and watch your favorite streaming services as you rack up the miles.
What the users say
The Horizon Fitness EX-59 Elliptical Machine has earned an average score of 4.1 out of a possible five stars from more than 180 ratings on Amazon. Buyers say it is well-built and easy to assemble, working smoothly and quietly. Some users recommend using some form of lubricant to prevent future squeaking.
7. Schwinn Fitness 470 Elliptical
The best premium elliptical machine
Specifications
Dimensions: 70.1 x 28.2 x 63.2in/ 178.1 x 71.5 x 160.5cm
Weight: 164lb/ 74.5kg
Resistance levels: 25
Stride length: 20in
Incline: 10%
Max weight: 300lb/ 136kg
Reasons to buy
+
Large frame provides a smooth, comfortable running experience
+
Plenty of preset programs to keep workouts interesting
+
Virtually run real-world routes with Explore the World app connectivity
Reasons to avoid
-
Larger dimensions can be hard to fit into a home workout space
Price-wise, the Schwinn Fitness 470 Elliptical is nearer the top end of our list. However, we think it's a premium machine that could be worth the extra investment for the right buyer.
It's Schwinn's top elliptical trainer, with the brand stating it has everything you need to "get the training experience you need for strength, endurance and weight loss you want".
It has an impressive 25 levels of resistance, five incline settings, detailed metric-tracking and 29 in-built programs to help you get a sweat on. You can also link to the Explore the World app via your phone or tablet to tackle real-world routes, covering everything from the Scottish Highlands to the Japanese countryside.
The all-black frame looks sleek, though it is on the larger side, which is worth bearing in mind if you have limited space for a workout machine in your home. This becomes a benefit when it comes to comfort, however, with the large, cushioned foot plates allowing you to place your feet in the best position for you.
What the users say
The Schwinn Fitness 470 Elliptical has been reviewed more than 2,500 times on Amazon, with an overall score of 4.1 stars. Satisfied customers praise how smooth it feels to use and the lack of noise during intense sessions. One buyer said they found the design was not well-suited to taller users, but this view appears to be in the minority.
FAQs
What are elliptical machines?
Similarly to treadmills, elliptical machines allow you to mimic a running motion on the spot for a space-efficient workout. But, rather than the rotating belt of the best treadmills, they have two platforms for your feet which move in a cyclical motion when you push downwards (reminiscent of an exercise bike).
This makes using an elliptical machine a low impact alternative to running as it removes the need for striking the ground with each step, eliminating the additional force put through your lower body as a result.
Many will feature a similar console to other exercise machines, with different resistance levels and preset programs to choose from to determine the difficulty of your workout.
How much do elliptical machines cost?
Elliptical machines vary in cost and you can expect to pay as much as $2,000/ £1,500 for a premium machine. Some of the better-known brands will have higher price points but even if you're opting for a budget cross trainer, consider the flywheel weight as lighter options will not be as sturdy. Smart-enabled elliptical machines will also cost more and these often come with added benefits like a compatible app and memberships that allow you to stream workouts to the machine's screens.
If you're after a cheap elliptical machine, you can get one for as little as $500/ £400 and it's still possible to have a sturdy and long-lasting machine for that price too - you may just have to sacrifice fancy features like WiFi compatibility.
Whichever machine you choose, take note of the warranty that comes with it as this will give you peace of mind and protect your purchase.
Are elliptical machines effective?
A study published in the Gait & Posture journal found that "elliptical exercise significantly reduces weight-bearing as compared to other common functional sporting activities" including walking, jogging and running on a treadmill.
While treadmill running at 8.5km/h saw subjects experience forces equal to 175% of their body weight, those who used the elliptical machine experienced just 73%.
As a result, the study suggested elliptical machines could be used by individuals returning to exercise after an injury or surgery on their lower limbs. It also said the results could be useful in helping prevent overuse injuries.
And if you're looking for a low impact exercise method to help you lose weight, underestimate the elliptical machine at your peril. A calorie burn rate calculator produced by the University of Rochester Medical Center estimates that a 125lb person can burn up to 540 calories in an hour-long session on one of these bits of kit. That's just 60 calories less than the predicted value for a six mile run completed at 6mph.
Sam Hopes is a level III fitness trainer, level II reiki practitioner, and resident fitness writer at Future PLC, the publisher of Fit&Well. Having trained to work with both the mind and body, Sam is a big advocate of using mindfulness techniques in sport and aims to bring mental wellbeing to the forefront of fitness. She's also passionate about the fundamentals of training and how we can build more sustainable training methods. You'll find her writing about the importance of habit-building, nutrition, sleep, recovery, and workouts.