Best running watch: Maximize your runs with these top GPS watches
Our pick of the best running watches to track everything from 5k runs to marathons - and beyond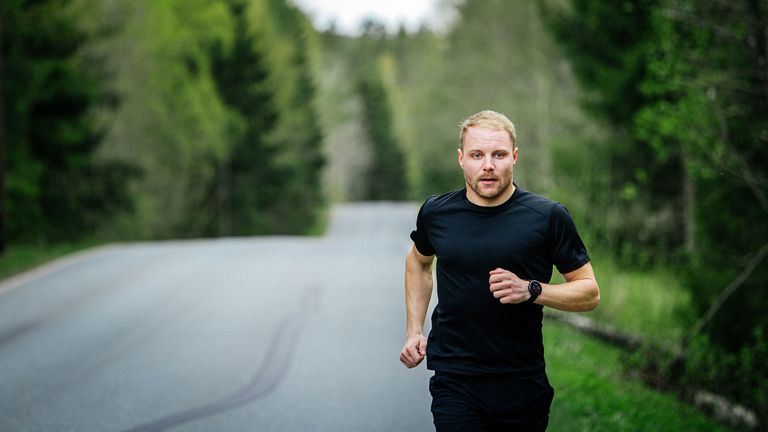 (Image credit: Polar)
Selecting the best running watch for you is a great way to help achieve your personal goals. A good running watch will provide you with encouragement, accurate tracking, and guidance on how you're performing every step of the way. 
Whether you're taking a quick jog around the block or undertaking a marathon, insight into how you're performing makes all the difference. 
For the majority of people, the Polar Vantage V2 is the best all-rounder. Key features include built-in GPS and heart rate monitoring, ensuring you know exactly how well you're performing and if you're pushing your body to the appropriate levels. It also boasts enhanced battery life and a pared-down, lightweight design.
However, plenty of other running watches are available, including a variety of options from Garmin, one of the leading running watch brands. Read on to find out more about potential alternatives for you, no matter what your ability level is or how much you want to spend.
For something more streamlined, you might also want to consider one of the best fitness trackers, or for more general features, here are the best fitness watches.
How to choose the best running watch for you
It's worth considering a few pivotal factors before you make your purchase.
One key consideration is how much you want to spend, and our advice would be to pick the best model you can afford. Really cheap running watches are available, but it's typically false economy and not a good deal in the long run (pardon the pun). Even if you're only a novice runner, you want a running watch that tracks your performance accurately.
That said, you don't necessarily need to spend a fortune. If you're not a hardcore runner, then something with the basic features - namely GPS and heart-rate monitoring - will do the trick nicely. However, more advanced runners may want to consider functions such as stride length. Similarly, if you're an all-weather runner - or if you like to swim, too - then you may want to consider a waterproof running watch.
Also think about what phone your watch will be paired with. Are you an Android or iOS user? It makes a difference. If you're an iOS user, an Apple Watch is generally the best option for you - dependant on your budget, of course. However, it's not much use for Android users. Meanwhile, if you're keen to get away from it all then you might prefer a running watch that doesn't require you to be attached to your phone at all times. Consider what's important to you. 
Ready to make your selection? Read on to discover our pick of the best running watches on the market...
The best running watches you can buy right now
1. Polar Vantage V2
The best running watch for most people
Specifications
Max battery life: 7 days
Swim proof: Yes
Notifications: Yes
Weight: 52g
Colors: Black/Black, Silver/Grey Lime, Black/Green
Reasons to buy
+Lightweight+Vast amount of running data
Reasons to avoid
-If you want more of a smartwatch-No ability to store music on the watch
With stiff competition in the GPS running watch market, the Polar Vantage V2 offers enhanced battery life and a pared-down, lightweight design that lifts it above competitors. 
The amount of metrics on offer is simply astounding: anything and everything a runner could want is here, including a 24/7-tracking wrist-based HR monitor (with, we found, above-average accuracy), running power and detailed recovery data. 
It also features a unique running training app that includes leg performance tests to tell you how tired you really are, plus the option to track multiple other sports, follow Komoot routes, and the ability to see when you are on a Strava segment if you want to push a little harder to bump yourself up the leaderboard. Throw in touchscreen operation and wireless music control and you're onto a winner.
2. Garmin Enduro
The best premium running watch
Specifications
Max battery life: 300 days in max mode
Swimproof: Yes
Notifications: Yes
Weight: 58g
Colors: Steel w/ grey strap, Carbon Grey w/ black strap
Reasons to buy
+Unmatchable battery life+Multiple advance features
Reasons to avoid
-No topographical maps-Can't store music
With the Garmin Enduro, you get everything you could ever need for any adventure. This watch packs so much in it's difficult to list even a small percentage of what it does: pretty much any metric that can be tracked is tracked, including hydration and recovery levels.
It's aimed at those who love nothing more than spending multiple hours - or even days - doing activities, such as ultra runners, endurance cyclists and Ironman athletes, but can also be happily used by Parkrunners. The battery life takes this watch beyond all others: it can record for up to 80 hours of activity thanks to a solar-powered battery boost. 
Trail runners in particular will be drawn to the Trail Run VO2 Max, which gives a reading that takes into account off-road terrain and weather. Garmin Pay is included for contactless payments, and the Carbon Grey model's titanium bezel helps reduce weight as well as increase toughness (a cheaper, non-titanium version made of steel is also available).
3. Garmin Forerunner 45 Plus
The best budget running watch
Specifications
Battery life: 7 days
Swimproof: Yes, but doesn't track swimming
Notifications: Yes
Weight: 32g
Reasons to buy
+Great price+Lightweight
Reasons to avoid
-Basic running data-If you do a lot of swimming
Whether you consider yourself a serious or a casual runner, the Garmin Forerunner 45 Plus watch provides a host of features that will satisfy everyone. Garmin is renowned for producing simple-to-use GPS watches with accurate data and handy features such as the ability to play music through your watch (which you can do with the 45 Plus). 
You can also follow training plans via Garmin Coach and monitor your body's recovery levels (based on your HR data), as well as tracking heart rate 24/7 through the inbuilt wrist sensor and see your predicted race times via a handy Race Predictor feature, which is not available on the regular 45 model. 
As an entry level watch, this does the job and more. Note that the 'Plus' model isn't currently available Stateside - the standard Garmin Forerunner 45 is your next best bet.
4. Polar M430
Another great budget running watch
Specifications
Max battery life: 5 days
Swimproof: No
Notifications: Yes
Reasons to buy
+Low price+Fitness test programme
Reasons to avoid
-Not swim-proof-Not as accurate as competition
The Polar M430 is the best option for runners starting out but unsure about committing to vast sums of money. For the price, you get built-in GPS and heart rate monitoring along with a fitness test that keeps an eye on your abilities before dishing out personalised running programmes. A built-in accelerometer means you can use it just as easily indoors on a treadmill too. Its accuracy isn't quite up there with pricier options, but it's good enough to still give you an idea of how you're doing. 
There's no swim proofing either but if you're solely after a running watch, the Polar M430 is a great inexpensive option that will consistently give you encouragement to do better time and time again. 
5. Apple Watch Series 6
The most stylish running watch
Specifications
Max battery life: 18 hours
Swimproof: Yes
Notifications: Yes
Weight: 47g
Reasons to buy
+You want to track your blood oxygen+Powerful features+A versatile, stylish watch
Reasons to avoid
-Short battery life-Not as much data as a dedicated running watch
The updated Apple Watch Series 6 is not a huge leap forward for runners from the Apple Watch Series 5. The big new addition is the inclusion of a blood oxygen sensor. This can provide a useful metric for when running at altitude, which is something perhaps only more serious runners take part in. 
As always with Apple watches, the limited battery life is an issue, but the inclusion of a faster 1.5hr charge helps when you are short on time (which may well be the case if you are using it to track sleep data, too).
Apple claims that the altimeter is more accurate on the Series 6, too. Pair that with the always-on display that was introduced on the Series 5, the Apple Rings that actually encourage you to keep active, and Apple's trademark minimal and distinctive design, and this watch will please every type of runner.
6. Garmin Forerunner 735XT
The best running watch for triathletes
Specifications
Max battery life: 7 days
Swimproof: Yes
Notifications: Yes
Reasons to buy
+Rugged design+Comprehensive stats
Reasons to avoid
-Bit chunky-Display could be sharper
If you'd prefer a Garmin model but don't want to shell out on the Enduro listed above (or, indeed, you don't need that many features), then the Garmin Forerunner 735XT is a solid option and a great all-rounder.
 It's lightweight enough that it won't feel like an imposition while still offering plenty of useful features. Besides the built-in GPS, it tracks your heart rate throughout the day which is ideal for knowing when you've hit your stride. Indeed, when it comes to stride, the Garmin Forerunner 735XT spots your stride length, ground contact time and more, meaning it's ideal for getting your technique just so. 
For those times when you're not running, it's water resistant up to 50m plus it offers smart notifications from your phone with everything from texts to emails and social media alerts being fed here. The only real downside is that its display is a bit weak and lacks a sharpness we've come to expect from most products. 
7. Suunto 9 Baro Titanium
The best watch for trail runners
Specifications
Battery life: 170 hours
Swimproof: Yes
Notifications: Yes
Weight: 76g
Reasons to buy
+Great battery life+Rugged design
Reasons to avoid
-Not the lightest
If you consider yourself an outdoor adventurer and enjoy nothing more than exploring forests, moorland and coastal paths, the updated Suunto 9 Baro Titanium is for you, especially if you are planning to hit the trails for extended periods of time.
The battery will power you through up to 170 hours of activity, the unexpectedly handy weather-tracking feature helps your analyse how conditions might change, and the new turn-by-turn navigation via Komoot routes means you can find your way without a phone or map. 
Tested to US military standard 810H, the watch will take a lot of punishment, and the touchscreen operation makes it easy to navigate (although you can't use the touchscreen during activity). 
8. Garmin Fenix 6 Pro
The best running watch for anyone who does more than just run
Specifications
Max battery life: 9 days
Swimproof: Yes
Notifications: Yes
Reasons to buy
+Advanced training features+Extensive GPS
Reasons to avoid
-Overkill for some-Large design
Regularly run but also do so much more? In which case, the Garmin Fenix 6 Pro is for you. It doesn't just track walks and runs like most smartwatches, it also comes with preloaded TOPO maps, ski maps for over 2,000 ski resorts around the world and has an advanced GPS system so it's always going to keep up with where you are. 
As well as that, there are advanced training features like its grade-adjusted pace guidance system so the advice given is always perfect for your abilities. The display is clearer than most too, so you won't have to worry about struggling to see feedback. It's overkill for all but the most active users, and it's a bit bulky for some wrists, but it's certainly powerful. 
9. Garmin Vivoactive 3
Another great budget running watch option
Specifications
Max battery life: 7 days
Swimproof: Yes
Notifications: Yes
Reasons to buy
+Perfect for many exercises+Clear display
Reasons to avoid
-No specialisms-Poor sleep tracking
The Garmin Vivoactive 3 is the running watch for people who do a little bit of everything. Well priced, it offers pre-set workouts associated with yoga, strength training, swimming, as well as walking and running. A built-in GPS and heart rate monitoring means it covers the basics, with estimates of your physical health based around your accomplishments and age. With all-day stress tracking, it also keeps an eye on any time you're stressed out, suggesting relaxation breathing exercises to help. The screen is easy to see and use too.
The downside? Well, the Garmin Vivoactive 3 isn't quite perfect at anything. It's the curse of being an all-rounder meaning it doesn't specialise in one activity, but that's not really a big issue for most people.