I'm a regular runner, and these are the best running watches I'd recommend for beginners
I've tested many of the best running watches, and these budget-friendly options are some of my favorites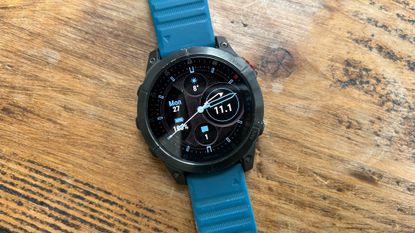 (Image credit: Nick Harris Fry / Future)
Using one of the best running watches can make a big difference in how you go about your training. The wealth of stats a running watch provides means it can improve your running, whether you're looking to get faster, run further, or enjoy your training more.
Today's watches are more accurate and offer more stats than ever before, and you don't need to break the bank to get a device that can track every aspect of your run and advise you on what runs you should do to balance your training and get fitter.
I've tested many of the best running watches across a range of budgets and styles, and for this round-up, I've picked out a selection of the best running watches and smartwatches for running that won't break the bank.
They all offer GPS location tracking and heart rate monitoring, which are essential for running watches. Plus, I've added one feature-packed premium model as a money-no-object budget-buster.
The best running watches you can buy right now
1. Garmin Forerunner 55
Best running watch for most people
Specifications
Battery life: 14 days (smartwatch), 20 hours (GPS)
Case size: 42mm
Weight: 1.3oz / 37g
Touchscreen: No
Reasons to buy
+
Light, comfortable design
+
Daily suggested workouts
+
Good battery life for size
Reasons to avoid
-
No navigation features
-
No music storage
The Garmin Forerunner 55 is the entry-level option in the company's running watch range, but in truth, it has all of the features any runner really needs. The watch is comfortable to wear at all times, and the battery life is impressive, given how small it is—it lasted me a week, even though I ran over 50 miles in that time.
Daily suggested workouts help to ensure your training is balanced and helps to make you fitter, and you can also load training plans for 5K, 10K, and half marathon events onto the watch to follow from your wrist.
More expensive Garmins offer useful features like music storage, navigation, and more extensive training analysis, but the Forerunner 55 nails all the essentials at a much lower price.
---
2. Amazfit T-Rex 2
Best budget running watch
Specifications
Battery life: 24 days (smartwatch), 50 hours (GPS)
Case size: 47mm
Weight: 2.3oz / 66.5g
Touchscreen: Yes
Reasons to buy
+
High-quality display
+
Long battery life
+
Multi-band GPS
Reasons to avoid
-
Screen can be hard to read outside
-
Not a full smartwatch
The Amazfit T-Rex 2 is a great running watch with a large AMOLED display. While it doesn't have the smarts of a device like the Google Pixel Watch, lacking music storage and an app store, the combination of its accurate sports tracking and bright screen impressed me during my testing.
It also has a more rugged style than most other running watches in its price range, and the multi-band GPS on the T-Rex 2 for improved location tracking is another feature you'd usually only find on pricier watches.
Plus, the T-Rex 2's heart rate tracking was usually on point for me, too, though the fact you can't pair an external strap for more accuracy is a shame.
---
3. Garmin Epix 2
Best premium running watch
Specifications
Battery life: 16 days (smartwatch), 42 hours (GPS)
Case size: 47mm
Weight: 2.5oz / 70g
Touchscreen: Yes
Reasons to buy
+
Color maps
+
Best-in-class sports tracking
Reasons to avoid
-
Only Sapphire models have dual-band GPS
-
Short battery life
The Garmin Epix 2 launched in early 2022, and it has rarely left my wrist since it offers the complete package. It looks fantastic, with a bright AMOLED display and a rugged metal bezel.
Plus, it packs all of Garmin's best features, including color maps, extensive training analysis, and accurate run tracking. It is disappointing that only the more expensive Sapphire models have dual-band GPS, which I find significantly more accurate than GPS-only.
You'll get up to five days of battery on a single charge, but if you're after a running watch that'll last weeks instead, it's worth considering the Garmin Fenix 7 or Enduro 2, which have dimmer screens to reduce power consumption.
---
4. Apple Watch Series 8
Best running smartwatch
Specifications
Battery life: 18 hours
Case size: 41mm or 45mm
Weight: 1.1-1.8oz / 32-51.5g
Touchscreen: Yes
Reasons to buy
+
Attractive design
+
Great app store
+
Accurate run tracking
Reasons to avoid
-
Short battery life
-
Only works with iPhones
The Apple Watch Series 8 only works with iPhones, which is a shame because I think it offers a better running experience than any smartwatch that runs on Google's Wear OS software.
Apple updated the native run tracking in late 2022 with its watchOS 9 software. It now matches up well with dedicated running watches regarding the stats and data screen customization options you get.
However, the incredible App Store, which is packed with excellent running apps that offer features like more detailed run tracking, excellent navigation, and guided workouts, is what sets the Apple Watch apart.
I have also tested the Apple Watch Ultra, which has twice the battery life and even more accurate GPS tracking than the Series 8, as well as an extra functional button, but the Series 8 is half the price and still a brilliant running watch if you don't mind the one-day battery life.
---
5. Coros Pace 2
Best running watch for adventurers
Specifications
Battery life: 20 days (smartwatch), 30 hours (GPS)
Case size: 42mm
Weight: 1oz / 30g
Touchscreen: No
Reasons to buy
+
Very light
+
Long battery life
+
Triathlon and run tracking
Reasons to avoid
-
No navigation features
-
No music storage
The Coros Pace 2 is the best running watch on the market, not made by Garmin, and it's actually a full triathlon watch too. It's terrific value for such a capable sports watch.
And despite its tiny size and low weight (it's just 30g with the nylon band and 36g with a silicone one), the battery lasted me 10-12 days with heavy use.
Like the Forerunner 55, the Coros Pace 2 lacks some of the frills you get with more expensive watches. Still, it does offer extensive training analysis that stat-lovers like myself will enjoy spending hours poring over.
I also found it reliably accurate in its GPS tracking, and while the heart rate monitoring isn't always spot on, you can connect an external chest or arm strap monitor via Bluetooth (or ANT+) for greater accuracy.
---
6. Google Pixel Watch
Best running watch for Android users
Specifications
Battery life: 24 hours
Case size: 41mm
Weight: 1.3oz / 36g
Touchscreen: Yes
Reasons to buy
+
Small, attractive design
+
Fitbit fitness tracking
Reasons to avoid
-
Basic sports tracking
-
Short battery life
-
Not compatible with iPhone
In all my testing, I'm yet to come across a proper Android smartwatch that also offers great run tracking.
In truth, the Pixel Watch is the best of a bad bunch rather than a device that matches what runners get from the Apple Watch in terms of native sports tracking and the options available in the app stores of each watch.
However, the Google Pixel Watch does an acceptable job for casual run tracking thanks to the Fitbit sports app, even though the GPS and HR accuracy sometimes misses the mark.
It is also a great-looking watch that's small and comfortable to wear at all times and has great activity and sleep tracking outside of your workouts, thanks to the Fitbit integration.
If you've got an Android phone and want a better running experience, you might be better off with the Garmin Venu 2 or Amazfit T-Rex 2. These have high-quality screens for easy reading, but they don't have a dedicated app store.
---
7. Garmin Forerunner 265
Best running watch with an AMOLED screen
Specifications
Battery life: 13 days (smartwatch), 20 hours (GPS)
Case size: 46mm
Weight: 2.3oz / 47g
Touchscreen: Yes
Reasons to buy
+
Easy-to-read display
+
Training readiness rating
+
Excellent sports tracking
Reasons to avoid
-
More expensive than Forerunner 255
-
No maps
-
Battery life is just OK
The Garmin Forerunner 265 is a step up from cheaper running watches like the Forerunner 55 and Coros Pace 2. It sports a bright touchscreen display and offers insightful training analysis through Garmin's readiness feature.
This tells you how ready you are to train at any given time based on factors like your recent training load and sleep. It doesn't have the color maps you get on Garmin's top watches, but the Forerunner 265 does have breadcrumb navigation where a line and pointer will guide you through routes, which has never led me astray.
It also has useful smart features like music storage and contactless payments. Despite the bright screen and extensive feature set, the Forerunner 265 still lasted me four to five days on a charge when running around 12km a day on average.
---
How to choose the best running watch for you
At a minimum, the best running watches offer heart rate and GPS tracking, but even cheaper watches now provide much more than that, with an interval workout planner and training analysis that includes tracking your VO2 max as standard.
The best way to pick your running watch is to consider the features from the list below and then grab the cheapest or best-looking device with them.
Display
Running watches traditionally have duller displays than smartwatches, which allows them to last much longer on a charge. However, AMOLED touchscreen displays are becoming more common on sports watches, and while this does affect battery life, it makes for a better experience.
Guided training plans
Training plans with guided workouts you can follow on your wrist to get fitter are beneficial for new runners and those training for a specific event. They're a common feature on sports watches, while smartwatches often have apps that can create these plans for you.
Smart features
The smarter your running watch, the easier it is to leave your phone behind when running. Full smartwatches have extensive app stores and can get cellular access with a plan, so you are truly free from your phone.
There are also sports watches with key smart features like music storage, notifications, and contactless payments, which tend to offer better sports tracking and battery life than smartwatches but don't have extensive app stores or cellular access.
Battery life
Some running watches last several weeks between charges, while smartwatches need plugging in every day or two. The display is the key determining factor with battery life, so if you want the longest battery life, you might have to give up on an AMOLED screen, though you can get AMOLED watches that last four to five days on a charge.
Maps and navigation
Entry-level watches don't tend to have any navigation features, while mid-range watches offer breadcrumb navigation, where a line and pointer guide you through routes, sometimes with turn-by-turn directions.
The priciest sports watches have full maps on board to essentially turn your watches into a sat-nav, which is very useful for adventurous types running off-road.
Compatibility
Sports watches are almost always platform agnostic in that they will happily pair with any phone, but smartwatches usually work best or only with certain phones.
For instance, the Apple Watch will only work with iPhones, while the Google Pixel Watch only works with Android phones. Most Wear OS and other Android smartwatches work with iPhones but often lose some features if not paired with an Android phone, like music storage.
How much do running watches cost?
You can get a great running watch with all the essential features for $150-$200, and if you are happy with a slightly older model, there will be deals where you can get watches for nearer $100, especially around sales events like Black Friday.
Mid-range running watches and smartwatches usually cost around $200-$450, offering extra features on entry-level models like navigation, better training analysis, and more attractive designs with AMOLED displays.
The most expensive running watches cost anywhere from $500 to over $1000, and along with a few extra features like maps, at this point, you're paying for more impressive designs that use hardier and more attractive materials, as well as extended battery life.
How we test the best running watches
I have been running around 50 miles a week for the past five years and have tested pretty much every sports watch launched in that time from brands like Garmin, Coros, Polar, and Suunto, as well as every generation of the Apple Watch. I wear each watch I test for at least two to three weeks and check their heart rate accuracy against a chest strap.
FAQs
Do runners need a running watch?
When you start running, a tracking app like Strava might be all you need to record your training if you're happy to carry your phone. However, many people find that they want easy access to their stats during runs, and a running watch will provide all the critical information you need at a glance.
This will help you judge your efforts on a run, whether you're aiming for a certain distance, time, pace, heart rate zone, or amount of calories burned. You can also get interval workouts and training plans to guide you through your training on your wrist.
Can you use running watches for other sports?
All running watches will also track other sports, providing you with the most valuable stats for activities like hiking, cycling, swimming, and strength workouts.
If you're a triathlete, look for a watch with a multisport mode that tracks a triathlon, including your transition in one sports mode. You'll also need a watch with an open water swimming mode, rather than just pool swimming.
Why do runners use Garmin watches?
Garmin watches currently offer the most reliable sports tracking on the market and do a brilliant job of covering everything a runner needs, with accurate GPS tracking, customizable sports modes to show all the stats you need, and long battery life.
They also have the most advanced features for runners, such as insightful training analysis, suggested workouts, music storage, and navigation, with color maps on the top models in Garmin's range.
Other brands offer all these features too, but the complete package with Garmin is more user-friendly, and many runners stick with them as a result.
Is an Apple Watch or Fitbit better for running?
Fitbit's devices do a good job of tracking casual runs, with many models, like the Fitbit Sense, now having built-in GPS for more accurate tracking, but the Apple Watch is a better device for running.
That's because the native sports tracking on the Apple Watch is more developed, with more stats available along with customizable data screens, and the Apple Watch also offers more accurate GPS tracking.
That's especially the case with the Apple Watch Ultra, which has multi-band GPS tracking that is as accurate as anything else on the market. It also has an extra button that you can use as a lap marker; an essential feature for many runners.
However, if you're comparing the Apple Watch vs Fitbit, what really sets the Apple Watch apart from Fitbit devices is the App Store since this contains a range of terrific apps for runners that can create a similar experience to what you get from a sports watch.
With Fitbit, you have to use native tracking, which is fine for the basics but lacks the depth many runners expect on their watch. However, Fitbit devices offer longer battery life, lasting four to five days compared with one or two for the Apple Watch.
Nick is an experienced journalist, beginning his career in 2012. He has been covering health and fitness with Fit&Well's sister site Coach since 2015, writing expert-led features and reviewing all manner of fitness equipment. Nick discovered a passion for running in his first year with Coach and now runs 70-110km a week and races regularly with his club Orion Harriers.