Two years later, the Fitbit Sense is still one of the top fitness watches you can buy — here's why
The Fitbit Sense falls short of its 'wellness watch' promise, but is still packed with top-class fitness tracking tech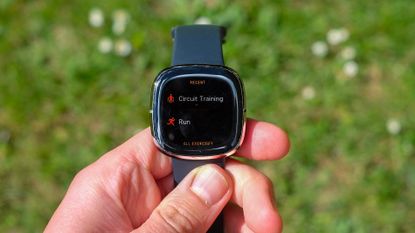 (Image credit: Andrew Williams)
The Fitbit Sense is one of the most feature-packed watches in the company's range, combining fitness and health-tracking tech with smartwatch qualities. It's also one of the most expensive Fitbit options, so it's a shame that the heart rate tracking is a bit inconsistent, and some of the sensors have quite niche uses.
Reasons to buy
+

Packed with health-tracking sensors

+

Slimline, Apple Watch-inspired design

+

Built-in GPS

+

Stress tracking and ECG sensor
Reasons to avoid
-

Heart rate monitor isn't always accurate during exercise

-

No phone-free music support

-

Mid-range battery life
Get the Fit&Well Newsletter
Start your week with achievable workout ideas, health tips and wellbeing advice in your inbox.
Thank you for signing up to Fit And Well. You will receive a verification email shortly.
There was a problem. Please refresh the page and try again.
The Fitbit Sense is more than just a fitness tracker or a smartwatch. Fitbit has tried to make an all-around wellness and health wearable, and one of the best Fitbit watches available right now.
This sort of thing often raises an eyebrow, as technology companies regularly over-hype their new releases. But the Fitbit Sense really does have more sensors than almost any other wearable. It is not called "Sense" for nothing.
The company's fitness trackers have long been the go-to standard for monitoring your day-to-day activities, but the Sense blends with this with stress-tracking, mindfulness-promoting tools, and running-friendly features like onboard GPS location tracking.
But the Sense sits in a strange middle ground between fitness tracker and smartwatch; it's better than a standard tracker, but it isn't as well-equipped as the Apple Watch or as good at sports tracking as the Garmin Venu 2 Plus.
If you're already invested in the Fitbit ecosystem or prefer the company's more user-friendly approach to fitness and well-being monitoring, here's why it's one of the best value for money fitness watches you can get right now.
Fitbit Sense review: price and features
The Fitbit Sense was released in November 2020 and originally retailed at the top of the range, costing $329/£300. This made it substantially more expensive than the similar-looking Versa 3.
But for the extra money, the Sense comes with an ECG sensor for heart rate monitoring and an EDA sensor for sweat and stress tracking. However, in late 2022, Fitbit launched the Sense 2, an upgraded model.
So, as of early 2023, you can pick the original Sense up for around $219/£200. This makes it a more budget-friendly way to pick up a top-of-the-range fitness tracker, especially since the Sense 2 only comes with relatively modest updates.
As you'd expect, the Sense allows you to monitor your heart rate, steps, sleep, and workouts alongside the previously mentioned stress and ECG trackers. At a glance, it's a similar feature set to the Apple Watch, but the experience isn't as slick.
But you get some impressive features for your money, like water resistance up to 5ATM (so you can wear it while swimming or showering), check your smartphone's notifications, and even respond to messages from the watch.
Fitbit Sense review: design
Fitbit borrowed and tweaked the design of the Versa-series watches for the Sense. It's a rounded square, intended to look friendly and arguably less angular than many smartwatches.
The Fitbit Sense's entire body is metal, the top is toughened glass, and you can easily switch out the straps if you don't lie the fold-over loop of the standard silicone one.
But there's also a pressure-sensitive button on the side of the watch. You can't see it, but pressing it wakes the display and sends you to the home menu. However, we weren't impressed.
Our experience with this so-called button could have been faster and more consistent, so we can't help but feel that an actual button might have been better.
The display doesn't compare favorably against the competition either, looking less vibrant than the Apple Watch and having rougher-looking text than on many Garmin watches.
On the positive side, we liked that its brightness changes to suit the ambient light level, and the data is clearly displayed. Seeing your stats as you run on a sunny day is no problem.
Fitbit Sense review: features
The sensors are the main difference between the Sense and the Fitbit Versa 3. As we discussed earlier, the Sense comes with a heart-monitoring ECG and a stress-sensing EDA sensor.
The electrocardiogram (ECG) can alert you to irregular heart rhythms, but you need to start this scan manually. It takes 30 seconds, and then you can browse the report using the Fitbit app on your smartphone.
The EDA sensor, meanwhile, tracks how much you sweat and uses that as an indicator of your current stress levels. It's an exciting feature, but we didn't think it was ideal that you must manually start this scan, suggesting you may have reason to check your stress.
However, if you compare the Fitbit Sense vs Fitbit Sense 2, you'll see that the upgraded model continually monitors using the EDA sensor, offering all-day stress tracking.
We were initially pleased to see the inclusion of a blood oxygen monitor (the SpO2 sensor), which can, in theory, help alert you to breathing issues like sleep apnea.
But after a few manual scans, which often show the same result (or thereabouts), maintaining interest is challenging. This value is more interesting in the longer term, so you can spot if something goes amiss.
This was our experience with the Fitbit Sense — there are a lot of features, but most aren't really that interesting, and the company doesn't really offer any guidance on what to do with the information.
Disappointingly, the company has also dropped support for music sync to the watch, so you're now limited to the pre-installed Spotify or Deezer apps, but you'll still need your phone nearby to use either service.
Fitbit Sense review: fitness tracking
The Fitbit Sense's headline features might focus on the health side of things, but it still has everything it needs for classic exercise and run tracking. There's GPS for fully tracked phone-free runs and a heart rate sensor.
We went for a couple of runs wearing the Fitbit Sense, a Garmin Venu 2, and a chest strap heart rate sensor. During the run, the results looked promising. The Sense seemed to react to changes quickly, and the on-screen readings looked reasonably accurate.
But the graph in the Fitbit app told a different story. There were lots of strange spikes that didn't match the run and weren't picked up on the other two wearables either.
Because of this, it's hard to recommend the Fitbit Sense if you're keen on tracking your heart rate during your workouts. However, its GPS accuracy fared a lot better, even if it initially takes a while to locate you.
Frustratingly, the company (now owned by Google) has decided to restrict the number of free workouts you get with the watch, and has locked the main bulk of its fitness content behind Fitbit Premium.
This subscription costs $9.99/£9.99 per month or an extra $120 per year on top of the watch's price. The Fitbit Sense might have come down in price now, but that makes the service even worse value for money, as two years of Premium doubles the total cost.
Fitbit Sense review: battery life
Many people avoid smartwatches because there's a perception you need to charge them every day. That's certainly true of some, but we found the Sense lasts around four days.
This is still below Fitbit's quoted six days, but at least you won't have to top up every evening. You can extend it in a pinch by disabling the always-on display and not using many power-hungry features like location tracking or ECG tests.
Still, should you find the battery logo start to flash red, you'll be pleased to know that the Fitbit Sense only takes around an hour to recharge. And the magnetic dock is relatively straightforward to connect.
Fitbit Sense review: verdict
The Fitbit Sense accelerates the company's transition from fitness tracking to a more holistic health-monitoring wearable. It's not ideal for runners or experienced exercisers, but it's designed to aid you in daily life.
But for the price, you'd expect a little more. Fitbit doesn't really offer guidance on what to do with the massive amounts of data it gathers, and many analysis features are hidden behind the Fitbit Premium paywall.
Our experience with the first-generation Sense made us feel like Fitbit is still working out how to make a 'wellness watch' to compete with the Apple Watch. It's still a great fitness tracker, but there are better value alternatives for your money.
Also consider
Fitbit Versa 3
The Fitbit Versa 3 looks almost identical to the Sense and is almost the same watch but slightly thicker without the ECG and stress-tracking tech. It also has the same interface and integrates with the Fitbit app for when you want to drill down into the data.
Apple Watch Series 8
Although not the first company to create a fitness-tracking watch, the Apple Watch is considered the gold standard for most people. It has similar sensors to the Sense but also integrates with Apple's other services, overlay your stats when working out with Apple Fitness+, track your heart health, and contact the emergency services if you have an accident.
Get the Fit&Well Newsletter
Start your week with achievable workout ideas, health tips and wellbeing advice in your inbox.
Andrew is a freelance contributor to Fit&Well. He has written about health and fitness for more than a decade, specializing in consumer tech. When not testing fitness tech for Fit&Well he writes about fitness for Forbes and contributes to publications including WIRED, TechRadar, Stuff, Trusted Reviews and others. Andrew runs to keep fit, and can often be round jogging around the parks of South London with several wearables and a heart rate strap attached. He also enjoys indoor cycling, using a turbo trainer and platforms like Zwift to get some kilometers in while avoiding London's busy streets.