Best workout shoes: The sneakers and trainers you need for all forms of exercise
The best workout shoes for you to hit your goals, from HIIT to weights to sprint training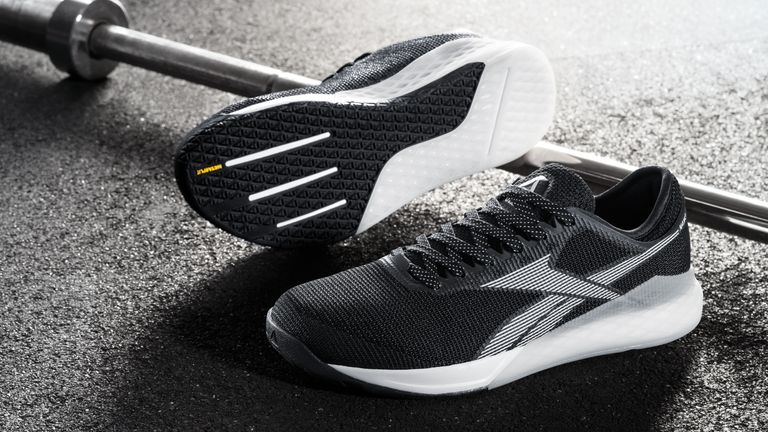 (Image credit: Reebok)
By Lee Bell
You might be on the hunt for the best workout shoes, especially given that health and fitness has never been more important (or if you wore your last ones out pacing the corridors of your room over lockdown).
And let's be clear: when I say "workout shoes", I don't mean running trainers. I'm referring to those made to target all-round exercise, which could involve some running, but would more likely be aimed at weight lifting or other general gym workouts, such as HIIT or circuits - anything involving a lot of movement, basically.
So now it's time to invest in a fresh pair of exercise kicks - and I'm here to help. My personal is the Nike MetCon 5, an excellent all-round workout shoes that's so good it's now in its fifth iteration. However, whether your needs are based on budget, activity or personal preference, there's an option for you.
How to choose the best workout shoes for you
Before I delve into which shoes are best suited to each kind of gym-goer or exercise type, I'd first like to walk you through some top kicks-buying tips (try saying that after a heavy HIIT class).
Firstly, I'd like to highlight that it's unlikely to be obvious which trainers out there - among the vast array of options - are specially tailored more for general workouts and which are made for running. Most brands aren't that good at communicating this to their customers, either, which makes things harder.
Perhaps the best way to describe them is to note how they differ from the best running shoes. One thing to look out for is the curve of the sole. Make sure it's flat. If it isn't, then it's probably a running shoe.
The fit is important, too. Running shoes generally should have a little space at the end to allow for the swelling of your feet as you run overlong distances. Workout shoes should have a slightly more snug fit for added support, especially around the ankle for when (or if) you're lifting heavy weights.
When it comes to pricing, a decent pair of workout shoes will probably cost you around $120 / £100, but there are of course cheaper options around for those on a budget. If the latter applies to you, I'd advise having a nosey in the sales or at older models of popular brands, which often update their flagship shoes meaning older generations can be picked up for a much lower price despite, in most cases, being almost identical.
The best workout shoes to buy
1. Nike MetCon 5
The best workout shoe for most people
Specifications
Weight: 360g
Workout type: Fitness training
Stability: Neutral
Heel to toe drop: 4mm (with removable 8mm insert)
Reasons to buy
+Great grip and flexibility +Work well in all training disciplines +Lots of ankle support
Reasons to avoid
-Design not to everyone's tastes
Now in its fifth iteration, Nike's Metcon series (a portmanteau of 'metabolic' and 'conditioning' in case you were wondering) is by far the best all-rounder when it comes to a workout shoe. Being some of the most comfortable gym shoes I've ever worn. The design is pretty sweet, too, featuring a special abrasion-resistant material on the upper for gripping ropes during cross training-type workouts. There's also a removable Hyperlift insert that adds an additional 8mm to the shoes' 4mm heel to toe drop, to help with mobility when it comes to heavy lifting.
With the Metcon 5, Nike has not only managed to make weightlifting-friendly over predecessors, but ensured performs well in more standard high-intensity interval training workouts filled with jumps and sprints.
2. Reebok NANO 9
Best cheap workout shoe
Specifications
Weight: 343g
Workout type: Fitness training (don't say 'CrossFit'!)
Stability: Neutral
Heel to toe drop: 4mm
Reasons to buy
+Affordable but high quality +Reinforced toe helps stave off accidents
Reasons to avoid
-Residual CrossFit stigma
Reebok might have dropped its CrossFit associations in light of certain remarks made by its former CEO this year, but that hasn't affected the quality of its workout shoes. They are still much loved by burpee addicts, with the tools needed to protect them in the tyre-flipping trenches of a high-intensity workout.
The latest NANO 9 shoe packs a whole host of tech into a slim, lightweight frame. Take for instance the fresh heel bootie construction that works alongside a moulded midsole and sockliner for greater ankle support during weight lifting. Or the high abrasion rubber sole, which offers a better grip on the floor as you lift.
There's also a forefoot flex groove, which gives greater flexibility and balance during split exercises such as squats and lunges. An amazing, feature packed shoe for the price.
3. On Cloud X
The best premium workout shoe
Specifications
Weight: 226g
Workout type: Fitness training/running
Stability: Neutral
Heel to toe drop: 6mm
Reasons to buy
+Lightweight but strong +Outsole adds comfort Design is an acquired taste
Reasons to avoid
-Design not to everyone's tastes
On Running usually focuses on shoes made for runners, as you might expect, but Cloud X is a surprising exception in the company's ever-growing line-up of shoes. Taking the same tech found in On's race shoes and putting it to work in a workout shoe, these kicks are geared more towards general training. They can handle everything from weightlifting and HIIT to CrossFit and short sprints.
The other great thing is that they still have that super lightweight construction that On is known for, thanks to a knit-weave upper. Light and breathable, they maintain a good level of cushioning on the outsole, not only making them highly comfortable, but well placed to handle high impact training moves such as box jumps.
4. New Balance Minimus Prevail
A comfortable, balanced shoe for weightlifting or WOD-ing
Specifications
Weight: 284g
Workout type: Fitness training
Stability: Neutral
Heel to toe drop: 4mm
Reasons to buy
+Lightweight but durable +Impressive grip
Reasons to avoid
-Not as minimal as the name suggests
If you want workout shoes that are versatile, New Balance's Minimus Prevail have a lot going for them. They're built to do just about anything when it comes to working out, even road running. More stable than previous iterations of the Minimus line, the Prevail is a light functional fitness shoe but with a tough, hard-wearing build. There's also a good level of grip that's especially noticeable with lateral movement, so should look after you, even when taking on a WOD ('Workout of the Day') class.
5. Under Armour HOVR Apex
Multi-discipline workout shoe with an added bounce to its step
Specifications
Weight: 370g
Workout type: Fitness training
Stability: Neutral
Heel to toe drop: 8mm
Reasons to buy
+Layered support for softer landings +Bounce back energy
Reasons to avoid
-A touch bulky
Under Armour seems to bring out a new pair of trainers every week, but every once in a while something stands out, and that's what brings me to the HOVR Apex. This multidisciplinary workout shoe is exceptionally cushioned, and will suit you well if you love explosive workouts. While they do feel bulky thanks to that chunky outsole, these gym shoes will soften hard landings and on the flip side, boost your energy return thanks to the HOVR foam, which helps eliminate impact.
This makes them especially useful for jumping exercises or quick sprints. The Apex also features UnderArmour's Tribase tech in the outsole, which maximises ground contact for the foot, allowing for a better grip during lifts.