I'm a fitness writer—here's why this $25 dumbbell deal is the best thing you can buy over Black Friday to start building strength at home
This Black Friday dumbbell deal can help you strengthen muscles, bones and joints, as well as giving your overall fitness a lift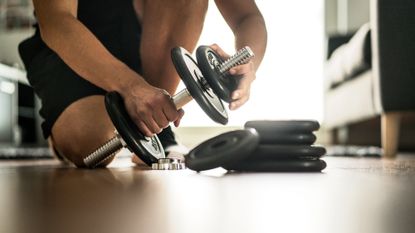 (Image credit: Getty / Tero Vesalainen)
As a fitness writer and Fit&Well's weights tester, my house is like a Pandora's box of dumbbells, barbells, kettlebells, and even niche items—blood flow restriction shorts, anyone? That's why I'm well-placed to help you navigate the best Black Friday weights deal.
Having trawled page after page of decidedly average discounts, I've found two deals that I think will supercharge beginner lifters' efforts to build strength, sans-gym. Neither one is going to break the bank either.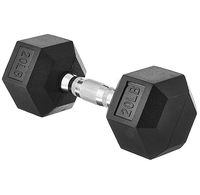 Amazon Basics Rubber Encased Hex Dumbbell 20lb: was $29.67, now $25.22 at Amazon
Save $4.45 They're not flashy, but the Amazon Basics weight range offers some solid, reliable dumbbells. This one has a cast iron body and rubber casing round its heads. The 20lb weight is currently cheaper than the lighter 15lb or 10lb options.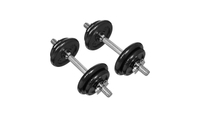 Amazon Basics Adjustable Dumbbell Set: was $53.46, now $45.44 at Amazon
Save $8.02 Each dumbbell in this set offers seven different weight settings, thanks to the various plates and spin locks. That's a very good range of options for this price—a lot of premium adjustable dumbbells cost over $200.
Why should you buy dumbbells this Black Friday?
There's a simple reason that you should buy some dumbbells this Black Friday: versatility.
Adding a couple of dumbbells to your home workout arsenal expands your horizons, allowing you to perform hundreds (if not thousands) of exercises to challenge muscles across your entire body.
You can make bodyweight compound exercises like squats more difficult (and, in many cases, effective) by adding weight, or perform isolation moves like biceps curls and triceps extensions to target specific muscles for growth.
For this reason, dumbbells are excellent for strength training, which can help you strengthen muscles, joints and bones. This will boost your ability to perform in and out of your workouts, whether you're picking up dumbbells or heavy grocery bags, as well as reducing the risk of injury.
Dumbbells can be used for plenty of other workout formats, like high-intensity interval training (HIIT) and high-intensity resistance training (HIRT).
These faster-paced sessions won't just work your muscles, they'll work your heart and lungs as well, helping you improve your cardiovascular health. Even your balance and coordination are likely to benefit.
Adjustable dumbbells vs fixed weight dumbbells
I've provided two options in your search for a pair of discounted dumbbells.
The biggest difference between them is that the Living.Fit ones are a fixed-weight pair, while the Decathlon option is an adjustable spinlock set.
I like to use adjustable dumbbells for strength-training (and can personally vouch for these hardy metal customers). This is because the weight you lift for different exercises is likely to vary significantly: your leg muscles will be able to shift big loads when you're squatting, while a shoulder exercise, like the lateral raise, will warrant stripping the weight you're using right back.
Adjustable dumbbells allow you to do this, as you can add or take off the interchangeable metal plates to suit the move you're doing. You can also gradually increase the weight you're lifting for each exercise, as per the progressive overload principle, which will prevent your training progress from plateauing
So, you should buy a set of the best adjustable dumbbells, right?
Not so fast. Fixed-weight dumbbells make up a chunky portion of my training too, although I prefer to use them for circuit workouts, like HIIT and CrossFit. Their robust, rubber-encased design makes them a perfect fit for dynamic movements like thrusters and snatches.
There's no chance of plates coming loose or clanging together, as you may find if you try to throw adjustable dumbbells around too enthusiastically, and the hex design means they form a stable base for exercises like push-ups and renegade rows.
Get the Fit&Well Newsletter
Start your week with achievable workout ideas, health tips and wellbeing advice in your inbox.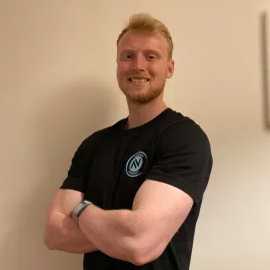 Harry Bullmore is a Fitness Writer for Fit&Well and its sister site Coach, covering accessible home workouts, strength training session, and yoga routines. He joined the team from Hearst, where he reviewed products for Men's Health, Women's Health, and Runner's World. He is passionate about the physical and mental benefits of exercise, and splits his time between weightlifting, CrossFit, and gymnastics, which he does to build strength, boost his wellbeing, and have fun.
Harry is a NCTJ-qualified journalist, and has written for Vice, Learning Disability Today, and The Argus, where he was a crime, politics, and sports reporter for several UK regional and national newspapers.