Are you sitting comfortably? Save $$ on Amazon with these standing desk deals
Sitting down too much? Transform your workday with this great standing desk deal from Amazon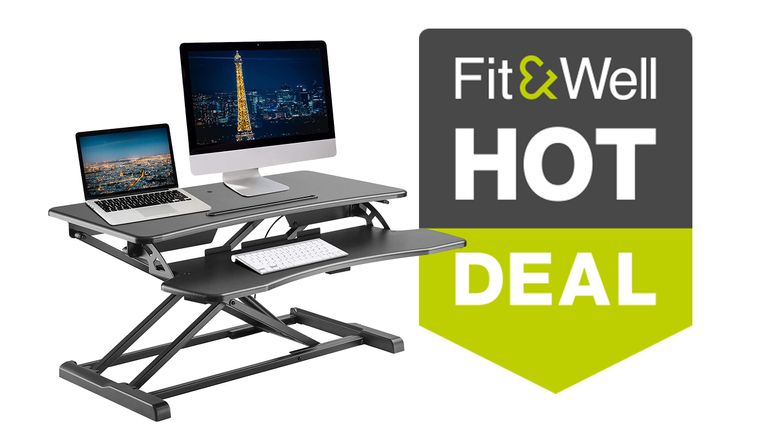 (Image credit: Amazon)
By Matt Evans
Before COVID ravaged office jobs and forced many to work from home, standing desks were becoming more and more common in modern workplaces. Now many of us are working from home as a direct result of the global pandemic, sedentary lifestyles are becoming more common once again. It's time to get back to standing. 
Our writer already tried the practice to see if there were any standing desk benefits and here's what she had to say: "After a week I wasn't slouching, I was more productive and didn't have those usual aches and pains I was so used to when sitting all day. In short, I was a standing desk convert."
Fortunately, this great deal on a TechOrbits desk converter from Amazon allows you to place the unit on top of your regular desk, giving you the option of extending the riser upwards to create a standing desk. Check out the deal in full below:
Amazon standing desk deal here:
TechOrbits Standing Desk Converter - 32" Height Adjustable Stand Up Desk Rise | was $175.43 | now $129.45 at Amazon
Save $45 on this sit-stand desk converter from Amazon. Premium matte MDF wood adds a nice smooth finish to the surface material, and it supports all size of monitors with lower desk sections to fit keyboards and mice in an ergonomic fashion. It's easy to pull up and down, with a squeeze-handled gas spring powering the riser.View Deal
Amazon standing desk deal: What's wrong with sitting?
Siting down for too long is strongly linked with lots of lifestyle diseases such as prediabetes and metabolic syndrome. Our writer looked at the importance of standing desks, and found a 2014 study showing energy expenditure was 174 calories greater following an afternoon of standing work compared to sitting. 
Over the course of a standard workweek, this equates to an additional 800-plus calories burned. Even if you've got one of the best office chair and best posture correctors you can find, you can still get loads of benefits standing rather than sitting for a few hours a day. 
Amazon standing desk deal: Cheaper option
Hadulcet Mobile Standing Desk, Adjustable Standing Computer Desk | now $69.99 at Amazon
A cheap full cart-style desk rather than a simple riser, this multi-level desk extends upwards to nearly four feet high, perfect placement for your hands and elbows.  It can work as an standing adjustable desk in office, an adjustable mobile laptop desk at home and a mobile laptop stand desk, rolling cart in schools.View Deal