5 ways to cope with uncertainty and anxiety during lockdown
We spoke to the experts about how to deal with uncertainty and anxiety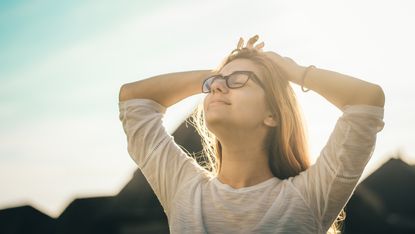 (Image credit: Radu Florin | Unsplash)
Dealing with uncertainty has become an unavoidable part of daily life, particularly during lockdown. Because we can't see the future, we can never be certain about what exactly is going to happen next, and for some, this can cause major anxiety.
The human brain isn't wired to tolerate uncertainty, but it is wired to be alert to any threat. Your brain is constantly updating your world, making judgments about what's safe is or what isn't. If your brain cannot see what's around the corner, it cannot keep you out of harm's way and therefore, assumes the worst.
'Fear of the unknown' is a fundamental reaction, hard-wired into our biology to help keep us safe. When certainty is questioned, our body releases stress hormones such as adrenaline, and ignites our 'fight or flight' response.
Anxiety occurs when your body's 'fight or flight' defence works continuously. An 'imbalance' in the way the body processes environmental and sensory stimuli leads to a disproportionate 'excitatory' response, and excessive release of neurotransmitters between nerve cells in the brain, leading to overstimulation of the nervous system and feelings of anxiety.
While you cannot make your fears and anxieties just 'go away,' there are simple and effective ways to manage them. Many are essential ingredients for a healthy lifestyle, and adopting them can improve your overall emotional and physical wellbeing:
Acknowledge your feelings
Face your feelings about fear and the transition you are going through, especially when the change is imposed and beyond your control.
Simply writing down your thoughts and feelings can help you understand them more clearly. Keeping a journal can also help you gain control of your anxiety and improve your mental health.
Focus on what you can control (not what you can't)
When uncertainty strikes, many people immediately imagine the worst-case scenario. Get out of the habit of ruminating on negative thoughts. Instead, focus on the things that are within your control, even if it's as simple as weekly meal planning. Establish routines to give your days and weeks some comforting structure.
Be kind to yourself
Don't let uncertainty or anxiety derail your healthy routines. Make efforts to eat well, exercise and get enough sleep. Remind yourself that it might take time for the stressful situation to resolve and be patient with yourself in the meantime.
Seek support
It's normal to feel a bit worried, scared or helpless during uncertain times. Remember: it is OK to share your concerns with others you trust – and doing so may help them, too. If you cannot speak to someone you know or if doing so has not helped, there are plenty of helplines you can try instead.
Anxiety UK have a range of information, resources and support to help you understand and handle your anxiety during times of uncertainty.
Try a calming herbal remedy
Lavender oil has a long-standing association with relieving symptoms of mild anxiety, such as stress and nervousness. Over 15 clinical trials have shown that a daily capsule of uniquely prepared lavender oil can relieve the symptoms of anxiety in just 1-2 weeks (benefits are comparable to commonly used anti-anxiety medications without side effects like sedation, addiction or interaction with other medications). We like Kalms Lavender One-A-Day Capsules.
Launched in 2020, Fit&Well.com is all about helping you meet your health and fitness goals in ways that are fun and achievable. With news and features on fitness, weight loss, running, nutrition, yoga, wellness and more, we're committed to helping you wherever you are on your fitness journey. We break down the best fitness tech, with reviews, buying guides and the latest deals on fitness and wellness kit, from dumbbells to diffusers.
We cater for all difficulty levels here. It doesn't matter if you're a beginner in the world of fitness or you're gearing up for your tenth marathon: we're all moving towards the same goal – creating a healthier, happier you. From guides on getting started doing walks around the block, to creating the perfect work-from-home space, to eating to fuel your first triathlon. It's all here.