What is CBD oil, and can it help prevent anxiety? Here's all the facts
What is CBD and CBD oil? A leading doctor and nutritionist spills the beans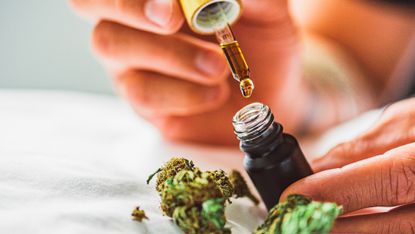 (Image credit: Getty Images)
The three big letters we've been hearing a lot about lately are the latest 'noise' in wellness. Available in oral tinctures and tablets, ubiquitous in beauty products – but does it actually work?
Regarding the claims surrounding CBD all smoke and mirrors, or is it a true cure-all? F&W Editor-at-Large Jane Druker sits down with no-nonsense doctor and nutritionist, Dr Sarah Brewer, for her take on its efficacy and its future.
What is CBD?
CBD is short for cannabidiol, a chemical compound found in the Cannabis sativa plant. There are two versions of the cannabis plant: the one that is being grown for consumption (commonly referred to as cannabis or marijuana) and "industrial hemp", which has lower resin and negligible THC, the chemical compound responsible for getting you high. Both CBD, which doesn't get you high, and THC are cannabinoids – compounds that affect our bodies and brains in different ways.
CBD oil is made by extracting CBD from the cannabis plant, then diluting the compound with a carrier oil like coconut oil. "It's a therapeutic herbal medicine for regulating stress and sleep levels," says Dr Brewer. "Demand for it has grown exponentially in the past couple of years as it's been shown to be effective as a supplement. Basically it's the healthy alternative to cigarettes and alcohol for managing your own symptoms."
What's the future for CBD?
As of Spring 2019, the European Food Standard Agency has ruled that it needs to go through robust safety tests, which may take months or even years to complete. Dr Brewer says: "Everything could come off the shelves. However, I'm anticipating a much more measured response of selling what has already been created but possibly halting the creation of more," she explains. "We won't really know the consequences for another few months." Watch this space.
CBD: Can is relieve pain?
Studies have shown that CBD may help reduce chronic pain by impacting endocannabinoid receptor activity, reducing inflammation and interacting with neurotransmitters. "It alters the perception of pain by normalising brain chemicals so yes it can inhibit pain," explains Dr Brewer.
CBD: Can it reduce anxiety?
CBD oil has shown promise as a treatment for anxiety. "CBD acts positively as a receptor of serotonin, a neurotransmitter that regulates mood and social behaviour," explains Dr Brewer. "It's very effective in reducing anxiety which then improves our ability to cope better with everyday life."
CBD: Can is reduce cancer-related symptoms?
CBD has anecdotally been shown to help reduce symptoms related to cancer and side effects related to cancer treatment, like nausea, vomiting and pain. "This is a food supplement not a cancer treatment," explains Dr Brewer. "It may support treatment but it in no way replaces it and you must consult your doctor before taking it, especially as high-dose supplements can affect the way certain drugs are absorbed."
CBD: Could it reduce acne?
Depending on how they are made, the amount of CBD in beauty products could help reduce some surface inflammation and irritation. "It can be a very effective salve or lotion due to the anti-inflammatory nature which acts as an anti-oxidant and potentially as an anti-ager," says Dr Brewer.
CBD: Might it help neurological disorders?
Researchers believe that CBD's ability to act on the endocannabinoid system and other brain signaling systems may provide benefits for those with neurological disorders like epilepsy and multiple sclerosis. Though research in this area is still relatively new, several studies have shown promising results. "Higher prescribed doses are a medical form of CBD," explains Dr Brewer, "While anecdotal evidence is primarily positive, you must consult your doctor first."
CBD: Could it benefit heart health?
Recent research has linked CBD with several benefits for the heart and circulatory system, including the ability to lower high blood pressure. High blood pressure is linked to higher risks of a number of health conditions, including stroke, heart attack and metabolic syndrome. "Because it reduces anxiety, " explains Dr Brewer, "it can lower blood pressure, so it can aid heart health."
CBD: Could it help you give up smoking?
For smokers, CBD has been found to reduce cravings, and can help you quit. "There have been no clinical trials proving this as yet," Dr Brewer explains, "only anecdotal evidence." So its efficacy here is unproven.
CBD: What about drug addiction?
CBD has been shown to modify circuits in the brain related to drug addiction, "It may help blunt the side effects of feeling "high" which may help THC cravings," explains Dr Brewer, "but again it's unproven so you must consult your doctor first.
CBD: And diabetes prevention?
"There is no initial evidence that it can help in glucose control," she says, " but long term it is quite possible."
CBD: Could it ease joint pain?
"If you've got niggling pain it's a great alternative to paracetemol," explains Dr Brewer. However, CBD isn't an anti-inflammatory as far as we know, so our best supplements for joints can help work against inflammation and ease the causes of joint pain.
CBD: Side effects
Most importantly, CBD in high doses can interact with prescribed drugs so you must consult your doctor. In doses of 100mg or less – it's a highly effective food supplement. Though it's generally well tolerated and considered safe, it may cause adverse reactions in some people, such as stomach upset, changes in appetite and fatigue.
Pick of the Crop CBD
CBD is currently available in a bewildering range of products, including creams, oils, tinctures, and edible treats like gummy sweets and honey sticks. Here's our pick of the best:
Tablets and tinctures
Disciple Miracle Drops: Available in three strengths, can be used topically and orally and, within minutes, act as a calmer and soother. £22, boots.com
CBD Balm: Cocoa Orange 50mg, £7.99 cbdvirtue.co.uk; keep some on your desk and breathe deep for a transformative inhale.
Creams and lotions
The Body Shop Hemp Hand Protector: handy desk-side super-moisturiser for hands bodyshop.com
£5. Murad Revitalixir Recovery Serum, great for stressed skin murad.com £70
Get the Fit&Well Newsletter
Start your week with achievable workout ideas, health tips and wellbeing advice in your inbox.
Launched in 2020, Fit&Well.com is all about helping you meet your health and fitness goals in ways that are fun and achievable. With news and features on fitness, weight loss, running, nutrition, yoga, wellness and more, we're committed to helping you wherever you are on your fitness journey. We break down the best fitness tech, with reviews, buying guides and the latest deals on fitness and wellness kit, from dumbbells to diffusers.
We cater for all difficulty levels here. It doesn't matter if you're a beginner in the world of fitness or you're gearing up for your tenth marathon: we're all moving towards the same goal – creating a healthier, happier you. From guides on getting started doing walks around the block, to creating the perfect work-from-home space, to eating to fuel your first triathlon. It's all here.