Adjustable vs fixed weight dumbbells: which should you choose?
Adjustable vs fixed weight dumbbells: which is best for your workout?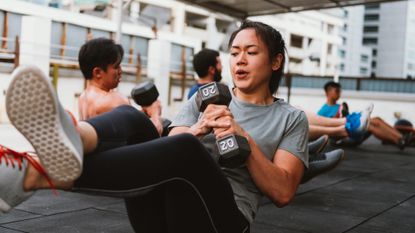 (Image credit: Getty)
Adjustable vs fixed weight dumbbells: which should you go for? Both can provide a full body workout and help with your strength training routine – but they have different price points and features.
We've broken down everything you need to know about adjustable vs fixed weight dumbbells, so you can choose the right set for you. If you're looking for specific recommendations on top models and brands, scroll through our round-up of the best adjustable dumbbells.
As personal trainer, Emma Goodman-Horne explains: "Adjustable dumbbells neatly cram a selection of weights into one compact unit. They tend to either have a 'selection mechanism' that uses a dial to increase the weight, or 'screw collars', which are dumbbells with loose plates that you take on and off to increase the load. By comparison, the fixed dumbbell is welded to the weight, so it should feel far more solid in your hand."
Adjustable vs fixed weight dumbbells: price
Adjustable dumbbells are basically multiple sets of weights. While they are convenient and compact, they are also more expensive than fixed weight dumbbells – and they are often sold as single units, rather than in pairs.
You can expect to pay around $280-$330 for a complete 550lbs set with a selection mechanism (where you use a simple dial to select the weight) or $105-$145 for adjustable dumbbells with screw collars (which feature collars that you unscrew to change the weight plate).
It might sound like a lot up front, but buying a pair of adjustable dumbbells is cheaper than buying a full set of fixed dumbbells covering the same amount of weight. You can buy a set of 5kg fixed dumbbells for about $15 but it can cost up to $1,000 for a full rack.
The biggest driver of price when it comes to home dumbbells is weight – you can expect to pay more for heavier ones. And, if you're shopping on a budget, take a look at our pick of the best dumbbells on sale.
Adjustable vs fixed weight dumbbells: material & design
Adjustable dumbbells are typically made from steel, which is sometimes covered in plastic. Fixed weight dumbbells are most commonly made from plastic or solid rubber, often with a thick rubber coating to help protect them when dropped. The most budget-friendly dumbbells are made from plastic and filled with concrete, sand, or water to create the weight. But these are prone to breaking quickly.
The shape of a fixed dumbbell is worth considering – some people prefer the ones with a hexagonal or square design, as they don't roll around on the floor and can be used to steady your form during press-ups or renegade rows. Most adjustable dumbbells feature a plate-shaped design, so they won't offer this stability.
Adjustable vs fixed weight dumbbells: durability
Adjustable dumbbells themselves aren't particularly fragile but it is possible to damage their weight-changing mechanism. Drop your set on the floor and you could permanently damage the mechanism, fixing it on one weight forever.
For this reason, if you plan on using particularly challenging weight loads – like 40lbs and above – it might be better to get fixed weight models. That way you can throw them around when you work out without worrying about their fragility.
The durability of your dumbbells will also depend on their material – a good rubber or steel set will withstand a lot of use. Bear in mind that rubber is less likely to damage your floors, so it might be the better option if you're working out from home. Look out for warranties on dumbbells when you're buying them, as top-range models often feature two-year guarantees.
Adjustable vs fixed weight dumbbells: usability
Some people say adjustable dumbbells rattle and can be fiddly to change, which means more time in between sets as you adapt the load, says PT Emma Goodman-Horne.
"With adjustable dumbbells you have to factor in extra time to remove the weight plates manually and add others," says Goodman-Horne, "although ones with a selection mechanism are far quicker as you simply twist the dial to increase the weight."
"By contrast free weights need no adjustments. You just put down the one you don't need and pick up the one you do. They also have flat ends rather than the handles sticking out, so can be more comfortable to use."
Adjustable dumbbells might make it easier for you to perform different exercises though, as they give you a wider range of weight to choose from. If you're comfortable squatting at 15kg but need a 5kg weight for your bicep curl, an adjustable dumbbell will let you do both. That's not possible with fixed weights, unless you buy a full range of them.
Adjustable vs fixed weight dumbbells: verdict
Adjustable and fixed weight dumbbells both have their pros and cons – the best option for you will depend on your goals and budget.
If you're new to exercise, buy a single pair of weights first to see if you enjoy strength training before you make a bigger investment. As you get stronger, you could then buy some adjustable weights so that you essentially have a full set of dumbbells at your disposal. These models take up minimal space, so are well suited to people living in shared accommodation or smaller properties.
Fixed free weights take up a lot more space, but they are more durable and also more convenient – you just pick them up and start training, as there is no time needed in between sets to change weights.
Maddy Biddulph is a freelance journalist specializing in fitness, health and wellbeing content. With 25 years in consumer media, she has worked as a writer and editor for some of the bestselling newspapers, magazines and websites in the US and UK.
She is also a qualified L3 personal trainer and weight loss advisor, and helps women over 40 navigate menopause by improving their physical and mental strength. At Maddy Biddulph Personal Training, she runs one-to-one and small group training for menopausal women who want to get fit to ease symptoms and feel like themselves again.