Dumbbells on sale 2022: big discounts on muscle-building equipment
These dumbbells on sale are a great way to save money on essential strength training weights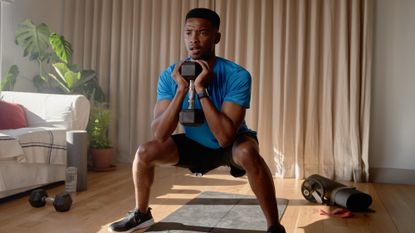 (Image credit: Getty Images)
We've found the top dumbbells on sale to help you save money on high-quality weights. These are durable dumbbells designed to withstand even the most vigorous at-home workouts, often with useful design features like hexagonal plates or adjustable weights.
So, whether you're looking for a set of fixed weights or the best adjustable dumbbells at a discount, these dumbbells on sale can help you develop strength and add resistance to cardio exercises without breaking the bank.
Dumbbells are some of the most versatile weights you can find, especially if you're looking for space-saving options. You can use them for workout essentials like bicep curls or increase the load for bodyweight moves like squats.
You can find some impressive dumbbells on sale right now, with 50% off a pair of Target Everyday Essentials adjustable dumbbells or pick up a set of smart adjustable dumbbells from JaxJox for $160 less.
To save you spending hours scouring the internet for the best discounts, we've checked historical prices and found the top dumbbells on sale right now. If you're looking for more savings and discounts, check out our guide to the top cheap fitness tracker deals.
Dumbbells on sale right now
US Retailers
UK Retailers
Dumbbells on sale: today's best US deals
Dumbbells on sale: Today's best UK deals
How to choose the right dumbbell weight
Different exercises require different weights. You might find that you need a relatively heavy weight to make your squats more challenging, but you only need a light weight to exhaust your arms with a lateral raise. So think carefully about your regime before you buy a new set of dumbbells.
Once you've figured out which exercises you want to focus on, you then need to make sure you're grabbing the perfect weight for it. The correct weight dumbbell is the one you can use to complete your planned number of repetitions (reps) in each set without quite losing form on the last rep. So if you plan to do 12 bicep curls, you should find that your dumbbell weight challenges you when you're on that last rep—but you can still manage to complete it.
Everyone is different when it comes to the above. If you're really new to fitness, it might be worth chatting with a personal trainer—or even your doctor—to get some guidance on what weights you need. You could also try heading to your local gym and lifting different weights, to figure out what works for you.
Adjustable dumbbells vs normal dumbbells
Plenty of space at home? Then getting a set of fixed weight dumbbells may be your preferred option. If you are just starting out you may prefer to buy a limited range of weights and then add to them later. A full set can take up a lot of room, but you can purchase a stand to stack them vertically.
If space is at a premium, an adjustable dumbbell set may be a better bet for you. As these include a large range of weight options, they are more expensive than buying a few pairs of dumbbells in a limited number of weights, but should usually be cheaper than buying a complete set of fixed weights.
Which is the best material for dumbbells
Dumbbells are usually made from different types of metal. Cast iron dumbbells tend to be cheaper and, because cast iron is relatively brittle, are also bulkier than steel dumbbells. You may find coatings like neoprene on cast iron dumbbells, which can make them more comfortable to hold, and also protects them from wear and tear. Stainless steel dumbbells are stronger and so are usually thinner. They are also typically more expensive.
Adjustable dumbbell mechanisms
Adjustable dumbbells have different types of mechanisms to allow you to switch between the various weights.
Traditional adjustable dumbbells are made up of a short metal bar and weight plates that are stacked at either end of the bar. They may be held on with a locking clip, or a screw on nut. This system is simple to use, but can be slow to use when switching between weights. You might also find that you get grease on your clothes if using a dumbbell with a screw nut. Budget adjustable dumbbells are usually made this way.
Stacking adjustable dumbbells are made up of separate components that are held together with a double locking pin. Powerblock, shown above, is a well-known example of this style. As well as selecting your level of weight by moving the double locking pin, you can slip adjuster weights into the block to increase the weight slightly, which can be useful when you're trying to make incremental progress in the amount of weight that you lift. This style of dumbbell tends to be a block shape and can feel quite bulky if you're used to single weight dumbbells.
Dial adjustable dumbbells use a rotating mechanism that automatically selects the weight you want to use. You place the dumbbell in its 'cradle', turn the dial to the weight you want to use and then pick up the dumbbell, which will now be the correct load. These dumbbells are easy to use, but the weight plates typically have a notch taken out of one side, which allows the weight to be adjusted. This means that each dumbbell is a little 'bottom heavy', which can take a bit of getting used to. Examples of this style include Bowflex (above) and Keppi adjustable dumbbells.
Ruth Gaukrodger is the fitness editor at Future Plc. She covers everything from fitness trackers to dumbbells for sites like Live Science, Fit&Well and Tom's Guide. When she's not reviewing equipment in our dedicated testing centre, you'll find her racing round the streets of London in her favorite running shoes or working on her yoga skills from the comfort of her living room.
Originally a print journalist, Ruth worked across national newspapers and popular tech sites before coming to Future. She has worked as a commissioning editor across other Future titles too, including Space.com and Top Ten Reviews. Now focused solely on fitness topics, she hopes to demystify the world of exercise with honest, straightforward content.
With contributions from