Dumbbells on sale: The best deals on dumbbells and home weights
Find dumbbells on sale with big discounts on adjustable and solid dumbbells to use with any home gym set-up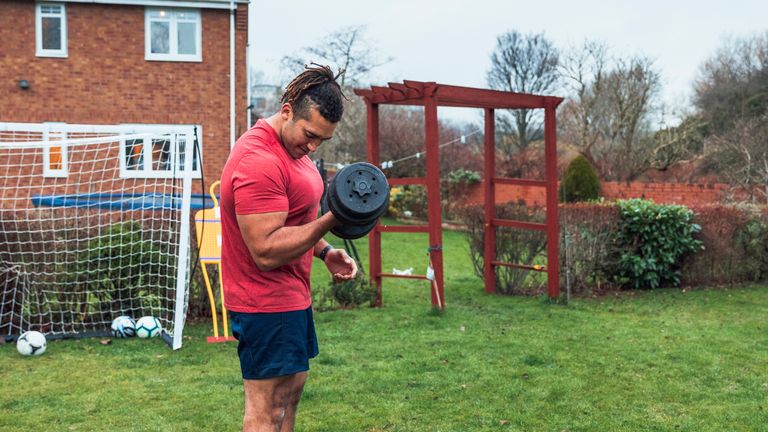 (Image credit: Getty Images)
Contributions from
Looking for dumbbells on sale? It's no wonder, as dumbbells are easily among the most popular pieces of home gym kit around. They're easily stored, extremely versatile, and great for hitting all the different muscle groups of your body. Back, chest, arms, core, legs… you can use the added weight dumbbells offer to create more resistance to help work those muscles.
If you're looking for the best deals on the best adjustable dumbbells and other hand weights, we've compiled an up-to-date list of the top-rated models on sale that are worth adding to any at-home gym set-up.
Dumbbells help you tone up, build muscle and enable you to perform a wide variety of exercises. Whether you want to work your legs, enjoy a chest and back workout or add resistance to a HIIT session, these flexible free weights are up to the task.
And, when it comes to these brilliant bits of kit, the long list of positives doesn't stop there. If you invest in a set of top-quality adjustable dumbbells you can help to future-proof your gym set-up. That's because adjustable weights enable you to enjoy a strength workout now, while allowing you to increase the weight as you get stronger - utilizing the progressive overload principle for training gains.
Plus, these versatile pieces of kit are easy to stash away once you've finished an intensive HIIT or quick lunchtime session. So, to enjoy the top-rated dumbbells on sale for less, we've pulled together a range of options that are on offer right now. We've also included some top tips on how to decide what type of dumbbell is best suited to you and your needs.
Dumbbells on sale right now
US Retailers
UK Retailers
Dumbbells on sale: Today's best US deals
Sunny Health & Fitness 40lb adjustable dumbbell | MSRP: $49.98 | Now: $45.00 at Amazon
This no-frills set of dumbbells now costs less than $50, which is a very fair price for a resilient bit of kit. The mechanism is a little fiddly—you have to screw on and screw off additional plates—but for this price, you really can't complain.
IPOW Adjustable Dumbbell 5-25/6.6-44lbs Single Black Dumbbell Set with Tray | was $149.99 | now $99.99 at Amazon
Save ⅓ on this classic single adjustable dumbbell with a locking tray and non-slip handle. IPOW's dumbbell is made with high-end iron and steel, and it allows you to change weights easily and quickly with a twist of the handle. No cumbersome locking nuts needed.
NordicTrack 50 lb. iSelect Dumbbell pair | was $499.99 | now $429.99 at Dick's Sporting Goods
Save on these advanced smart select dumbbells from NordicTrack, which work with Alexa to allow you to select a weight with the power of your voice, the coolest home gym trick we've found in a long time. 30 days iFit membership, with thousands of workouts on the LCD screen, is also included.
HelioFit Neoprene Hand Weight Set - 16lbs | was $59.99 | now $44.99 at Target
Save 25% on this solid hand weight set, perfect for adding to aerobics or walks for an additional burn or performing dumbbell HIIT workouts in front of your TV.
Target everyday essentials 105lb adjustable dumbbell | Was $301.99 | Now $239.99 at Target
These weights have had just over $60 knocked off their regular price. Going all the way up to 105lb, they're a fairly heavy option and the mechanism to get plates on and off might be a little time consuming—but it's a fairly low price to pay for an adjustable set of this weight.
Dumbbells on sale: Today's best UK deals
Get 10% off all Strongoloy hex dumbbells at Amazon
Amazon is currently offering 10% off all Strongology dumbbells, so you can pick whichever weight suits your regime. The lightest dumbbell available is 2.5kg (£17.20 for two) and the heaviest is 27.5kg (£149.98 for two).
Jaxjox dumbbellconnect | Was £449 | Now £350 at Decathlon
There's currently 29% off this neat set of digital dumbbells, which can change load from 3.6kg to 22.7kg. You can also sync these dumbbells with the Jaxjox app, where you'll find plenty of workout ideas. The app also records your reps during a workout, so you can track your progress.
Everlast 18kg dumbbell set | Was £89.99 | Now £44.99 at Sportsdirect
This dumbbell set has a 'build your own' feel to it, as it comes in a compact little tool case with several different plates that you can add to the bar. It's not often you see this much weight available for less than £50, which is why we think this is an especially good deal.

Opti Cast Iron Dumbbell Set - 20kg | was £45.00 | now £29.97 at Argos
The classic spin-lock cast iron "dad's dumbbells" set you'll find at an old-school boxing gym. Cheap and cheerful, no fancy gimmicks, and they'll last forever. The only downside is the spin-lock taking forever to get the weights on and odd, so no quick changes.
How to choose the right dumbbell weight
Different exercises require different weights. You might find that you need a relatively heavy weight to make your squats more challenging, but you only need a light weight to exhaust your arms with a lateral raise. So think carefully about your regime before you buy a new set of dumbbells.
Once you've figured out which exercises you want to focus on, you then need to make sure you're grabbing the perfect weight for it. The correct weight dumbbell is the one you can use to complete your planned number of repetitions (reps) in each set without quite losing form on the last rep. So if you plan to do 12 bicep curls, you should find that your dumbbell weight challenges you when you're on that last rep—but you can still manage to complete it.
Everyone is different when it comes to the above. If you're really new to fitness, it might be worth chatting with a personal trainer—or even your doctor—to get some guidance on what weights you need. You could also try heading to your local gym and lifting different weights, to figure out what works for you.
Adjustable dumbbells vs normal dumbbells
Plenty of space at home? Then getting a set of fixed weight dumbbells may be your preferred option. If you are just starting out you may prefer to buy a limited range of weights and then add to them later. A full set can take up a lot of room, but you can purchase a stand to stack them vertically.
If space is at a premium, an adjustable dumbbell set may be a better bet for you. As these include a large range of weight options, they are more expensive than buying a few pairs of dumbbells in a limited number of weights, but should usually be cheaper than buying a complete set of fixed weights.
Which is the best material for dumbbells
Dumbbells are usually made from different types of metal. Cast iron dumbbells tend to be cheaper and, because cast iron is relatively brittle, are also bulkier than steel dumbbells. You may find coatings like neoprene on cast iron dumbbells, which can make them more comfortable to hold, and also protects them from wear and tear. Stainless steel dumbbells are stronger and so are usually thinner. They are also typically more expensive.
Adjustable dumbbell mechanisms
Adjustable dumbbells have different types of mechanisms to allow you to switch between the various weights.
Traditional adjustable dumbbells are made up of a short metal bar and weight plates that are stacked at either end of the bar. They may be held on with a locking clip, or a screw on nut. This system is simple to use, but can be slow to use when switching between weights. You might also find that you get grease on your clothes if using a dumbbell with a screw nut. Budget adjustable dumbbells are usually made this way.
Stacking adjustable dumbbells are made up of separate components that are held together with a double locking pin. Powerblock, shown above, is a well-known example of this style. As well as selecting your level of weight by moving the double locking pin, you can slip adjuster weights into the block to increase the weight slightly, which can be useful when you're trying to make incremental progress in the amount of weight that you lift. This style of dumbbell tends to be a block shape and can feel quite bulky if you're used to single weight dumbbells.
Dial adjustable dumbbells use a rotating mechanism that automatically selects the weight you want to use. You place the dumbbell in its 'cradle', turn the dial to the weight you want to use and then pick up the dumbbell, which will now be the correct load. These dumbbells are easy to use, but the weight plates typically have a notch taken out of one side, which allows the weight to be adjusted. This means that each dumbbell is a little 'bottom heavy', which can take a bit of getting used to. Examples of this style include Bowflex (above) and Keppi adjustable dumbbells.
Ruth Gaukrodger is the Fitness Editor for Future Plc. A keen runner and yoga enthusiast, she has worked across both print and online media for more than five years, contributing to national newspaper titles and popular tech sites. Ruth works across a number of Future's sites including Fit&Well, Coach, and more.
With contributions from