Davina McCall: The Masked Singer judge reveals her lockdown life
From her daily diet to heart health and staying trim over 50, presenter and fitness guru Davina McCall reveals all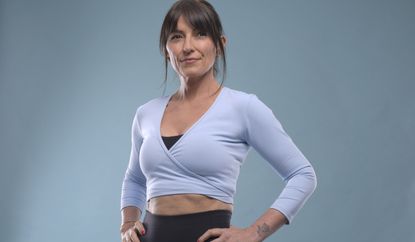 (Image credit: Davina McCall/Benecol)
From her duties on The Masked Singer (and The Masked Dancer) to keeping everyone fit during lockdown with online workouts, Davina McCall's been keeping busy. She sits down with Fit&Well to tell us how to eat healthily, balancing the good and the bad, and staying sane over lockdown with the help of her four-legged best friend.
F&W: You've been working with Benecol looking at high cholesterol. What is it about cholesterol that made you want to learn more about it?
DM: People mistakenly think only generally unhealthy people would have high cholesterol. That is not always the case. For example I know people that actually eat cheese non-stop and their cholesterol is absolutely fine. So when I first tried for a baby around 20 years ago, I got a blood test and I was horrified to find out that my cholesterol was not only high, it was above the rate that they like it to be.
And I had a good forward thinking doctor who said, "Look, we're just going to keep an eye on it. We're not going to prescribe statins But we would like to make some changes to your diet".
It is something that's been in the back of my head for 20 years, and [my cholesterol levels] have always hovered around the highest mark. But I just want to get rid of this idea that cholesterol doesn't affect athletes and slim people – it does. Everybody should have their cholesterol checked, because heart disease is a massive issue and cholesterol is a contributor to that.
F&W: It's very surprising that somebody like yourself, who's been very well known over the years as one of the faces of fitness, to suddenly discover you've got much higher cholesterol than you'd expect.
DM: It seems very unfair! I'm not an endocrinologist, but it does seem to just affect all ages, all sizes, all shapes. You should know your levels, and I have kept on top of it through diet and exercise.
F&W: Speaking of diet, what does a day-to-day diet look like for you?
DM: I'm quite kind of boringly regular with my breakfast. I sort of did the same thing every day. And I'm, you know, when people get really particular about things. So, on a general day to day basis, I try and eat Meagan Rossi's cereal, because I met her on a job and I'm obsessed with her. She's all about the gut-brain access, and how gut health is important not just for bowel cancer but for depression and so on. On the weekends I'll treat myself to fruity tea cakes or crumpets.
I will try and have one other big meal a day, and then the other one will be soup, or a salad with lots of chicken, or salmon and pesto with beans. We all need carbs – they're not evil – but if I have carbs with my one main meal, then I'll go lighter in the evening. It's about balance: at 53, I cannot consume the same kind of calories that I used to be able to in my thirties without getting that kind of slight ring around the middle.
[Editor's note: if you're looking for more tips to lose weight over 50, here's some expert-approved advice]
F&W: We're seeing a common theme right now. Research is telling us people tend to bounce back after a restrictive diet ends and drop further back into their old habits. It's a case of finding a manageable lifestyle.
DM: Exactly! And you know, during Easter I have tons of chocolate and feel really sick afterwards. I have a Sunday roast every Sunday, all the trimmings, Yorkshire pud... And I really enjoy it. It's about balance.
F&W: You have been guiding people through workouts for many years. How did COVID change your fitness routine, and the fitness content you're putting out there?
DM: It didn't change what we did, but we did do a lot more. Live workouts are fun for trainers because they can really connect with the people that do their workouts, and we found people were really enjoying them in lockdown. So we upped the amount of lives we did and expanded into yoga and drum-and-bass boxing. Everyone still wants short-sharp-shock twenty-minute workouts, even in lockdown, when they have more time.
F&W: It's going to be very difficult to just snap back to the way things were – not just in a fitness context, but in life. Are there any habits that you've adopted along the way that really helped your mental wellness?
DM: Lockdown literally squashed all motivation to work out. It was the weirdest thing: all I wanted to do was eat, as if I was in some kind of fight or flight mode. But I wasn't alone in it: on our Facebook group, loads of people were feeling the same way.
Lots of people got dogs in lockdown, and I'm hoping that doesn't mean people are going to have to take the dogs back – but my dog definitely kept me sane. I go for an hour long walk in the morning and talk to her, which sounds ridiculous, but what's lovely about a dog is that it gets you outside in the rain, in the cold and in the snow. I was very grateful to my dog for that.
F&W: You've qualified as a level four fitness instructor not too long ago. Did you learn anything that changed your approach to fitness?
DM: I'm always looking for new bits of information or trying to read science about how our bodies work, because there's just so many discoveries happening. Fitness is evolving all the time, and as quickly as they update the new methods, there'll be a new bit of scientific data that will teach us another way to maximise your fitness.
F&W: It feels like the goalposts are always moving in some respects.
DM: I always laugh at the Daily Mail-type headlines, because one day they're telling you to drink a glass of wine every day, it's good for your health. And then it's like "two glasses of wine a day gives you a higher risk of breast cancer" and I think "oh my God, you just told me to drink a glass of wine yesterday!"
There's always contradictory things coming out, but we all know what a healthy life looks like. It's just finding a way of making that palatable for you, which comes back to the idea of 'a little bit of what you fancy does you good'.
Davina is supporting a new campaign from cholesterol experts Benecol, which aims to encourage people to reconsider their diet and lifestyle choices by highlighting the fact that even the outwardly fit and healthy can be at risk of hidden high cholesterol.
Matt Evans is an experienced health and fitness journalist and is currently Fitness and Wellbeing Editor at TechRadar, covering all things exercise and nutrition on Fit&Well's tech-focused sister site. Matt originally discovered exercise through martial arts: he holds a black belt in Karate and remains a keen runner, gym-goer, and infrequent yogi. His top fitness tip? Stretch.