How to start running: This walk/run technique is an easy way to get fit
Build up your running slowly and steadily to stay motivated and enthused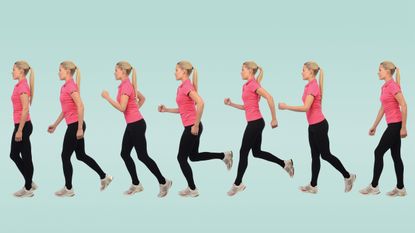 (Image credit: Future)
When you plug in your best running earbuds and start jogging for the first time, you are not expected to suddenly run full-pelt for three miles non-stop. In fact, it is much better to master the 'walk/run'.
Walking during a run is not showing weakness or a poor level of fitness. It is, in fact, the most sensible way to begin your running training. People assume that running is easy, and that all you do is start to run and continue for however long you want. How wrong they are, as there is much more too it!
Running puts an enormous amount of pressure on your body, so when first starting out, you must be careful not to do any permanent damage by overworking your joints, bones and muscles.
Adding walking to your running workout ensures that you increase the amount of time you spend running in one go gradually. It is a simple process, and a personal way to organise your workouts and achieve the goals you have set yourself. Only you will know how good you are feeling, so listen to your body.
After a light warm-up session, start out with small stints of jogging followed by some light relaxed walking, for example, one minute running with five minutes walking. Repeat this cycle until you have completed your allotted workout time (we recommend no more than 30 minutes for someone new to exercise, and running in particular).
If you are struggling with the running part, then just decrease the time. Walking is a vital part of any training plan, and is necessary to repair your muscles that will allow you to keep stopping and starting. Make sure you don't tire yourself out too quickly, or you will really struggle to start running again.
If timing your run/walks seems too regimented, then use a simplified training method of running to self-set goal posts. For example, run to the next lamp post, then walk to the end of the road and repeat. Setting yourself markers like this will show you how quickly you are progressing, and that a goal that once seemed unachievable will be a piece of cake within a few weeks.
Build up the ratios gradually each week. To allow your body to get used to the motions, make sure you only gradually increase the time. If you up your running in the second week to two minutes, keep the walking break at five minutes, but drop it down to four minutes the week after.
You'll be surprised at how quickly you will be able to up the time and distance of your runs using this method. Never be ashamed to walk, as runners of all levels use this technique, even marathon runners, and it is the safest way to ensure your continued improvement without risking injury.
One-month walk/run training plan
Here is a simple guide for you to follow, but remember to increase or decrease time scales to suit how you feel. Only you will know how much you can handle. Don't run until you're exhausted or feel ill, and maintain the gradual incline in running. Always begin workouts with at least five minutes of gentle warming up, such a light walking and stretching.
Launched in 2020, Fit&Well.com is all about helping you meet your health and fitness goals in ways that are fun and achievable. With news and features on fitness, weight loss, running, nutrition, yoga, wellness and more, we're committed to helping you wherever you are on your fitness journey. We break down the best fitness tech, with reviews, buying guides and the latest deals on fitness and wellness kit, from dumbbells to diffusers.
We cater for all difficulty levels here. It doesn't matter if you're a beginner in the world of fitness or you're gearing up for your tenth marathon: we're all moving towards the same goal – creating a healthier, happier you. From guides on getting started doing walks around the block, to creating the perfect work-from-home space, to eating to fuel your first triathlon. It's all here.