Best running earbuds: Top wireless buds from Beats By Dre, Jaybird and more
The best running earbuds to get you through the tough miles on your runs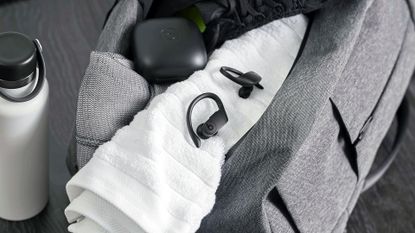 (Image credit: Beats by Dr. Dre)
Once a niche product, the options for the best workout earbuds are now rich, varied and plentiful.
Earphone technology has moved on rapidly in recent years and almost all of the advancements benefit runners. Swinging cables are a thing of the past, while there's improved wireless connectivity, marathon-esque battery life, active noise-cancelling and ambient sound modes for immersion or safety, and solid weather resistance.
Whether lacing up your best running shoes to head outdoors or hit the treadmill, your running headphones can even play a pivotal role in your performance if you listen to tunes with a bpm (beats per minute) that matches your stride rate. Take a look at our article on the best workout music for more on this, including how to calculate bpm.
Whether you're going couch-to-5K or prepping for an ultra marathon, we've got the perfect earbuds for you, with a host of different considerations depending on where you are on your running journey.
Topping the podium this year is Powerbeats Pro from Beats by Dr Dre. Excelling in so many of the key categories, they sound great, provide fantastic battery life from a single charge, deliver super solid connectivity and an adjustable fit that'll ensure security and comfort.
If you're not ready to sacrifice the security of an adjoining cable, the Jaybird Tarah Pro is our pick. Battery life is best in class and they'll withstand any weather the running gods through at them. They're also much cheaper than the Powerbeats Pro.
How to choose the best running earbuds for you
Do you want a pair of great-sounding earphones you can run in? Or a pair of running headphones that are suitable for everyday wear? Priorities will be different for every runner. Some may seek great sound and style, while others will be more concerned about battery life and durability. Some may be concerned with getting the best specs at a premium price point, others will be after a more affordable pair of secondary headphones to spare their best pair the ordeal.
Not sure what you're looking for? Here are some of the factors to consider...
Connectivity
Poor Bluetooth connectivity can be frustrating, knock you out of your stride and leave you yearning for a return to wired headphones. We generally seek Bluetooth 5.0 for the steadiest connections, but be sure to look at individual reviews for extra peace of mind. Bluetooth 4.2 and 4.1 can still offer great connectivity depending on the manufacturer. Those running with an iPhone or Apple Watch might consider the Powerbeats Pro or AirPods Pro thanks to the custom H1 chip that offers advanced pairing. For Android phone users, the Bose SoundSport Wireless uses NFC tap-to-pair tech.
Battery life
Even the most casual of runners will outrun earbuds with crummy battery life. If music gets you through the fatigue, this is a critical consideration. Dinky true wireless buds often promise less impressive battery life, while one-cable options offer more space for a larger battery (often stored within the remote). Our top pick here is the Jaybird Tarah Pro, which offers 14 hours of continuous battery life.
Weather resistance
Do us a favour? Don't go out running in your expensive audiophile-grade Sony, or Bowers & Wilkins over-ear headphones. You will more than likely ruin them. Happily, there are plenty of options designed for water and sweat resistance within our list. The top certification to look out for is IPX7. These buds can actually be submerged for 30 minutes in one metre of water. Alternatively, IPX4 headphones offer sweat resistance and won't shirk a rain shower.
Security and comfort
It's only natural to fear a true wireless bud popping out at the wrong time, falling victim to a stampede of cross-country runners and being discovered 200 years from now by some baffled scavenger with a metal detector. You want a pair that'll stay in place during wind gusts and sprint finishes. For added security, one-cable headphones may suit tougher terrain and conditions. Likewise, plenty of other body parts will hurt on a long run, without adding your inner ear to the list. Comfort is a must if you're tackling long distance.
You're also going to want to take your budget into account when deciding which earbuds are for you
The best running earbuds you can buy right now
The best running earbuds – true wireless wonders!
Specifications
Features: Hands-free 'Hey Siri' voice controls, Apple H1 chip, Bluetooth 5.0
Battery life: 9 hours (24 hours with charging case)
Water resistance: IPX4
Weight: 20.3g
Reasons to buy
+
The total true wireless package
+
Impressive battery life
+
Sound great
The first true wireless earbuds from the Apple-owned Beats by Dr Dre come close to the perfect running headphones package, although you do pay a premium for the good doctor's expertise.
The over-ear hooks quell fears of mid-run dislodges, and you can opt to wear one at a time if running with a buddy, or you feel safer with ambient noise. Sound is big, with bass to spare as you'd expect from a Beats product, and the AutoPlay feature sees tunes commence as soon as you insert the buds. IP4X water and sweat resistance means they'll withstand a downpour and all-summer sweats too.
Nine hours of battery life should be enough to get you through the most arduous of runs and hikes and after that, just a 5-minute blast in the charging case will get you another 90 minutes of playback. Pairing is solid thanks to Class 1 Bluetooth 5.0 connectivity. You get a slicker pairing experience with Apple devices, thanks to the custom H1 chip, but they work perfectly with Android devices as well. For unshakeable fit, comfort and audio quality, these Beats are very hard to beat.
If you want almost the same experience but with a single wire between the buds, you also have the option of the considerably cheaper Beats Powerbeats.
2. Jaybird Tarah Pro
Best wireless running earbuds – one cable, many talents
Specifications
Features: In-line remote, durable rope cable, in-ear or over-ear fit, custom EQ, Bluetooth 5.0
Battery life: 14 hours
Water resistance: IPX7
Weight: 20g without ear tip
Reasons to buy
+
Great weather resistance
+
Excellent battery life
Jaybird's X-series one-cable earbuds are a long-time favourite for dedicated runners who put in the miles, whatever the weather. However, the firm has upped its game still further with the Tarah Pro, which boasts improved audio quality, battery life and materials. Despite the buds' small size and light weight, there's now a whopping 14 hours of battery from a single charge, while IPX7 water and sweat proofing is bolstered with a durable, rope-like cable between the buds.
The neckband, drawstring and customisable wing tips (which offer the choice of an under- or over-ear fit) deliver security when traversing bumpy trails, while the sound EQ can be customised via the companion app.
The only problem with these buds is that they aren't true wireless, but Jaybird offers a great option if you simply can't go back to having wires on your running headphones: Jaybird Vista.
3. Anker Soundcore Liberty Neo
Best cheap running earbuds prove true wireless doesn't have to mean truly expensive
Specifications
Features: True wireless, Bluetooth 5.0
Battery life: 3.5-hours (9 hours with charging case)
Water resistance: IPX5
Weight: 11.4g
Reasons to buy
+
Unbeatable price
+
Stable Bluetooth connection
Reasons to avoid
-
Sound quality sacrifices
-
Puny battery life
Anker made its name offering quality mobile accessories that undercut the prices of big-name manufacturers. The company is bringing this same ethos to headphones with its Soundcore sub-brand. The Liberty Neo proves true wireless buds can sound good and perform well without wreaking havoc on the wallet.
While these buds don't sound as good as their more expensive foes in this list, they still offer audio quality that is perfectly okay, especially when you consider the price. The prominent bass and clear and punchy sound should more than satisfy runners on a budget.
The design and build quality of these buds also impresses. The pebble-like design provides a comfortable, reliable fit aided by the company's twist-to-lock GripFit tech, while Bluetooth 5.0 connectivity ensures a stable connection free of frustrating mid-run dropouts. IPX5 water and sweat resistance means they won't conk out on you at the first sign of drizzle. The 3.5-hours of battery life from a single charge isn't amazing by any means but should be enough for most running expeditions short of a marathon.
4. Apple AirPods Pro
Best running earbuds for Apple disciples
Specifications
Features: Active noise cancelling, Apple H1 chip, Bluetooth 5.0, hands-free controls
Battery life: 4.5 hours (24 hours with charging case)
Water resistance: IPX4
Weight: 10.8g
Reasons to buy
+
Lightning fast connectivity
+
Sound great
+
Excellent in-ear fit
For embedded in the Apple ecosystem, who run with an Apple Watch and/or iPhone, AirPods Pro are a great option. They're marketed more as every-day, multi-purpose buds but IPX4 water resistance and a surprisingly secure fit make them excellent running headphones as well.
These premium true wireless buds offer lightning fast and rock-solid connectivity thanks to Apple's H1 chip. The hands-free "Hey Siri" voice commands negate the need to fumble with a touchscreen with sweaty paws to switch up your playlist too. AirPods Pro's best feature is arguably the active noise cancelling tech, which does a great job of blocking out atrocious gym music. If being cocooned in silence when road running perturbs you, there's also a transparency mode to ensure you'll be safely aware of ambient noise in urban environments.
As with most true wireless earbuds, there's a fear they'll fall out, but we found the fit to be reassuringly secure even when the wind gets up. We also loved the absence of that 'thumping' sound you get with some wireless buds as your feet hit the floor.
The 5 hours of battery life from a single charge makes them unsuitable for anything more than a marathon… But we would imagine that is not an issue for most people. It's worth noting that AirPods Pro do work perfectly well with Android devices, although you do lose functions such as hands-free Siri control, and fancy graphics when pairing.
5. Bose SoundSport Wireless
This running earbuds old stager is now a real bargain
Specifications
Features: Bluetooth 4.2 plus NFC tap-to-pair on Android, in-line remote
Battery life: 6 hours
Water resistance: IPX4
Weight: 23g
Reasons to buy
+
Premium Bose sound
+
Non-premium price
If the sonic quality of your power playlist is what pushes you to a new PB, Bose SoundSport Wireless have the pedigree. The one-cable wireless earbuds, with built-in remote, provide well-rounded dynamic sound with just enough punchy bass to get you through those uphill stretches. These things are mightily comfortable and the all-important (albeit minimum expected) IPX4 sweat and water resistance is on board too, meaning they should make it through your sweatier/rainier runs.
Six hours of battery life could be better, but is long enough for most athletic endeavours. Interestingly, these buds are integrated with the Tile Bluetooth tracking ecosystem, helping you find wayward earphones. These headphones have been around a while so only offer Bluetooth 4.2 connectivity, but they're still very solid performers when it comes to maintaining a connection. There's the benefit of tap-to-pair via NFC on Android, too.
Their relative age also mean the Bose Soundsport Wireless can be picked up for a bargain price. If you're going true wireless, you might want to try the SoundSport Free. We found that Bose's true wireless option suffers quite badly when it gets windy, but they're excellent in the gym or on non-windy days outside.
Get the Fit&Well Newsletter
Start your week with achievable workout ideas, health tips and wellbeing advice in your inbox.
Chris is a freelance contributor to Fit&Well. He's from Shropshire, England originally, but currently lives in the United States near Miami, FL. Chris has written about health and fitness technology for a decade, including as an in-depth feature writer and product reviewer for Wareable.com, tackling emerging wearable tech trends in the sports and fitness industries. When not on the beat for Fit&Well, Chris writes about technology for Trusted Reviews and WIRED, sports for The Guardian and just about everything else for Shortlist, Pellicle, Digital Spy and a selection of other publications. He also pens books on technology use for Flametree Publishing.
Chris stays fit through hot yoga (studio not always necessary in the Florida humidity) and hopes to complete teacher training in 2021. He enjoys cycling, tennis, running and, ever-more-infrequently, playing football (or soccer, to his American friends). Those old injuries he 'ran off' as a teenager have finally caught up.