Is walking good for lower back pain?
Is walking good for lower back pain? Find out if it can help and whether there are other exercises that can ease aches and pains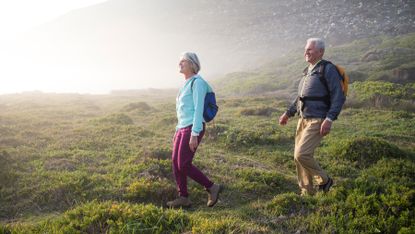 (Image credit: Getty)
Is walking good for lower back pain, or should you rest up and wait until your pain eases before being physically active?
Some reading this may be feeling hesitant about lacing up in some of the best shoes for walking due to experiencing lower back pain. After all, lower back pain is a common problem in the United States and globally. According to a 2020 study, lower back pain affects around 1 in 10 people at any given time in North America. This is one of the highest rates in the world, and just behind Western Europe. In fact, research suggests that up to 80% of us will have lower back pain at some point in our lives.
According to the global study, women are slightly more likely to experience lower back pain than men. Although it can affect people of all ages, the risk of having lower back pain increases as you get older, and peaks between the ages of 80 and 90.
Read on for advice on whether walking is good for lower back pain, when walking can make back pain worse, and what other exercises you can try to ease the discomfort. We've also spoken to top experts in osteopathy and physiotherapy to get their advice on the subject.
Can walking make back pain worse?
"It's possible for walking to aggravate your symptoms," says registered physiotherapist and founder of Physio Fast Online, Katie Knapton. "In these cases, you may be recommended to ease off or break up the distance with regular pauses, so you're modifying, but not stopping, walking."
Sometimes, poor posture while walking can make the problem worse, according to consultant osteopath Michael Fatica of Back in Shape, an online rehabilitation program for back pain. "Walking with poor posture can increase unnecessary loads on the injured lower back."
The Mayo Clinic advises the following to maintain a good posture while walking:
Hold the head high and look forward, rather than at the ground
Move the shoulders naturally and swing the arms freely
Keep the back straight rather than arching forward or backward
Pull in the belly muscles gently
Walk as smoothly as you can, rolling the foot from heel to toe
It's not just posture that's to blame for lower back pain. Walking up or down slopes can also affect the spine, according to Fatica and Knapton.
"Walking uphill and downhill involves bending the spine either forward or backward to counterbalance. This has the effect of focusing load through specific tissues more than when simply upright in a neutral posture," says Fatica.
Knapton recommends flatter walks and introducing walking poles for added support. "If problems continue, we would introduce cycling or swimming as alternatives, but still encourage continuing walking."
Shortening your stride on the upward slope and bending the knees when coming downhill may help the spine to straighten a little.
How long should you walk to help relieve lower back pain?
Both Fatica and Knapton agree that this can depend on how much pain you are feeling and your current levels of physical activity.
Fatica's advice is to start small. "Walking in the early days, when you're suffering from very acute pain, should be anything from two to five minutes around the house.
"As you strengthen your back and recover, it can be helpful to increase the speed and/or distance slowly."
However, Fatica is quick to point out that it's important to add other exercises to help strengthen the back and avoid more episodes of lower back pain. "Anything beyond 20 minutes is going to have a diminishing reward. The focus should be on other strengthening exercises instead."
Knapton advises adding chunks of 10 minutes to walking time as you feel comfortable, and making sure you're well-prepared and feeling relaxed. "It's possible for lower back pain to make us feel tense, and this can increase the pain. Listening to music or a podcast can help reduce anxiety. Use comfortable and supportive footwear and relax into the movement, allowing a natural body swing."
For chronic lower back pain, the American Family Physician has highlighted a walking program, which starts with at least a 10-minute walk every day, moving to 30 minutes of brisk walking five days a week. However, bear in mind that this doesn't include strengthening exercises, which should be a key part of your routine. For example, this dumbbells leg workout is a good way to develop strength and muscle in some of your major muscle groups.
What other forms of exercise are good for reducing back pain?
There are lots of exercises that help to reduce lower back pain; the key is to keep the body moving. However, some work better than others.
A 2019 article in The British Journal of Sports Medicine found that the following exercises were the most effective for adults with non-specific chronic lower back pain, especially under the guidance of an experienced teacher:
Pilates (this five-minute Pilates workout is a quick way to build up strength)
Physiotherapy exercises that focus on stability and motor control
Aerobic exercise
Resistance or load-bearing exercises, such as squats
The authors of the article suggest that using a combination of exercises is the most effective approach to combatting pain.
Knapton points out that it's important to enjoy whatever exercise you do. "As physios we recommend all forms of movement to help with back issues from dance to swimming and other sports plus yoga, Pilates, and tai chi. Doing something active that you enjoy will often reduce levels of pain, promote relaxation, and help sleep."
It's also vital to ensure that whatever you choose, you keep challenging your body, so that you're increasing resilience, according to Fatica. "You should always work to incorporate increasing levels of resistance through a progressive exercise program. This will help ensure that after your rehabilitation is complete, your back and body are more resilient than they were before the injury."
If you want to find out more on how to increase your overall fitness and strength we have more articles unraveling things like what is the fastest way to build muscle or helpful workouts such as these 7 exercises from a chair to increase your fitness.
Get the Fit&Well Newsletter
Start your week with achievable workout ideas, health tips and wellbeing advice in your inbox.
Joanne Lewsley is a freelance health and lifestyle writer who specializes in evidence-based content. She is a regular contributor to Live Science, Medical News Today, and Fit&Well.
Joanne has worked for some of the web's biggest brands, including BabyCentre UK, BBC and Lastminute.com. She has also worked with ITV, Sky and Channel 5 in launching flagship TV websites to support broadcaster content.
Previously UK editor at parenting site BabyCentre UK, Joanne led a team of editors and freelance writers to create award-winning health content.
Moving to freelance has allowed Joanne to explore and develop her passion and expertise in creating health, wellness and lifestyle content that is clear, easy to read and based on solid evidence.
She also regularly reviews health and wellness gadgets and tech for a fleet of websites, including Top Ten Reviews and LiveScience.
As well as creating long-form content, Joanne has a keen news sub-editor's eye, creating compelling news headlines and packages for breaking news on the AOL and Yahoo websites.
In her spare time, she loves visiting the Norfolk Broads close to her home in Norwich, trying to break the 5k barrier on her running, and indulging in her love of live music.