Joe Wicks shares his top tips for smashing your fitness & weight loss goals this year
Fitness superstar Joe Wicks tells Ally Oliver how to reach your health and fitness goals in eight easy-to-apply steps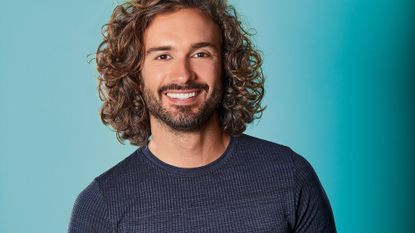 (Image credit: Andrew Burton)
In 2014, personal trainer Joe Wicks started an Instagram account to help his clients with their workouts.
Just 18 months later, Joe - also know as The Body Coach - topped the bestseller list with his first book, Lean in 15. This was quickly followed by more books, a TV series and a YouTube channel, where in 2020 he hosted the wildly successful daily PE with Joe sessions during lockdown.
His faithful Instagram followers now number almost 4 million, and the 32-year-old has become synonymous with 15-minute workouts and easy recipes, all designed to fit in with real life. None of this 'clean eating' business for him: as long as food is fundamentally healthy, it's in.
His latest book, 30 Day Kick Start Plan, is already a best seller and continues his mission to spread his message of straight-talking fitness and a healthy diet. Joe's a great believer in helping anyone to get fit, whatever level they're at, and - as his 2.6 million YouTube subscribers will attest - his programmes really work.
Below he shares his top tips for ensuring that 2021 is the year that you achieve your health and fitness goals. Whether you're looking to lose weight quickly, figure out how to eat healthily or how to get a slim waist, or simply live a more balanced life, Joe's expert advice will prove invaluable.
1. Don't diet
January is often a time of year when people make big resolutions and often start crazy diets that they just can't keep up. People take up a new regime, lose a bit of weight, but essentially they aren't eating enough food, it makes them miserable and it's not sustainable. Two weeks later, they're back to old habits, put all the weight back on and then some.
This is why I always say diets do not work. If you eat three meals a day and exercise for 15 minutes four or five times a week, you will see a massive difference in your energy levels, skin, body fat - and you'll feel great.
2. Find the exercise that works for you
My YouTube channel, The Body Coach TV, has something for everyone, whether you're a complete beginner or an experienced workout queen. HIIT is high-intensity interval training, it takes just 20 minutes. Push yourself really hard for 30 seconds and then rest for 
30 seconds.
There's also low impact HIIT workouts for those who need to be a bit more careful with their knees and joints. The great thing about HIIT is that you take it at your own pace - push as hard as you can and you will see results.
3. Avoid this huge fitness mistake
The biggest mistake people make is exercising and then eating a teeny salad afterwards. My advice would be to do a workout, then have one of my delicious 15-minute meals afterwards. Your body is like an engine and it needs fuel to burn fat. If you only eat a salad, you're undermining all the exercise you've just done, as your body won't burn fat.
4. Prep your meals - including snacks
I always recommend people 'prep like a boss' so that when they've worked out, they're not tempted to reach for snacks or junk food. There are lots of healthy options in my book Veggie Lean in 15, such as cheddar and Marmite straws, strawberry, ricotta and pumpkin seed toast, and some really delicious sesame and soy edamame to keep you going.
5. Ditch the scales
Standing on scales will only ever make you feel miserable, so I always tell people to get off the sad step. I've worked with people who have dropped body fat, toned up, feel brilliant, but when they stand on scales they weigh more than before – that's because muscle weighs more than fat.
The best way to monitor body change is to take regular photos of yourself and use a tape measure around your arms, waist and thighs.
6. Set goals - and stick to them
I always feel motivated when I set myself a target, whether that's going on holiday or before a photoshoot. I find it really motivates me, so I recommend people set a goal with a specific date and really give yourself something to work towards.
Time is one of the biggest excuses people use to not exercise or eat healthily. Yeah, things
are definitely more hectic at home since I've become a dad (Joe's partner Rosie Jones gave birth to daughter Indie in July 2018, and son Marley followed in December 2019), but I practice what I preach.
When I get home in the evening, sometimes I just want to lie on the sofa and eat chocolate. I force myself to workout because I know it will make me feel better and I'll make better food choices in the evening. If I need to wake up 15 minutes earlier to fit in a workout, then that's what I do.
7. Workout your mind as well as your body
There is loads of evidence about the mental benefits of eating well and exercising.
 It's one of the cheapest and easiest things you can do to help you feel great. It'll help you feel more confident, have more energy and many people say they feel less anxious and stressed after exercise. There are so many other benefits than just how your body looks.
8. Find your favourite healthy foods
My favourite snack at the moment is the seeded protein flapjacks, from my book Veggie Lean in 15. I use dates, which give it a really natural sweetness, chuck in a banana and some mixed seeds and protein powder. What's great is that if you keep them in an airtight container, they last for a week.
It's so hard to pick one evening meal as a favourite, but I'm really loving my peri-peri halloumi burger.
Interview: Ally Oliver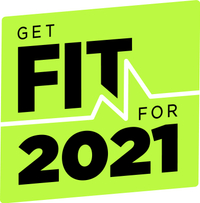 Get Fit for 2021 with Fit&Well
As the sun rises on a brand new year, Fit&Well is here to help put last year behind you and make 2021 your happiest, healthiest yet. Here at fitandwell.com, we'll be bringing you a wealth of workouts, diet plans and expert advice throughout January to help kick-start your health and fitness goals.
Launched in 2020, Fit&Well.com is all about helping you meet your health and fitness goals in ways that are fun and achievable. With news and features on fitness, weight loss, running, nutrition, yoga, wellness and more, we're committed to helping you wherever you are on your fitness journey. We break down the best fitness tech, with reviews, buying guides and the latest deals on fitness and wellness kit, from dumbbells to diffusers.
We cater for all difficulty levels here. It doesn't matter if you're a beginner in the world of fitness or you're gearing up for your tenth marathon: we're all moving towards the same goal – creating a healthier, happier you. From guides on getting started doing walks around the block, to creating the perfect work-from-home space, to eating to fuel your first triathlon. It's all here.