Muscle pain relief: Eight fixes that really work to ease muscle aches and pains
The best muscle pain relief solutions around. Whether you're facing DOMS, chronic muscle pain or something else, try these fixes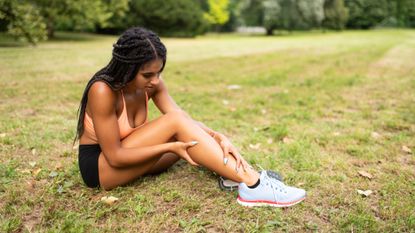 (Image credit: Getty Images)
You've done a great workout and for a while you felt on top of the world. But now your muscles are aching and you're struggling to make it up the stairs, even after using one of the best foam rollers.
The first thing you need to do is figure out if you're actually injured. If you've got sharp, acute pain, swelling or bruising, or the soreness doesn't go away after a few days, get yourself to a doctor or physio.
If, on the other hand, you're just stiff and sore, what you have is DOMS (delayed onset muscle soreness), caused by microscopic tears in the muscles and connective tissues.
That sounds more dramatic than it really is and there are plenty of ways to alleviate the discomfort.

1. Have a massage
Who doesn't love a good massage? The great news is massage, whether a self-massage or a professional sports massage, is one of the most effective ways to ease muscle soreness. Studies have established that massage is effective in reducing DOMS. For the best results, a meta analysis of the research showed the best time to massage your muscles is 48 hours after exercise.
2. Foam rolling
Ever wondered what to do with those odd-looking foam tubes? They're actually a brilliant tool for easing sore muscles.
Elle Linton, an Essex-based online personal trainer and coach and award-winning blogger, specialises in running, cycling and recovery and leads a twice-weekly foam rolling class.
"Foam rolling is a great way to alleviate the onset of muscle soreness and to improve your recovery rate," she says. "It's basically like a massage for your muscles, that you can do yourself."
There are no hard and fast rules about when to foam roll, according to Elle. "If you enjoy foam rolling and choose to do so before a workout then go for it. I'd suggest a shorter duration than a post workout or mobility specific session, though."
Check out our advice on the best foam rollers on the market.
3. Hot and cold treatment
There's a good reason why top athletes put themselves through the torture of an ice bath – it helps reduce muscle soreness. Although applying heat can be effective, too, according to a 2015 study, applying cold immediately after exercise or 24 hours later was the most effective treatment.
Some swear by Epsom salts but scientifically speaking the jury's still out. They can't do any harm but there's limited evidence the magnesium is absorbed by the skin. Chances are a nice bath oil is just as good.
4. Stretch it out
It's tempting to skip your stretches and head straight for the shower, but your muscles will thank you for taking the time to stretch.
According to Elle Linton, "Stretching after exercise can help to reduce muscle soreness by reducing stiffness. Stretching aids your muscles to relax, through your central nervous system. This is why it's advisable to stretch after a workout."
A word of caution, though. "Stretching injured muscles should definitely be avoided, in order to reduce the risk of causing more damage," says Linton. Try our guide to stretching exercises for the best beginner mobility routine.
5. Eat your way out of pain
Muscle soreness is caused by inflammation of the muscles, so foods with anti-inflammatory properties can help the healing process.
The best strategy is to eat a varied diet rich in protein, carbs and vegetables, but studies suggest supplementing with watermelon juice (rich in the amino acid L-citrulline), tart cherry juice (packed with antioxidants), pineapple (containing the enzyme bromelain) and anti-inflammatory ginger can help. Other popular foods for muscle recovery include turmeric, oily fish rich in anti-inflammatory omega 3s and chia seeds, walnuts and flax seeds. Many of these dietary pain relievers crop up in our guide to the best supplements for joints.
6. Chill out
It seems almost too good to be true, but resting is essential to help your muscles recover.
"Rest and recovery are important," stresses Elle Linton. "This is where and when we actually become 'fitter' from our training. Being well rested will also mean you can push harder during your training to get the most out of your session."
What exactly does a rest day involve? That depends, says Elle. "You know your body best when it comes to recovery. So rest could be 'active', in the form of walking or some gentle yoga, or you could choose to spend an afternoon on the sofa binge-watching."
7. Sleep tight
Regular shut-eye plays an important part in helping your muscles recover. According to sleep expert James Wilson, aka The Sleep Geek, there's no one size fits all when it comes to how much sleep you need.
"A good night's sleep shouldn't be judged on the number of hours' sleep you've had. When we judge sleep need on quantity we're forgetting the quality of our sleep, which is just as important. You know you've had a good night's sleep if at about 10 or 11 in the morning you feel alert and active."
Many of the best fitness watches help you track your sleep. Don't get hung up on the numbers. Use them to learn how aspects of your lifestyle affect the quality of your sleep.
8. Get back in the gym
So long as you're not dealing with an injury, don't be afraid to exercise your sore muscles – you don't need to wait until they've stopped aching to use them again.
There's some evidence to suggest that actively warming up sore muscles is just as effective as massage in reducing soreness.
Get the Fit&Well Newsletter
Start your week with achievable workout ideas, health tips and wellbeing advice in your inbox.
Patricia Carswell is a freelance journalist, specialising in health and fitness. She has written for a huge variety of national newspapers and magazines, including Healthy, Top Santé and Women's Fitness, and writes a monthly column for British Rowing's content hub. She's the founder and host of rowing blog and podcast, Girl on the River, where guests have included Sir Matthew Pinsent and multiple Olympian Frances Houghton MBE.
She won Rowperfect's Rowing Blogger of the Year several years in a row, the Endurance Award in the MyProtein Blog Awards and was runner-up in the Sports & Fitness Category in the UK Blog Awards in 2017.
She keeps fit by rowing, walking and swimming, and is at her happiest when on or in the water.