Natural back pain remedies: 7 easy ways to overcome pain
Try one of these natural back pain remedies as an alternative to popping pills for aches and pains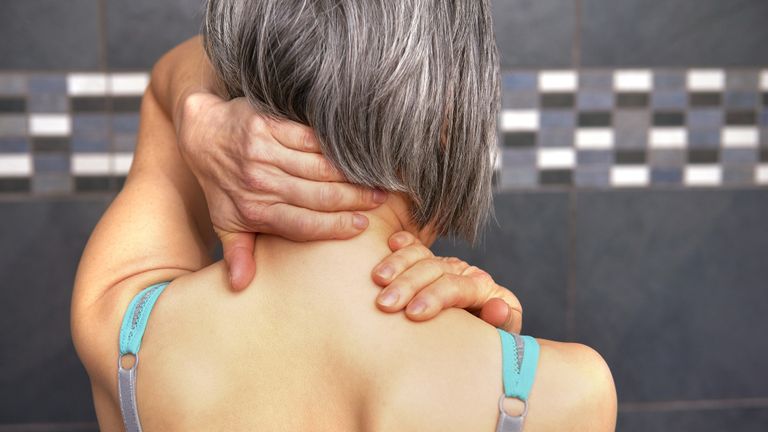 (Image credit: Getty Images)
By Tanya Pearey
Backache is a pain (quite literally), but thankfully there are plenty of natural back pain remedies that can offer relief.
The beauty of using natural remedies rather than popping painkillers is that they often address the root of the problem, as opposed to just masking the pain. So if you're suffering from aches and pains in your back, try one of our seven expert recommendations for drug-free pain relief below.
A word of warning first, however. Back pain usually improves in a few weeks, but if not see your doctor. Do the same if the pain gets worse over time, it stops you doing everyday activities or you're struggling to cope with the pain.
In addition, get immediate medical advice if you have any of these additional symptoms: a fever, difficulty urinating, chest pain, loss of bladder/bowel control, unexplained weight loss or a swelling in your back.
Now, read on to discover our list of natural back pain remedies…
1. Change your diet
Eat more magnesium-rich leafy greens to support muscle function, choose foods high in vitamin C (such as strawberries, peppers and Brussels sprouts) to stimulate collagen production, and cook with turmeric to help reduce inflammation.
To ease arthritis inflammation, try to limit sugar, saturated fats (including cheese and red meat) and processed foods. Many people with arthritis find that tomatoes and oranges make their symptoms worse, too.
2. Watch your posture
'Four out of five of us will suffer at least one episode of back pain,' says Dr Melanie Wynne-Jones, adding: 'Misuse or overuse triggers most problems.' Poor posture, heavy lifting and prolonged standing can worsen the problem, so make sure you:
Take care when lifting: Bend at the knees without twisting, keep the weight close to your body, and don't overstretch your back.
Take breaks from sitting: Get up and walk about. Stand up and hug your body – right hand on left shoulder and left on right. Breathe in and out to stretch your back. Shrug your shoulders and try torso twists to ease spinal strain.
Sit correctly at your desk: Keep your lower back supported, your feet at on the floor and forearms, wrists and thighs parallel. Working from home? Find the best office chair to support your spine.
3. Move more
Bed rest used to be advised for a bad back. Now we know that keeping mobile is crucial for reducing pain and accelerating recovery, as well as building muscles around your spine and core to help prevent further problems.
'Exercise is key to pain management and general wellbeing, particularly into older age,' says physiotherapist Dan Jones. 'Aches and pains aren't a reason to stop moving – in fact, they're the complete opposite.'
Great options are walking, Pilates and swimming. Aim for 30 minutes of moderate exercise at least five times a week.
4. Take up yoga
Studies by Arthritis Research UK and the University of Pennsylvania found that yoga can not only ease the symptoms of arthritis around the joints, but also help lift depression linked to the condition.
'Yoga works by building strength, improving flexibility and reducing joint and muscle pain,' explains yoga teacher Cheryl Macdonald.
It's important to seek advice before embarking on yoga if you have back problems - talk to your GP or specialist first. Then, when you're ready to make a start, check out our round-up of the best yoga mats.
5. Use essential oils
In patches or gels, as pure oils or even in supplements, essential oils can help relieve pain, fight inflammation and reduce muscle tension.' Wintergreen is particularly good at moderating the enzymes that help control inflammation,' says essential oils specialist Dr Florence Berger. Try Puressentiel Muscles & Joints Roller, which has a massage rollerball for an added acupressure effect.
6. Try hot and cold compresses
Hot and cold compresses can offer short-term relief for muscular strains. Use a hot-water bottle or a bag of frozen peas wrapped in a tea towel, or buy hot/cold packs from your local pharmacy. Try Deep Freeze Pain Relief Glide-On Gel to numb pain fast, and for neck and shoulders, Voltarol Heat Patch provides continuous, low-level heat to increase blood flow.
7. Lighten your load
On average, a woman's handbag weighs 6.2kg – as heavy as two house bricks! 'Having a heavy bag on your shoulder, plus the shift in posture you make to carry it, can affect joints and nerves, leading to back pain,' says chiropractor Dr Surinder Sandhu.
Have a clear-out and carry only what you need; swap to an across-body bag or rucksack, and switch sides from time to time.