Nike Metcon 5 vs Nike Metcon 6: Which workout shoes are worth your money?
Which generation of the popular training shoe takes the crown: the Nike Metcon 5 or Nike Metcon 6?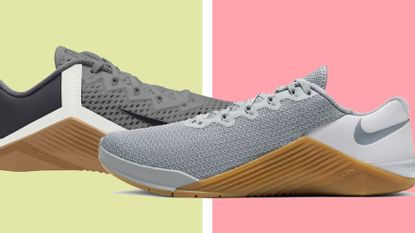 (Image credit: Nike)
Wondering what the difference is between the Nike Metcon 5 and Metcon 6 - and, crucially, which ones are worth your cash? We're here to help!
The Metcon range by Nike are regularly ranked among the best cross training shoes. Recognised by athletes and CrossFit fanatics alike, it has become known as the shoe for delivering support, comfort and durability during intense exercise, especially workouts like circuit training and weightlifting.
The most recent, sixth addition to the Metcon range was released in summer last year. Named the Nike Metcon 6, the gym shoe hit shelves around a year after its predecessor, the Nike Metcon 5, boasting a few new design details such as a more breathable upper.
In what we assume was based on the premise of "if it ain't broke, don't fix it", both the Metcon 5 and the Metcon 6 look very similar. So much so that if it wasn't for the new colorways and different price points, you'd find it pretty hard to tell them apart.
With this in mind, we have pitted the two shoes head-to-head to see if the new and improved yet more expensive generation Metcon 6 is worth the extra dosh. Or if you should opt for the older Metcon 5 model instead and save yourself a pretty penny. We've rated the both on Design, Performance and Price to find which comes out king or queen of the gym.
Design
What will strike you initially about the Metcon 5 and Metcon 6 gym shoes is that they look very similar when placed side-by-side. But that doesn't mean they're identical. Nike has responded to customer feedback and – due to it being mostly very positive – has kept things pretty much the same in the Metcon 6.
The main difference is a new upper in the Metcon 6, which looks to solve issues in the Metcon 5 related to heat and moisture retention. It's a new lightweight mesh material, which due to its perforated design, offers better breathability by allowing air to flow more easily. This helps to keep your feet cool, especially during long or intense workouts where you're more likely to be sweating. The downside here is that the mesh material isn't really in keeping with the overall minimal design of the shoe, and looks kinda ugly in comparison to the Metcon 5's upper.
The color options for the Metcon 6 aren't quite as attractive as those in the Metcon 5, either. They're more garish and a little too busy for our liking. There is, however, a "design your own" option, which allows you to customise the colour of your shoes for an extra £15. Still, this won't change the dotted aesthetics of the upper.
Design-wise, everything else between the Metcon 5 and the Metcon 6 has remained largely the same, including that revered Durable Traction extended outsole which has a rubber tread that wraps around the sides of the shoe to prevent friction burn during activities like rope climbing or side lunges.
WINNER: Metcon 5. Yes, the Metcon 6 has been given a breathability upgrade, but when it comes to design the minimal and more elegant-looking Metcon 5 just does it for us.
Features and Performance
Both the Metcon 5 and the Metcon 6 utilise the same foam, midsole, and wide heel design meaning they feel almost identical on the feet. As we mentioned prior, the major difference is the upgraded mesh upper, which offers improved breathability for those times when you're really going for it. Both shoes deliver in spades, whether doing burpees or barbell squats.
Essentially, the Metcon 6 will feel more comfortable to wear over longer periods and at higher intensities, saving you from getting that awful clammy feeling in the feet.
Other than that, both generations of shoes successfully deliver stability and support for heavy duty workouts, weight lifting and powerful sprints thanks to a low, flat and wide heel, which creates a stable base alongside a decent amount of cushioning.
WINNER: Metcon 6. The latest model has everything the Metcon 5 has but with the advantage of a more breathable upper to help keep you cool.
Price
The Metcon 5 training shoes hit the market in July 2019 with a price of $130 in the US and £115 in the UK. However, they've come down in price since then and can be picked up for around $99 or £80. That's including Nike's official site and third-party stockists, such as Dick's Sporting Goods in the US and Wit-fitness in the UK.
The Metcon 6 launched in August last year with the same price. Because they're still relatively new, you'd be hard pushed to find them discounted anywhere right now, but do keep you eyes peeled for discounts and promo codes from third-party sellers.
WINNER: Metcon 5. You can grab a pair for $30 less than the Metcon 6, and if you're not one for getting clammy feet during workouts, then this is going to be best value for you.
Verdict: Which one should you buy?
There's not many similarities between the fifth and sixth generation Metcon shoes. To cut a long story short: with the Metcon 6, you're paying an extra $30 for so for a more breathable upper material which should help keep you cool if you're into long, intense and sweaty workouts, or exercising in warmer climes.
If this isn't something that you'll benefit from all that much, it's probably worth sticking with the Metcon 5 shoes, which will set you back about $99 or £80 and look a bit more stylish.
Get the Fit&Well Newsletter
Start your week with achievable workout ideas, health tips and wellbeing advice in your inbox.
Lee Bell is a London-based journalist, copywriter, specializing in all things tech and lifestyle. He is also a qualified personal trainer. He started his journalism career a decade ago as a reporter covering the latest gadgets and innovations at tech tabloid The Inquirer. Lee went freelance in 2016 to broaden his expertise, moving into news, reviews and feature writing for a host of national print and online lifestyle titles such as GQ, Forbes, Esquire, Men's Health, Wired, The Metro, and The Mirror. He has an insatiable appetite for travel, Dharma yoga, and the odd outdoor challenge.