Nutrition for runners: meal and snack ideas
Choosing the correct foods and drinks to incorporate into your diet is vital for optimum performance and results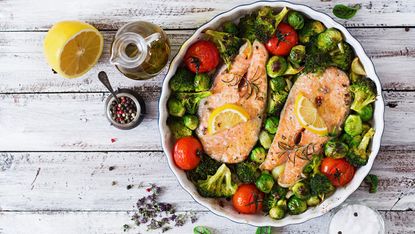 (Image credit: Thinkstock)
One of the most common things that we hear are people who have taken up running to lose weight, only to find that they are either losing very little or nothing, or have actually gained a pound or two.
While there are plenty of reasons for this, for example muscle gain, it could all be down to bad dietary choices. It is easy to fall into the trap of eating more than you need when you start running. It's also easier to justify 'treats' when you have been exercising.
In order to lose weight, running and good nutrition go hand in hand. Eating the right amount of the right foods will make a big difference. You still need to burn off more than you're putting in to lose weight. Never starve yourself to save calories; just pick better foods.
A good diet needs to have a balance of good carbohydrates, protein and fat. When you are first starting running, you don't need to worry about carb-loading. You can fuel your runs effectively with fats and protein, and the right carbs. Try and make your diet as 'clean' as possible, which means avoiding processed foods and refined sugars (including many misleading diet products). Lean meats, lots of fruits and vegetables, pulses, grains, nuts, oily fish... all of these should be included in your diet. Aim for three balanced meals a day, with two healthy snacks. Drink plenty of water as well, as this can help with weight loss. Swap to wholemeal bread and pasta, and have brown or wild rice with your dinner – these simple swaps can make a big difference.
If you are feeling hungry, drink a glass of water. In many cases, you may feel hungry, but actually be dehydrated. Try drinking a glass of water to see if your hunger vanishes. If you're still peckish after 10-15 minutes, then eat a small snack (like those suggested below) to feel full and raring to go.
The runner's menu
Make the correct decisions when selecting foods while dieting.
Breakfast
Scrambled egg on toast
Scrambled egg whites on wholemeal bread. For an extra hit of protein and good fats, try adding some smoked salmon or avocado on top.
Cereal
Low-fat energy-boosting cereals, such as porridge, muesli or granola. Always served with skimmed milk, and add berries on top to sweeten them up and contribute towards your five-a-day.
Cereal bars
Make homemade healthy cereal bars, protein bars, or banana bread that will last you all week. Be cautious of your ingredients; use wholemeal flour and watch the sugar.
Lunch
Tuna niçoise salad
Made from half a tin of tuna, a hard-boiled egg, green beans and salad leaves with anchovies or olives, balsamic vinegar or low-calorie salad dressing if needed.
Chicken wrap
Easy to pack for work or travel, the wrap is versatile and can be as healthy as you want it to be. Pack it with chicken breast, tuna or avocado, add veggies such spinach or rocket, and use pesto or hummus for extra flavour.
Homemade leek and potato soup
Mix up leeks, potato and skimmed milk. Cook up a batch that can be frozen, then heat up and keep in a flask ready for lunchtime. Add a piece of wholemeal bread to make it filling.
Dinner
Chicken and quinoa hotpot
Quinoa is an incredible source of protein. There are many recipes online, but try cooking it in vegetable stock and adding chicken, courgette, and sundried tomatoes for a delicious hotpot.
Roasted salmon
Wrap a piece of salmon in tinfoil and bake in the oven for 30 minutes with sliced new potatoes and vegetables. All cooked in one tin with a little olive oil, this is a healthy, quick roast dinner.
Sweet potato jackets
Tasty and filling, plus quick and very easy to prepare. Serve with vegetables, salad, meat or try adding a variety of fillings such as low-fat cottage cheese or low-fat soured cream.
Dessert
Yoghurt and fruit
Low-fat flavoured yoghurt with mixed fruit. Add a little honey, flaked almonds or home-made granola for a tastier topping treat.
Dark chocolate
A few squares of dark chocolate after your dinner is a small source of calcium, but as it's rich, you'll need less to satisfy you.
Banana ice cream
Surprisingly, you achieve the texture of ice cream simply by freezing chopped up bananas for a few hours and tossing them in a blender. Add in two teaspoons of low-fat Greek yoghurt and a splash of milk for a creamier version.
Top 5 tasty treats
Carrot sticks
Combine these with 1tsp of peanut butter or some low-fat hummus for a little extra enjoyment and protein from your snacks.
Bananas
Perfect at any time of day, before or after a run. They also contain high levels of carbohydrates and potassium, both of which are vital to runners at all levels.
Fresh fruit
Cut up into a fruit salad, with some fat-free natural yoghurt to add sweetness. Blueberries and raspberries are especially good for you, and pop into your mouth like candy.
Rye crackers
An excellent low-calorie, high-fibre snack and even better with some added protein-rich peanut butter.
Dried fruit and nuts
Eat in moderation, as nuts are high in (good) fats, but in small portions, they're the perfect runner's snack throughout the day. Make sure to pick unsalted, raw nuts and unsweetened dried fruit; almonds and walnuts are especially beneficial.
Liked this?
Launched in 2020, Fit&Well.com is all about helping you meet your health and fitness goals in ways that are fun and achievable. With news and features on fitness, weight loss, running, nutrition, yoga, wellness and more, we're committed to helping you wherever you are on your fitness journey. We break down the best fitness tech, with reviews, buying guides and the latest deals on fitness and wellness kit, from dumbbells to diffusers.
We cater for all difficulty levels here. It doesn't matter if you're a beginner in the world of fitness or you're gearing up for your tenth marathon: we're all moving towards the same goal – creating a healthier, happier you. From guides on getting started doing walks around the block, to creating the perfect work-from-home space, to eating to fuel your first triathlon. It's all here.