Use the run-walk-run method to start running with less chance of injury
Jeff Galloway, the creator of the run-walk-run method known as Jeffing, explains how to Jeff and why everyone from complete beginners to ultra-runners can benefit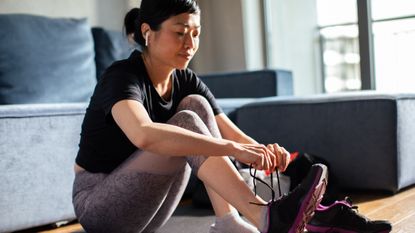 (Image credit: vorDa / iStock / Getty Images Plus)
You know you've hit on something big when your name becomes a verb. Millions of people across the globe refer to Olympian Jeff Galloway's run-walk-run training method as "Jeffing" and incorporate it into their running plans, whether that's a Couch to 5K, their first marathon or even a multi-stage ultra-marathon.
"I'm very proud of all the Jeffers out there, who have embraced my method, and I'm very proud to be a verb. I never imagined that it would be as big as it is. It's a worldwide community," says Galloway.
How it started
Jeffing began more than 50 years ago when Galloway first started coaching beginner runners. As an elite runner competing in the 10,000 metres at the 1972 Olympic Games, and subsequently breaking the US 10-mile record in 1973, Galloway admits that training beginners forced him to take a different approach.
"Intuitively I knew that to keep them running, we needed to put strategic walks in there. And so I fiddled with the method during the first class, which was 10 weeks, and by the end there were no injuries. I had never worked with 20 people in a class before and had no injuries. Every one of them finished a 5K or 10K from zero running."
The run-walk-run program was such a success that beginners started beating experienced runners in races.
"Veteran runners started coming to me saying 'I want to try this out'," says Galloway.
To validate his method Galloway started collecting data and over the decades recorded information from more than 500,000 runners.
This helped to fine-tune the Jeffing method which was originally set out in The Run Walk Run Method book and is now available via the new Jeff Galloway Run Walk Run app.
Although it was developed for beginners, Galloway incorporated the strategy into his own training and ran his fastest marathon in 2hr 16min 35sec taking short walk breaks during the race.
His studies have shown that the run-walk-run method can improve a runner's marathon time by an average of 13 minutes and a half marathon by more than seven minutes.
Galloway believes runners of all abilities can benefit from the method because the short breaks — which can be from 30 seconds up to several minutes — help the body to recover, the mind to refocus and the runner to correct bad form.
How to follow the run-walk-run method
The key to this way of training is finding the right running-to-walking ratio for you. Galloway developed the Magic Mile assessment to determine this, using the global data collected by Jeffers worldwide. The Magic Mile involves running at high intensity for one mile to measure your current fitness level. This is then converted into individual training paces and run-walk ratios.
For example, if you run a Magic Mile in seven minutes then your long run pace would be 11min 6sec per mile using the strategy of one minute run, 30-second walk.
The training paces are calculated using the following formulas:
Add 33 seconds to your Magic Mile for your 5K pace
Multiply your Magic Mile time by 1.15 for your 10K pace
Multiply your Magic Mile time by 1.175 for your 10 mile pace
Multiply your Magic Mile time by 1.2 for your half marathon pace
Multiply your Magic Mile time by 1.3 for your marathon pace
"I tell people that I coach that they can either run the Magic Mile non-stop or they can put in strategic walk breaks of their choice whenever they want to," says Galloway. "Almost all find that when they put in a strategic walk break they receive faster times, even at one mile."
And the benefits of the method are even more dramatic at longer distances.
"The simple inclusion of a strategic walk break from the beginning can keep erasing the fatigue and the stress built up on weak legs," says Galloway.
Taking his "mission to improve people's lives" one step further Galloway is publishing a book with his nutritionist daughter-in-law this fall, which combines nutrition with the run-walk-run method.
RUN. WALK. EAT: A Practical Nutrition Guide to Help Runners and Walkers Improve Their Performance and Maximise Their Health provides healthy eating advice to improve performance alongside a Jeffing training program.
"The reality is that if you include walk breaks when you increase the length of your long runs, you have an opportunity to burn a lot more fat. Because fat is only burned if you're running aerobically and run-walking helps you run aerobically, which is something that we address in the book," he adds.
---
Need help choosing running shoes? Our guide to the best running shoes for men can help.
Get the Fit&Well Newsletter
Start your week with achievable workout ideas, health tips and wellbeing advice in your inbox.
Lily Canter is a freelance money, health and lifestyle journalist with more than 20 years' experience. She writes about fitness for Runner's World and Trail Running magazines and focuses on personal finance for Yahoo! Finance UK, Metro, The Guardian, and the Mail on Sunday. In her spare time she is an ultra-runner, canicrosser and running coach. She also co-hosts the award-winning podcast Freelancing for Journalists.