Swimming workout for beginners
Our expert-approved swimming workout for beginners will get you on track to improving your fitness, losing weight, and building muscle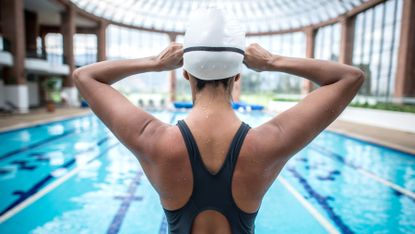 (Image credit: Getty)
Our swimming workout for beginners utilizes even the most basic swimming skills to get an effective workout. Many of us learned to swim for fun as children, so it can be hard to think of it as more than a fun or relaxing activity to do on holiday, but here's how it can be used as a full-body workout.
If you've enjoyed building upper body strength with the best adjustable dumbbells, you may be willing to try out your new tricep and bicep strength in the pool. Or you may just be hoping to make it a regular part of your fitness routine. Either way, we've got the perfect swimming workout for beginners to suit you.
We've got tips on which foods to eat before your swimming workout, plus advice and information on how many calories you'll burn and which muscles you can target. We've also spoken to INCUS-enabled marathon water swimmer Neil Gilson, to discover how swimming can challenge your body and find out how long you need to swim to get an effective workout.
Finally, we asked INCUS ambassador and triathlete coach Rosie Weston to come up with a swimming workout for beginners, which will help you to achieve a great full-body workout.
Neil Gilson is an INCUS-enabled marathon open water swimmer who recently became the first person to swim across the entirety of the Bristol Channel from Swansea to Ilfracombe, to raise funds and awareness for a charity close to his family. INCUS provided him real-time feedback on his swim stroke and efficiency.
Rosie Weston is an INCUS ambassador. She trains in Loughborough and is also a coach for the Loughborough University AU Triathlon squad. She recently finished 6th at Ironman 70.3 Gdynia.
Is swimming a good workout?
Swimming is one of the very best full-body workouts you can do. That's according to Harvard Health, which puts swimming at the top of its workouts for helping people to get into shape and lower their risk for disease. The Centers for Disease Control and Prevention (CDC) agrees, pointing out that people can generally exercise for longer in the water than they can do on land, maximizing their workout time.
In fact, swimming is one of the most effective aerobic exercises for working all the body's muscles. It's perfect for people with mobility issues, older people, and people who are overweight because the body is supported by the surrounding water. This means there's no impact on your joints, minimizing the risk of injury.
Gilson agrees. "Although swimming will take longer than weight training to make big gains, it has significantly less impact and stress on your body, which means you are less likely to get an injury and can stay physically active for longer into your life."
So how does swimming help to work out those all-important muscle groups? Each of the two most popular swimming strokes targets different muscles around the body:
Breaststroke: Works the pectorals in the chest and the latissimus dorsi muscles in the middle and lower back. As the legs kick, you're working the glutes and the quads, too
Front crawl: Works the triceps and biceps, as well as the deltoid (a shoulder muscle), latissimus dorsi (a flat muscle in the lower back), and the trapezius in the upper body, while the quads, hamstrings, glutes, and calves all fire up in the lower body
Not only does swimming work lots of different muscles, but it's also great for burning fat and improving your overall health. A 2021 study found that swimming three times a week for two hours at a time can significantly reduce body fat, as well as improve blood glucose levels and blood pressure.
How much swimming is a good workout?
Not all of us have the time to spend hours in the pool, so how long do we need to swim to achieve an effective workout?
According to Swimming.org, a fast-paced front crawl burns around 800 calories per hour. That's around the same as an hour of running. And don't forget, your body is supported in the water, so you don't have the same impact on your limbs and joints as you do during a jog. Mixing up your strokes can help the time to go quicker too, so it's perfectly achievable to spend 60 minutes in the pool to get a great workout.
If you're not confident in being able to achieve a whole hour of swimming, you can also tread water, do pool edge push-ups, or tone your legs and arms simply by using the resistance of the water. Try using these exercises to break up your lengths, for example, every two or three lengths. Then slowly work your way up to doing more lengths as you increase your fitness and speed.
If muscle building is your key goal, Gilson's advice is little and often. "Swimming for 30 minutes, three to five times a week, will increase your muscle mass and your cardiovascular fitness. The sort of sessions you need to be looking at is something that will help you sustain a pace that keeps you in the fat-burning heart rate zone of 70%, for 20 to 25 minutes. You do, however, have to be consistent"
Swimming workout for beginners
If you're looking to include a swimming workout into your fitness routine, but you're not sure where to start, here's a great workout from INCUS Performance's athlete ambassador Rosie Weston, to kick things off.
Before you start, Weston points out it's crucial not to do too much too soon. "Stay within your comfort zone when starting swimming. Ensure you take sufficient rest in between sets if required, and feel free to adapt my swimming workout to suit your own natural ability."
Weston advises starting the workout with some stretches out of the water, to increase blood flow to the important muscles, reduce the risk of injury, and increase mobility. "You can include exercises such as arm swings, squats, push-ups, star jumps, and static stretches to warm up both the upper and lower body."
Warm up
150m easy front crawl
100m using your choice of stroke
100m kick (if a kickboard is available, if not you can always kick on your back with your arms above your head if you feel comfortable, just be aware of your surroundings and other swimmers)
150m easy front crawl
Main workout
3 x 100m building the intensity from rep 1 - 3 (rep 3 should feel the hardest and 1 should feel the easiest) +20 seconds recovery after each 100m
50m using your choice of easy stroke
3 x 100m reducing the intensity from rep 1 - 3 (rep 3 should now be the easiest and 1 should be the hardest) +20 seconds recovery after each 100m
Warm down
2 x 100m easy front crawl
What to eat before a swimming workout?
You might think it's a no-no to eat anything before a swim, probably because you were told this when you were a child. But the truth is, we all need energy and stamina to exercise, and swimming is no different.
However, it's important to eat the right foods, and leave a period of time before you swim, to allow your body to digest what you've eaten. Competitive swimmers tend to eat a meal that's low in fat and fiber but rich in low-glycemic carbohydrates, around 2-4 hours before a meet or competition.
For the rest of us mortals, the advice is largely the same. If you've eaten a larger meal, leave at least a couple of hours before you swim. If you've had a snack, then allow for around 30 minutes before getting in the pool.
The following foods are all good examples of options that are low in fat and fiber and contain low-glycemic carbohydrates. This means they give a slower release of energy and will keep you going for longer:
fresh fruit, such as apples and pears
whole-grain bread
bran cereal
pasta and noodles
sweet potatoes
brown rice
milk, cheese, and yogurt
Before diving into the pool you might still have a few swimming queries which we have the answers to such as; does swimming build muscle? What are the benefits of swimming? Or is swimming good for back pain?
Get the Fit&Well Newsletter
Start your week with achievable workout ideas, health tips and wellbeing advice in your inbox.
Joanne Lewsley is a freelance health and lifestyle writer who specializes in evidence-based content. She is a regular contributor to Live Science, Medical News Today, and Fit&Well.
Joanne has worked for some of the web's biggest brands, including BabyCentre UK, BBC and Lastminute.com. She has also worked with ITV, Sky and Channel 5 in launching flagship TV websites to support broadcaster content.
Previously UK editor at parenting site BabyCentre UK, Joanne led a team of editors and freelance writers to create award-winning health content.
Moving to freelance has allowed Joanne to explore and develop her passion and expertise in creating health, wellness and lifestyle content that is clear, easy to read and based on solid evidence.
She also regularly reviews health and wellness gadgets and tech for a fleet of websites, including Top Ten Reviews and LiveScience.
As well as creating long-form content, Joanne has a keen news sub-editor's eye, creating compelling news headlines and packages for breaking news on the AOL and Yahoo websites.
In her spare time, she loves visiting the Norfolk Broads close to her home in Norwich, trying to break the 5k barrier on her running, and indulging in her love of live music.