Trying to eat healthily? 15 easy ways to get your five-a-day
Not getting enough fruit and veg in your daily diet? These tricks will ensure you do...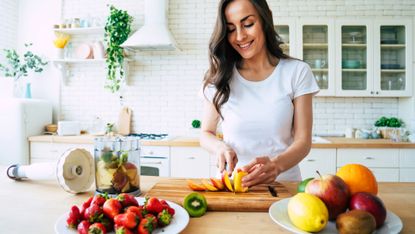 (Image credit: Getty Images)
Are you getting your five-a-day? Research shows eating at least five portions of fruit and veg daily – equivalent to about 14oz / 400g – keeps you healthy, lowering the risk of a range of illnesses, from cancer to diabetes and heart disease.
Studies have also showed eating plenty of fresh produce gets your skin glowing. But most of us don't manage the recommended amount of five portions a day. So how can you hit that target? Our hassle-free hacks will raise your total in no time.
1. Ditch rice
Try cauliflower 'rice' instead, says Christine Bailey, director of Advance Nutrition Ltd. 'Pulse florets in a food processor to form grains. Fry in a little oil for 1 minute, put a lid on top and cook for a further minute.
2. Start the day right
'Drink a glass of 100% orange juice with cereal,' says nutritionist Fiona Hunter. 'A quarter of UK women under 50 have low iron. The vitamin C in juice ups the absorption of iron in cereals by up to 10 times.'
3. Try kale crisps
'Place chopped kale on a baking sheet. Drizzle over a little olive oil, garlic, salt and a dash of cumin,' says Christine. Bake in the oven at a low temperature, turning occasionally until crisp.
4. Sweeten naturally
Add blueberries to your porridge instead of sugar, suggests fitness expert Dave Fletcher. 'And snack on frozen blackberries instead of sweets. Dark-skinned fruits are high in fibre and lower in sugar than apples and bananas.'
5. Add pineapple to a veg smoothie
'Juice half a lemon, some spinach or kale, a chunk of cucumber, several chunks of celery, a small chunk of fresh ginger and half a pineapple, then blend with yogurt, coconut oil and chia seeds,' says holistic doctor and GP Dr Sohère Roked. 'You get the benefits of veg but the taste is sweet!'
6. Get grating
Add grated carrot to meatballs, suggests Go Faster Food's Kate Percy. 'It makes them extra juicy.'
7. Stock the pantry with tinned beans
Canned pulses are a good standby and just three tablespoons of tinned beans or lentils count as a serving, advises Fiona. 'Add to soups, casseroles or salads to boost your fibre intake.'
8. Have a fakeaway…
…and make your own pizza! Cook tomatoes, peppers, carrots and a little broccoli in the oven, purée and smear the sauce on a pizza base. Add a little low-fat cheese.
9. Switch your fries
Sweet potato fries (baked in olive oil and cumin seeds) are a great healthy alternative to regular fries, says Nature's Best nutritionist Dr Sam Christie. 'Add a generous dollop of houmous for dipping.'
10. Ditch the pasta
Try courgette and carrot noodles and pasta using a spiralizer and toss in a sauce, such as pesto or tomato, says Christine. See inspiralized.com for ideas.
11. Boost your sauce
When it comes to making a sauce to go with your 'courgette', think clever says Janey Lee Grace, author of Look Great Naturally (£8.99, Hay House). 'Fry onion, garlic, leeks, courgettes and spinach, liquidise and mix in with tomato sauce.'
12. DIY dessert
Pour yogurt mixed with blitzed berries into lollipop moulds and freeze for a healthy dessert.
13. Make soup extra-super
Blend extra veg and add to shop-bought soup, suggests nutritionist Shona Wilkinson . 'Broccoli and spinach work well as they don't have a strong flavour.'
14. Better breakfasts
When making pancakes, grate apple or pear into the batter mixture before cooking for invisible fruity nutrition.
15. Make chocolate cake with avocado
Yes, really! 'Use avo in chocolate cake, not butter,' says Kate. 'It cuts saturated fat and boosts heart-healthy monounsaturated fats.'
Get the Fit&Well Newsletter
Start your week with achievable workout ideas, health tips and wellbeing advice in your inbox.
Launched in 2020, Fit&Well.com is all about helping you meet your health and fitness goals in ways that are fun and achievable. With news and features on fitness, weight loss, running, nutrition, yoga, wellness and more, we're committed to helping you wherever you are on your fitness journey. We break down the best fitness tech, with reviews, buying guides and the latest deals on fitness and wellness kit, from dumbbells to diffusers.
We cater for all difficulty levels here. It doesn't matter if you're a beginner in the world of fitness or you're gearing up for your tenth marathon: we're all moving towards the same goal – creating a healthier, happier you. From guides on getting started doing walks around the block, to creating the perfect work-from-home space, to eating to fuel your first triathlon. It's all here.