What to look for when buying workout earbuds: Everything you need to know
Everything you need to know about finding the right workout earbuds for exercise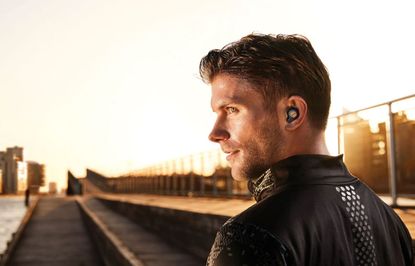 (Image credit: Jabra)
Get the Fit&Well Newsletter
Start your week with achievable workout ideas, health tips and wellbeing advice in your inbox.
Thank you for signing up to Fit And Well. You will receive a verification email shortly.
There was a problem. Please refresh the page and try again.
Music is a powerful thing. Whack up the volume during exercise and you're likely to find the thumping in your ears is all you need to power you through your workout.
Investing in the best workout earbuds to provide this sound is therefore paramount. Good quality sound reproduction booming down your ear canals can make the difference between an engaging, motivational experience, or losing it altogether.

But does music really help improve performance, or is it just psychosomatic? There have been countless studies establishing a link between music tempo and exercise performance.
Take the 2010 study by the Research Institute for Sport and Exercise Sciences for example, where a bunch of scientists noticed cyclists work harder while listening to faster-paced music.
Filling your ears with motivating music hasn't only been proven to give you the boost you need. Another study found that music enhances endurance of physical performance during exercise, too.
So when it comes to buying the right buds for your workout, how do you know which you should go for? Here's our comprehensive guide for what to buy when considering your next pair...
Sound quality
When you're shopping for sports buds, it can be way too easy to get hung up on all the snazzy features that they boast - such as water resistance and noise cancelling - and lose sight of what's truly important: sound quality.
It's crucial that you choose a product that's able to produce a strong beat with a decent bass. This will help enhance motivation, whether you're pacing the streets hoping to smash your 5K PB, or nailing your last rep on the squat rack. It really does make a big difference.
If possible, try to test out the earphones you're looking at before buying them (borrow from a friend that has them or try them in a shop) and ensure the quality doesn't waiver during physical movement. Some earbuds, for instance, are known to cut out or experience interruptions in sound if they're moved around too much.
Fit and comfort
After sound quality, the second most important feature in a pair of sports earphones is the fit. If they are not comfortable during use, then they're not fit for purpose as this could really knock your concentration during a workout. Thankfully, there are hundreds of different earphone designs on the market right now, so you'll be sure to find something that suits your ear size and shape.
For instance, some brands' offerings come with ear hooks. Take the Powerbeats Pro by Beats for example, which boasts adjustable hooks that follow the contour of the back of the ear to create a more secure fit. These are ideal for fast runners or sports with lots of movement.
If buying slim-fitting earbuds, be sure to check they fit snugly into your lug holes before going on a run, that way you can return them before they drop out of your ears mid-sprint and roll under a bus or down a neighbour's grate.
Noise-cancelling
Nearly all earphones available on the market today feature some form of noise-cancelling, a feature which works to block out any annoying and distracting sounds around you. This can be either passive or active (the latter of which is stronger and more effective as it eliminates sound whereas passive just blocks it).
While some fitness experts will tell you that workout earphones should not feature any kind of noise-cancelling due to safety concerns. For example, not hearing traffic around you when running or cycling on roads could be very dangerous.
However, most modern sports buds also feature ambient filtering or "hear-through" modes, which you can enable so you can be more aware of your surroundings. This is useful as it means you can take advantage of the noise-cancelling when using the earphones in other, safer environments like the gym or during your commute.
Water resistance
If you're working out, chances are you're going to sweat. This means that the buds in your ears are going to need some sort of water resistance. Luckily, almost all earphones that you can buy currently have some water-proofing certification.
Still, it's a good idea to make sure, just in case. Before buying, double check the specs of your earphones and that they have an official IP certification or liquid-repellent coating. Usually, a rating of IPX4 is the gold standard for workout buds as it means they're safe even if you drop them in water. However, a lower rating such as IPX2 will also do the trick if you want to be protected during a super sweaty workout.
Price
So, the big question: how much should you be paying for a decent pair of sports earphones? The good news is that due to their popularity nowadays, you'll be sure to find a pair to suit any budget, so it depends just how much you are willing to splurge.
Generally, you can get a really decent pair between £100 and £200; there isn't really any need to spend more than that. For example, the super premium Bose Sports Buds can be bought online for around £150. Then you've got the Jaybird Vista 2. These are brand new to the market and boast some excellent workout credentials, and can be picked up for £189.99.
If that's too much, options like the Jabra Elite Active 65T still work exceptionally well despite being a few years old. They can be grabbed online from places like Amazon for around £70, proving that you can still find a decent pair of workout buds without breaking the bank.
Get the Fit&Well Newsletter
Start your week with achievable workout ideas, health tips and wellbeing advice in your inbox.
Lee Bell is a London-based journalist, copywriter, specializing in all things tech and lifestyle. He is also a qualified personal trainer. He started his journalism career a decade ago as a reporter covering the latest gadgets and innovations at tech tabloid The Inquirer. Lee went freelance in 2016 to broaden his expertise, moving into news, reviews and feature writing for a host of national print and online lifestyle titles such as GQ, Forbes, Esquire, Men's Health, Wired, The Metro, and The Mirror. He has an insatiable appetite for travel, Dharma yoga, and the odd outdoor challenge.