Whey Protein vs Whey Isolate: which protein powder is right for you?
We break down whey protein vs whey isolate – what the difference is, and why you might pick one over the other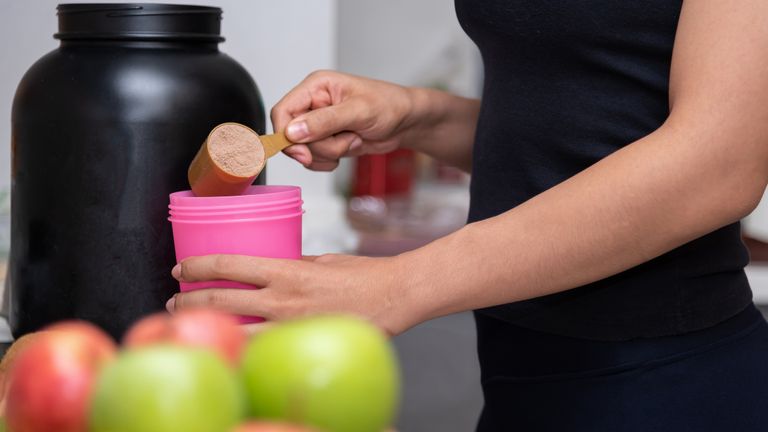 (Image credit: Getty Images)
By Matt Evans published
Protein powders can be tough to get your head around, especially in regards to whey protein vs whey isolate. You can easily get bogged down in technical information when all you really want is a simple, straightforward supplement to help you build muscle. It's almost simpler if you're vegetarian or vegan, as you're restricted to supplements derived from alternative sources such as pea protein.
However, if you've been checking out the Black Friday protein deals, and the best protein powder for weight loss buying guide, then you might be wondering what separates ordinary whey protein from whey protein isolate. To put it simply, whey protein isolate is whey protein that has been filtered to remove the powder's lactose content.
If you're looking for a lower fat and calorie content, along with a slightly higher protein intake per scoop, whey protein isolate is ideal for your needs. If you're just looking for a high-protein content to build more muscle, normal whey protein should fit the fill. If you want to find the best prices and deals for both products, they are included below:
Whey Protein vs Whey Isolate: quick links
MyProtein Black Friday deals: 50% off everything
MyProtein Black Friday deals: 50% off everything
MyProtein is one of our go-to trusted brands for both concentrate and isolate products (as well as apparel and extra kit), and right now you can use code "Black" to save 50% off everything in the Black Friday deals. 
Whey protein vs whey isolate: Price
Generally, both products tend to cost roughly the same. Whey Isolate, because of the additional processes that the product has to undergo, often costs slightly more than normal whey protein. For example, the Optimum Gold Standard Whey Isolate costs around $35.99 for a 2lbs tub, around 24 servings. The same brand's Gold Standard Whey Protein costs $34.99.
However, because whey protein is more common than whey isolate, which is a little more of a specialist product, you'll often see more discounts on standard whey protein concentrate flagship products as opposed to whey isolate. In terms of price, whey protein is usually the winner by a hair.
Winner: Whey protein
Whey protein vs whey isolate: Protein content
Whey isolate tends to have a slightly higher protein content than simple whey protein powder, as the process which removes the lactose from the powder also concentrates the protein somewhat. However, it's a difference of usually just a few grams, and this will be very brand-dependent, as some brands are able to pack more protein per serving than others.
Winner: Whey isolate
Whey protein vs whey isolate: Calories
Whey isolate tends to have a lower calorie, carbohydrate and fat count, which makes isolate ideal for mixing with water for a low-calorie, high-protein drink. Great for building lean muscle. Whey protein is still a very efficient way to cram more protein into your diet, whether you're making shakes or pouring scoops of the stuff into pancake mix, oats or your morning yoghurt. However, it does come loaded with a few extra calories.
Winner: Whey isolate
Whey protein vs whey isolate: verdict
If you're just after a drink to add more protein to your diet without additional calories, fat or triggering any digestive issues with lactose you may have, whey isolate is what you're after. However, whey protein, as a more common supplement, is often seen on offer and at far greater varieties of flavour. If you're just after a high-protein supplement solution to add to your diet, feel free to pick up either supplement without any further concerns.
Matt Evans is an experienced health and fitness journalist and Channel Editor at Fit&Well. He's previously written for titles like Men's Health and Red Bull, and covers all things exercise and nutrition on the Fit&Well website. Matt originally discovered exercise through martial arts: he holds a black belt in Karate and remains a keen kickboxer and runner. His top fitness tip? Stretch.