Which Fitbit should you get?
From the cheapest Fitbit trackers to high-end smartwatches, here's everything you need to know about the Fitbit range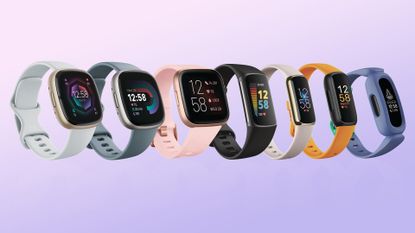 (Image credit: Future)
Get the Fit&Well Newsletter
Start your week with achievable workout ideas, health tips and wellbeing advice in your inbox.
Thank you for signing up to Fit And Well. You will receive a verification email shortly.
There was a problem. Please refresh the page and try again.
Fitbit was the brand that made fitness trackers cool. It's still one of the first names you should consider if you want a fun-to-use wearable for passive activity and general health tracking, and for light to moderate workout routines.
But how do you pick the best Fitbit to buy? This hinges on what you need, how much you have to spend and the style you prefer. Below, we've rounded up our current favorite deals, and outlined which trackers we rank as the best.
Best Fitbit deals
The contenders
You can split the Fitbit range into two groups: trackers and smartwatches.
Smartwatches
The smartwatches are the most expensive Fitbits, and there are two families here, Sense and Versa. The Fitbit Sense 2 ($299) and Versa 4 ($229) are the newest members, but Fitbit sells some older generations too (like the Versa 3, below). Any more than $30 off these headline prices would be a decent deal.
Trackers
One step below the above range sits the Fitbit Charge 5, arguably the best deal in the Fitbit line-up. It has advanced Fitbit Sense health features, and almost matches the Fitbit Sense 2 for smarts.
A Fitbit Charge 5 costs $149 and can often be found online for just $99.
Below the Charge you'll find the Inspire 3 ($99) the sleek-looking Fitbit Luxe ($129) tracker and the kid-bound Fitbit Ace 3.
Health and wellness features
Each tracker in the Fitbit line-up has a slightly different range of features. Here's how we rank them for their health and fitness credentials.
Fitbit Sense 2
If you want the very best health and wellness features Fitbit has to offer, you need to go for the Fitbit Sense 2. It has the best stress sensor, the best heart health sensor and all the fitness essentials including GPS.
Fitbit Charge 5
Second place goes to, surprisingly, the mid-price Fitbit Charge 5. It has the Sense's advanced stress and heart sensors, but slightly older versions. This mainly means the "EDA" stress sensor can't take readings all day, only when you press your hand to the screen surround in a dedicated stress-sensing session.
Fitbit Versa 4
One step down we have the Fitbit Versa 4. It loses the dedicated stress sensor and the ECG arrhythmia sensor. However, the watch can still look out for heart issues and estimate your stress using the trusty old heart rate monitor on the watch's underside.
All three of the above watches have GPS, which offers good distance tracking and maps of your run, cycle and walk routes. However, the Charge 5 lacks the altimeter the other two have. This counts the flights of stairs you talk up each day, a nice bonus for passive fitness tracking.
Fitbit Inspire and Fitbit Luxe
There's a big feature drop off when we move down to Fitbit Luxe and Fitbit Inspire bands. They can only record a map of your routes when connected to a phone, so aren't great for phone-free runners. You also miss out on the stair-counting feature of the pricier Fitbits — and while we use the term "stairs", it will of course count any kind of inclines you walk up. The Fitbit Luxe and Inspire 3 do still have a heart rate tracker, though, and they can record blood oxygenation.
In all Fitbit models your data is presented rather nicely in the Fitbit app, and the depth on offer here is particularly notable for the cheaper models. Fitbit isn't just a casual step counter brand anymore. However, some features are locked behind the $9.99 a month Fitbit Premium subscription, like long-term trends in your stats, sleeping restlessness and snoring.
Fitbit Ace 3
Down at the bottom of the range, the "made for kids" Fitbit Ace 3 is a relatively basic step counter with sleep tracking. It technically has a heart rate sensor, but this is disabled in the software.
Reliability and performance
All Fitbit trackers today provide good battery life, particularly compared to an Apple Watch, which only lasts for about a day. Surprisingly, the affordable Fitbit Inspire 3 can last up to 10 days between charges. For comparison, the Sense 2 (below) and Versa 4 are rated for six days of use, and the Luxe has the shortest battery life at five days.
We think all Fitbits are mid-tier performers for accuracy. A top Garmin watch or Apple Watch is going to offer more accurate heart rate readings during exercise, but anything from an Inspire 2 to Sense 2 offers good enough results for a regular casual workout routine.
There are some key limitations to note, though. Even the top-end Fitbit Versa 4 and Sense 2 do not have music support of any form. They also do not have access to apps made by companies or developers other than Fitbit.
Verdict
The best features-to-cost ratio in the Fitbit line-up right now might be the Fitbit Charge 5. It was launched as a less smart alternative to the original Fitbit Sense, and has aged pretty well.
We like the basic Fitbit Inspire 3 too, because it provides a lot of what the classic Fitbit audience want, in a petite package with a few more advanced extras like an always-on screen mode.
There's still a distinct appeal to the larger-screen Versa 4 and Sense 2, though, thanks to their smartwatch design sensibility. Either makes a decent exercise tracker, with the top-end Sense 2 benefits being all about heart health and stress rather than fitness.
Get the Fit&Well Newsletter
Start your week with achievable workout ideas, health tips and wellbeing advice in your inbox.
Andrew is a freelance contributor to Fit&Well. He has written about health and fitness for more than a decade, specializing in consumer tech. When not testing fitness tech for Fit&Well he writes about fitness for Forbes and contributes to publications including WIRED, TechRadar, Stuff, Trusted Reviews and others. Andrew runs to keep fit, and can often be round jogging around the parks of South London with several wearables and a heart rate strap attached. He also enjoys indoor cycling, using a turbo trainer and platforms like Zwift to get some kilometers in while avoiding London's busy streets.