How to Marie Kondo-style declutter your whole house (and car!) – in 30 days
Follow these top tips, and before you can say 'Marie Kondo', you'll have decluttered your home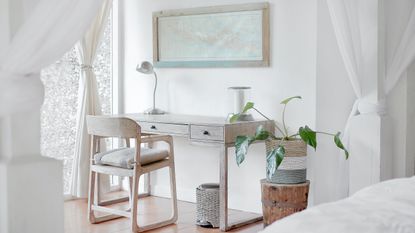 (Image credit: Hutomo Abrianto | Unsplash)
Craving a clear, clean space to help you feel calm and collected at all times? Tackle a small project every day and before you can say 'Marie Kondo' you'll have a decluttered living space you can love again.
Here's some top tips to help declutter your home and car.
How to declutter Marie Kondo-style: Day 1 – Clothes
Ask yourself: Does it fit me and do I like it?
Have I worn it in the last 12 months? Will I wear it again?
Is it on trend, and/or does it reflect my current look?
Does it need repairing, and do I want to get it fixed?
Would I buy this again if out shopping?
Do I feel good when I put this on?
How to declutter Marie Kondo-style: Day 2 – Shoes
Get rid of any odd ones, pairs that hurt or are uncomfortable or are broken straightaway.
Ask yourself if you would wear those heels to a wedding again (or would you buy new)?
Try each pair on and if in doubt, find an outfit you would wear them with to help decide whether to keep.
Bag up any wearable ones in pairs for charity, while take others to the shoe bank at the tip.
How to declutter Marie Kondo-style: Day 3 – Fashion accessories
Start by weeding out any scarves, gloves, earrings, necklaces or bags that are broken, out of fashion, tired or dirty.
Group like with like. This will make you ask yourself if you really need 20 scarves?
How to declutter Marie Kondo-style: Day 4 – Underwear
Remove any odd socks, ill-fitting bras, greyed pants, snagged tights and sexy (or thermal) underwear you've never worn – an organised undies' drawer will make you happy.
Bras can be given to charity, see Againstbreastcancer.org.uk and its bra bank scheme, which sends them to African countries in need.
Edit out the ones that aren't special or that don't go with anything in your wardrobe (and of course anything never used).
How to declutter Marie Kondo-style: Day 5 – Coat Hangers
Now your wardrobe is a little freer, sort through coat hangers and bin any cheap wire ones, investing in wooden ones instead. They will make your clothes hang better, last longer and help with that streamlined effect we're after.
Go on a hanger hunt and find ones lurking on the backs of doors, in hall cupboards, the car and under beds while you're at it too.
How to declutter Marie Kondo-style: Day 6 – Gadgets & Small Appliances
Ask yourself when did you last use those heated rollers? How about the waffle maker? Do the kids still play with that games console? Do you use all of the attachments for your food processor?
Gather all remaining small appliances together and decide which you will use in the next month (unless it's a travel kettle, which you might argue a case for keeping, but ask yourself if you actually used it on any of last year's holidays?) and get rid of any you won't.
Check with your charity shop before you donate though, as not all will take electrical pieces, so you might fare better selling online.
How to declutter Marie Kondo-style: Day 7 – DVDs and CDs
Do you stream your music nowadays and watch films through a subscription? Do you even have a DVD or CD player (or did it go yesterday?).
Start to replace favourites digitally as and when you want to watch or listen to them, selling any unwanted ones. You'll free up loads of space too.
How to declutter Marie Kondo-style: Day 8 – Hair Accessories
Gather and sort hairbrushes, combs, clips and bobbles, throwing any broken ones away. Give them a quick wash too. Then store where you use them most – e.g., a brush for the kids in the kitchen along with accessories in a lidded container, one in the hall for a quick flick as you leave the house, etc.
How to declutter Marie Kondo-style: Day 9 – Garden Junk
If something's been left outside all winter, then it's unlikely to be fit to use come the warmer months. Decluttering your garden can make you feel much happier inside, especially when you open the curtains and look out each morning. Old flowerpots, dead plants, kids plastic toys... just imagine the new view and get cracking.
How to declutter Marie Kondo-style: Day 10 – Books
Start with a purge of any that you've read, then sort into ones you probably won't ever read, ones you will and those you'd like to keep.
For children's books, ask your local preschool if they would like them (again, it's actually okay to keep a few favourite ones).
How to declutter Marie Kondo-style: Day 11 – Board Games & Puzzles
Are all of the pieces there? If not bin (if you haven't come across them by now, it's unlikely you will).
Are there any that the kids have outgrown, or that you know they don't play?
Pass any complete ones on.
How to declutter Marie Kondo-style: Day 12 – Soft Toys
Allow kids to choose a number to keep (give them a wash or dust before returning to bedrooms).
Give any that are clean to charity shops (avoid getting attached to them as you bag them, and no cuddles!).
Operate a 'one in one out rule' from now on.
Alternatively ask grandparents and family not to buy any more.
How to declutter Marie Kondo-style: Day 13 – The Car
Empty it of bags, umbrellas and coats.
Check what exactly is lurking in your glove box, under seats and boot.
Get organised, with a first aid kit, breakdown kit, some spare change, a box of tissues and a few shopping bags stored neatly – it will make everyday trips and special journeys easier (plus there'll be room in the boot for all of those trips to the charity shop too).
Keep a blanket in the boot for winter months and a clean towel for the summer (just in case you go paddling). Spare kids' undies and/or a nappy and wipes are handy too.
Hide any loose change out of sight.
How to declutter Marie Kondo-style: Day 14 – Vases
Edit your vase collection – ideally you need just three for flowers: a bowl-shaped one, a tall one and a fluted or bottlenecked one.
Use a glass tumbler for any smaller posies or single stems.
When it comes to displaying vases and other ornaments, don't feel you have to keep something you received as a gift, especially if it doesn't work with your room's look.
Remember items grouped in three works best visually.
How to declutter Marie Kondo-style: Day 15 – Beauty Goodies
Ask yourself: Is it opened? Most make-up has a shelf life of 12-24 months. Does the colour/scent suit me?
Am I likely to use this daily?
Do I really need endless miniature bottles of product for holidays?
Am I keeping it because it was expensive rather than liking it?
How to declutter Marie Kondo-style: Day 16 – Expired Products
Suntan cream, medicines, food… raid your drawers and cupboards and throw away anything that's past it's best or no longer needed.
On food, the 'use by date' needs to be followed, while a 'best before date' refers to quality not safety.
On beauty products, look for the Period After Opening (PAO) symbol, which acts as a guideline for when you should throw a product out after you've opened it.
When you open a new bottle, write the month and year on it with a permanent pen.
How to declutter Marie Kondo-style: Day 17 – Gift Wrap
Recycle any greetings cards that you've received that don't hold any sentimental value. See if there's a local craft club that makes new cards from old ones.
Organise your wrapping paper, gift bags and tags, recycling any scraps that you think you might use (you won't) along with bags that are dishevelled.
How to declutter Marie Kondo-style: Day 18 – Cleaning Products
Look under the sink and bring any nearly empty bottles to the front. Sort through tea towels and dishcloths. Recycle anything grim.
Remove anything dangerous to small children out of reach and recycle any old carrier bags you've stuffed under there, along with old plant pots.
How to declutter Marie Kondo-style: Day 19 – Pots & Pans
Ideally you should be able to stack one inside the other, using a felted pot mat to protect them. If you never use the lids, then get rid. Look to see what you use to cook throughout the week, then put anything not picked up in a box up for a set period of time and if you haven't used it by then, pass on.
How to declutter Marie Kondo-style: Day 20 – Bakeware
Still hoarding a number 1 cake tin? You're unlikely to use it again (and local cake shops hire out tins, so why buy?)
If you have wedding presents never used, pass them on, and enjoy baking with the tins you do use instead
How to declutter Marie Kondo-style: Day 21 – Tupperware
Time to tackle the dreaded cupboard! Start by playing a game of Tupperware snap and get rid of any bits without lids/bases.
Assess if you really need them all (especially if you've added clean takeaway ones to your collection).
Keep a few different sized ones and enough for sandwiches. Store lids in one big tub and stack the bottoms.
Get in the habit of re-stacking when putting clean ones away – you'll be amazed at how much extra cupboard space you get.
Be ruthless. Do you need those tiny ones for puréed baby food? If not, pass them on to an expectant mum.
How to declutter Marie Kondo-style: Day 22 – Picnic & Party Supplies
Do you collect plastic forks that are now stuffed in your cutlery drawer?
What about paper plates and cups that you've bought out of season in a sale?
Bin or box up to store in the garage, and if you go a summer without using, then it's time to get rid.
How to declutter Marie Kondo-style: Day 23 – Excess Alcohol
Bottles of booze (just in case someone requests a certain one at a party), take up valuable cupboard space. Ask yourself if you didn't pour out glass of port this Christmas, are you likely to next?
Give away anything new or pour away bottles that opened for a while.
How to declutter Marie Kondo-style: Day 24 – Crockery & Glassware
Start with anything that's odd, stained or chipped.
Decide if you really need that many glasses and mugs. If you have ones for best, can you store in a lidded tub out of the way?
Do you want everything to match, or are you happy with more of an eclectic feel? Just don't shop for too many new plates and bits either way.
How to declutter Marie Kondo-style: Day 25 – Cutlery
Start by taking out any baby or disposal pieces you no longer use.
Put all of the like with like. Do you have any odd pieces you've acquired? Do some bits need to be returned to their owners?
Sharpen knives and check things like scissors are where they should be.
How to declutter Marie Kondo-style: Day 26 – Cushions & Throws
Count how many cushions do you have on your bed or sofa? If you're always putting some on the floor to sit down, then do an edit.
Check condition. If any are lumpy or scruffy, then get rid.
Work with the seasons. Store throws in baskets or put in the airing cupboard during the warmer months.
How to declutter Marie Kondo-style: Day 27 – Stationery
Pens and pencils have a habit of multiplying. Limit yourself to five or six in a nice pen pot, along with a pair of paper scissors and a ruler.
Anything more specialist craft-wise, store in a plastic tub (and return things after use).
Nice notebooks, notecards, sticky notes, folders… make a decision to use (or certainly stop buying more).
How to declutter Marie Kondo-style: Day 28 – Spares
Buttons still in their paper wallets, batteries, purses you never use – bet you have drawers stuffed full of 'just in case' bits. Get sorting…
How to declutter Marie Kondo-style: Day 29 – Loyalty Cards & Vouchers
Use a plastic wallet for all current ones and shred the rest. If you need to change the address, do so before adding to the wallet.
Get in the habit of checking what is due to expire on a weekly basis, so you don't miss any special deals.
How to declutter Marie Kondo-style: Day 30 – Magazines
There will be some that you'll want to keep and others that once you've had a quick flick can be recycled.
Declutter your magazine rack and make an effort to go through once a month. Store favourites in box files, but again if you haven't reread or torn anything out of it within a certain amount of time, then it's time to recycle.
Keep food magazines next to your cookery books, ready to inspire, while hobby ones with your craft kit.
Get the Fit&Well Newsletter
Start your week with achievable workout ideas, health tips and wellbeing advice in your inbox.
Launched in 2020, Fit&Well.com is all about helping you meet your health and fitness goals in ways that are fun and achievable. With news and features on fitness, weight loss, running, nutrition, yoga, wellness and more, we're committed to helping you wherever you are on your fitness journey. We break down the best fitness tech, with reviews, buying guides and the latest deals on fitness and wellness kit, from dumbbells to diffusers.
We cater for all difficulty levels here. It doesn't matter if you're a beginner in the world of fitness or you're gearing up for your tenth marathon: we're all moving towards the same goal – creating a healthier, happier you. From guides on getting started doing walks around the block, to creating the perfect work-from-home space, to eating to fuel your first triathlon. It's all here.