How to stay motivated when running
When you are training for a race, you need to keep your enthusiasm high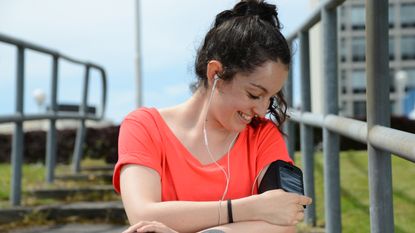 (Image credit: Future)
It can be hard to stay motivated when you are on a training plan and this can lead to you missing essential sessions. also means that you will be distracted during the run, meaning that you won't notice things like the cold or the rain. If you can't persuade anyone to join you, then consider a running club.
There are literally hundreds of these and there will be at least a couple near you. Most of these are aimed at mixed abilities, so you will only be running with other beginners, and the distances and speed will be tailored to suit. By joining a club, not only will you meet new people that you can share your hobby with, you will also be paying to run – and money is a very strong motivator!
1. Vary your locations
A fast track way to lose your motivation is to always run the same route over and over again. Mix it up by changing where you run. To start with, even reversing your usual route can ease the boredom and can actually be good for you. If you are running the same route in the same direction, then things like road camber can mean that you are putting more stress on one side of your body. Reversing the route keeps your body balanced and your mind guessing.
This is especially the case when it comes to the cold, winter months. If the weather turns too bad, it can be hard to motivate yourself to head out in the rain, and if snow forces you inside, then the treadmill can drain your will to run pretty fast.
Luckily, we have some tried and tested motivational tricks that will ensure that you keep running all year round, helping you get to that start line in the best shape possible.
2. Run with a group
Running is an individual pursuit, and while this has a myriad of benefits, you only have yourself to rely on when it comes to motivation. If you can, ask a friend to run with you, as then you have a reason to go out, even when you don't want to. Make sure that you don't pick someone who is likely to flake out on you – you need someone who will help you out of the door on cold winter mornings.
Running with a friend for longer runs in particular, try to visit new locations so that you have the view to keep you going. We tend to learn markers on our usual routes, so that we know how far we have gone, but by trying a new route you will focus on things like how you are feeling as a gauge of the run, rather than when you hit the next lamppost or tree.
3. Mix up the training
Just as we suggest that you vary your locations, you also need to vary your training patterns. If you usually go for a long, slow plod on a Sunday morning, why not try a little sprint session instead?
You can do a bit of fartlek running, picking a landmark anywhere in front of you and running as fast as you can until you get to it, before slowing down again to recover. This will add another dimension to your run. Not only will you burn more calories, but you will stay warmer and can complete your route quicker.
4. Listen to music
Many races these days are banning the use of headphones, saying it makes for a safer, more sociable event. However, there is no reason why you can't use music to help you train.
The race itself will have plenty of motivational factors to keep you going, with the crowds cheering and other runners to concentrate on, but if you are out on your own, your favourite song can really perk you up if your feeling that lull come over you!
Try creating a playlist that is the right length for your workout, starting with slower songs for your warm-up, that then build-up to the pace of a steady run, finishing with a fast sprint track to bring you home, or simply hit shuffle and see what comes up! Creating a playlist like this lets you learn the order of the songs so you know how far through you are without constantly checking your watch. Music can also help with your pacing – ditch the watch and tell yourself that you will run for one track before you take a walk break. Just hope it's not a 20-minute prog-rock spectacular!
Some music devices such as iPods (with Nike + iPod) have a power song function built in to them, which allows you to set your favourite motivational tune, that will come on if your pace slows too much or if you just feel the time is right to pull out the Rocky theme tune, to get up that hill in proper style.
Get the Fit&Well Newsletter
Start your week with achievable workout ideas, health tips and wellbeing advice in your inbox.
Launched in 2020, Fit&Well.com is all about helping you meet your health and fitness goals in ways that are fun and achievable. With news and features on fitness, weight loss, running, nutrition, yoga, wellness and more, we're committed to helping you wherever you are on your fitness journey. We break down the best fitness tech, with reviews, buying guides and the latest deals on fitness and wellness kit, from dumbbells to diffusers.
We cater for all difficulty levels here. It doesn't matter if you're a beginner in the world of fitness or you're gearing up for your tenth marathon: we're all moving towards the same goal – creating a healthier, happier you. From guides on getting started doing walks around the block, to creating the perfect work-from-home space, to eating to fuel your first triathlon. It's all here.