How to use a foam roller: 5 best moves to release aching muscles
Wondering what you're meant to do with that foam funnel thing? Try our five best foam roller exercises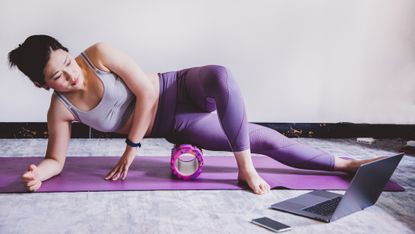 (Image credit: Getty Images)
Get the Fit&Well Newsletter
Start your week with achievable workout ideas, health tips and wellbeing advice in your inbox.
Thank you for signing up to Fit And Well. You will receive a verification email shortly.
There was a problem. Please refresh the page and try again.
If you find your muscles aching after that full-body home workout you did a day or two ago, then we prescribe trying some foam roller exercises. Why, we hear you ask? One word: recovery.
If you're doing any physical activity, you need to factor in this simple - but often painful - activity. Using one of the best foam rollers across our body releases pressure and breaks down knots in our muscles, connective tissue and fascia, explains Dave Jordan, personal trainer and co-founder of London gym The Fitting Rooms.
'As a result it can reduce the risk of injury, increase flexibility, improve circulation and performance, and reduce muscle soreness,' he says, adding: 'Once you've got over the initial pain it's addictive.' No, really!
So how do we know when a foam-rolling sesh is needed? 'Once you start applying your weight to the roller, the areas of tension will show themselves by being painful – these are the spots you need to spend the most time on,' says Dave.
Ready to roll? Below Dave explains how to use a foam roller to target five key areas.
1. Upper back foam roller exercise
Helps to ease tension out of the majority of the muscles in the upper back but, more importantly, helps us to reverse the process of sitting in a forward-hunched position all day at our desk. Roll for 2-3 minutes a side.
2. Front of the quads (thigh) foam roller exercise
Lie face down and apply pressure to the front of your thigh – this releases muscles in your quadriceps, particularly the rectus femoris. When tight, these muscles can lead to pain in the patella tendon (basically, pain in your knee), which, with a little foam- rolling work, can be eased off. Roll for 5-10 minutes per side.
3. Outside of the quads (thigh) foam roller exercise
The outside of the thigh can get very tight from weight training, but more commonly through repetitive running or jumping. This leads to an imbalance in the muscles leading into the knee which pulls your patella (kneecap) out of alignment. This can lead to severe knee pain. Roll for 3-4 minutes per side.
4. Hamstrings (back of the thigh) foam roller exercise
Most of us suffer from tension in our hamstrings and foam rolling can help restore function and help with flexibility. It can be difficult to get enough pressure on, so cross one leg/ankle over the other to apply more of your body weight. Roll for 5-10 minutes per side.
5. Calves foam roller exercise
Ankle mobility affects sporting performance and the depth of your squat and can contribute to Achilles tendon pain. Rolling calves will improve all of the above. Calves respond better with the added pressure of the opposing leg crossed over the top. Roll for 5-10 minutes per side.
Get the Fit&Well Newsletter
Start your week with achievable workout ideas, health tips and wellbeing advice in your inbox.
Lucy is a freelance journalist specializing in health, fitness and lifestyle. She was previously the Health and Fitness Editor across various women's magazines, including Woman&Home, Woman and Woman's Own as well as Editor of Feel Good You. She has also previously written for titles including Now, Look, Cosmopolitan, GQ, Red and The Sun.
She lives and breathes all things fitness; working out every morning with a mix of running, weights, boxing and long walks. Lucy is a Level 3 personal trainer and teaches classes at various London studios. Plus, she's pre- and post-natal trained and helps new mums get back into fitness after the birth of their baby. Lucy claims that good sleep, plenty of food and a healthy gut (seriously, it's an obsession) are the key to maintaining energy and exercising efficiently. Saying this, she's partial to many classes of champagne and tequila on the rocks whilst out with her friends.