8 podcasts that will make your run go faster
Tune in to one of our fitness expert's favorite podcasts for serious running motivation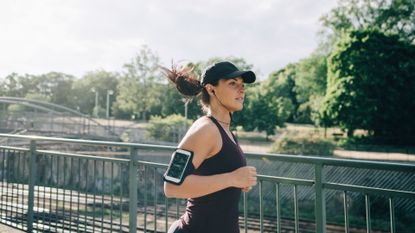 (Image credit: Getty Images)
Get the Fit&Well Newsletter
Start your week with achievable workout ideas, health tips and wellbeing advice in your inbox.
Thank you for signing up to Fit And Well. You will receive a verification email shortly.
There was a problem. Please refresh the page and try again.
Stream if you wanna go faster - at least, that's my advice. Since I became a dedicated runner during lockdown, podcasts have been my secret weapon in making runs pass by faster (or at least making them appear to do so).
I'm not alone. This year, with local lockdowns in place and gyms closed, running became the favored exercise of many - indeed, running shoe brand Hoka One One reported a 52% year-on-year surge in sales when the coronavirus pandemic first took hold.
Which has only made finding the perfect running companion (or distraction, depending on your point of view) more important than ever when it comes to popping on a pair of the best workout earbuds and tuning out.
Whilst many people plump for music on their runs, if you prefer something a little more stimulating then podcasts are the way to go. Below I've selected the best podcasts I've found have helped my runs go faster, all of which are available to download for free on various platforms.
Happy running - and listening!
Hosted by Emma Storey-Gordon, a personal trainer and online coach, this no-holds-barred podcast answers a bunch of questions regarding fat loss, gym workouts and diet. Episodes vary from 20 minutes to over an hour, so you're sure to find one that suits your distance. Plus, Emma answers honestly and doesn't just tell you what you might want to hear.
Hosted by runner and Lululemon ambassador Alison Feller, this super chatty podcast will put you in an instantly happy mood. Ali chats to special guests who have all incorporated running into their lives, in a bid to boost their wellness. From Peloton instructors to ultra marathon runners, you can certainly pick up some tips from this podcast. Episode lengths vary so get a few stacked up for the super long runs.
Defected is a British record label that focuses primarily on house music. Their podcast is filled with hour long episodes of continuous house tunes so while you're running, there's no chance of a random sob song coming on and slowing you down.
There's a reason why this podcast is the world's most listened to house music radio show; it's catchy, upbeat and also a great way to find new tracks that you might not have heard of before. If you want a podcast that will test the quality of the best workout earbuds, this is it!
With over 100 episodes to choose from, you're spoilt for choice with British radio presenter Jenni's addictive running podcast.
Every week she chats to special guests who all have one thing in common; a passion for running. From the likes of gold medallist Greg Rutherford to skincare queen Liz Earle, Jenni interviews avid runners to those who are just starting out.
Why do people run? What are their move-quicker secrets? And how often are they training? All is revealed in the RunPod. After all, if anything's going to make you run quicker, it's the motivation of other runners!
The host of BBC's Doctor in the House, Dr Rangan Chatterjee knows what he's on about when it comes to health. In his own words he says: 'Health has become overly complicated. I aim to simplify it'.
And this is exactly what he does. Here, Dr Chatterjee debunks common health myths to help boost your sleep, movement, diet and stress levels. In a year when good health has never been so vital, this podcast is essential listening.
Health equals happiness so give this a listen and slowly start to feel yourself bouncing along happily on your run.
Instagram star James Smith's podcast is described as 'everyday waffle from the fitness industry's no-nonsense personal trainer'. We disagree.
Rather than waffle, this podcast provides honest, achievable advice which we can incorporate into our own lives. James chats to a number of big names from the world of health and fitness including former SAS legend Jay Morton and ultra marathon sea swimmer, Ross Edgley.
OK, so there is a bit of waffle - but it's all really engaging and actually tends to be the waffle that's in your own head anyway. A great podcast to while away the hours on a long run.
He's amassed over one million followers on Instagram, and for good reason. At just 27, Steven Bartlett is CEO of UK company, Social Chain. In his podcast he gives an insight into life as an entrepreneur but the best bit is, it's all ad lib and unscripted.
He covers all topics from overcoming depression and anxiety, through to building up resilience, and also chats to special guests including Instagram fitness sensation Krissy Cela, TV presenter Jake Humphrey and Eddie Hearn.
Listen to this and you'll finish your run with a whole new outlook on life.
Love discussing food, nutrition and diet, without being led down a path of guilt and nonsense advice? Nutritionist Rhiannon Lambert is here to simplify things, providing evidence-based advice to help you live a healthy life.
There's no carb shaming, no diet fads and certainly no food bans. Here, Rhiannon discusses topics such as the best foods for sleep, how to overcome emotional eating and even boosting body confidence.
Every episode ends with a quick fire 'fact or fiction' round which sums it all up nicely and lets you take away simple facts, tips and tricks.
Get the Fit&Well Newsletter
Start your week with achievable workout ideas, health tips and wellbeing advice in your inbox.
Lucy is a freelance journalist specializing in health, fitness and lifestyle. She was previously the Health and Fitness Editor across various women's magazines, including Woman&Home, Woman and Woman's Own as well as Editor of Feel Good You. She has also previously written for titles including Now, Look, Cosmopolitan, GQ, Red and The Sun.
She lives and breathes all things fitness; working out every morning with a mix of running, weights, boxing and long walks. Lucy is a Level 3 personal trainer and teaches classes at various London studios. Plus, she's pre- and post-natal trained and helps new mums get back into fitness after the birth of their baby. Lucy claims that good sleep, plenty of food and a healthy gut (seriously, it's an obsession) are the key to maintaining energy and exercising efficiently. Saying this, she's partial to many classes of champagne and tequila on the rocks whilst out with her friends.