Boost your hip mobility in just seven minutes with this three-move yoga routine
The quick workout also targets your core and glute muscles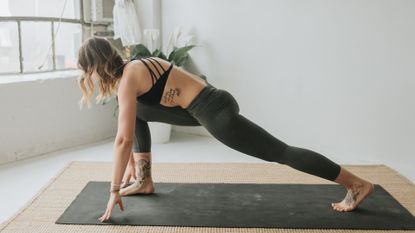 (Image credit: Getty Images)
Want to improve your hip health but don't have much time? Yoga and mindfulness teacher Esther da Costa has created a simple three-pose routine that opens up stiff hips while also developing your core muscles and activating your glutes—and it only takes seven minutes to do.
The workout is based on the half moon pose, which is similar to a single leg touchdown. There are three variations to try, each of which require hip mobility, balance and core strength to perform. Da Costa recommends repeating each move five to eight times. You don't need much equipment to do it, but a yoga mat will come in handy if you have one.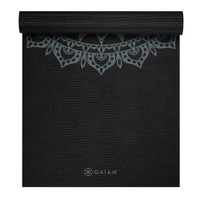 Gaiam premium 5mm printed yoga mat: was $29.99, now $19.99
Save $10 Black Friday is a month away but there are already some good deals on yoga mats. We like this ultra-cheap option from Gaiam yoga, which comes in at less than $20. At 5mm, it's a thick mat which provides plenty of support—ideal for beginners.
Watch Esther da Costa's seven minute yoga workout
Benefits of this workout
Sitting down for long periods of time can make your body feel stiff. You can counteract this by adding some movement and stretching into your day; this quick routine will help if your hips have become particularly inflexible after a week at your desk.
This routine will also fire up your mid-body muscles, particularly during the kneeling half moon kicks. Performing the other balancing movements will also require the core to be fully activated and switched on.
Why do you need a stronger core? It's essential for supporting the body through simple, everyday tasks like climbing stairs, getting out of bed and standing up straight. By contrast, a weak core can lead to problems including poor posture and lower back pain.
If you're a regular runner, developing your core strength could even help you run faster and more efficiently, according to a study in the Journal of Strength and Conditioning Research. It found that runners who did six weeks of core strength training increased their speed and achieved faster times in a 5000m race.
Need help picking a new mat? Our guide to the best yoga mats can help
Get the Fit&Well Newsletter
Start your week with achievable workout ideas, health tips and wellbeing advice in your inbox.
Maddy Biddulph is a freelance journalist specializing in fitness, health and wellbeing content. With 25 years in consumer media, she has worked as a writer and editor for some of the bestselling newspapers, magazines and websites in the US and UK.
She is also a qualified L3 personal trainer and weight loss advisor, and helps women over 40 navigate menopause by improving their physical and mental strength. At Maddy Biddulph Personal Training, she runs one-to-one and small group training for menopausal women who want to get fit to ease symptoms and feel like themselves again.