Build core strength and prevent lower back pain with this 20-minute abs workout
This 10-move Pilates-inspired abs workout strengthens your core without weights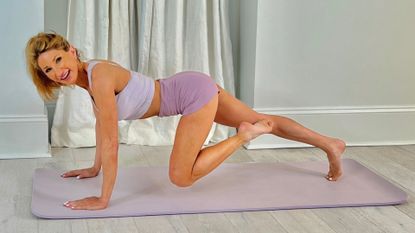 (Image credit: Grace Albin)
Over the years, there have been a lot of new products promising to help you build a rock-solid core. However, one of the best tools for building midsection muscle is free, and you already own it — your body.
This Pilates-style workout from fitness trainer Grace Albin (opens in new tab) will help you build comprehensive core strength with just 10 bodyweight moves. The only piece of equipment you might want is a yoga mat (opens in new tab) to cushion your spine.
"This workout is incredibly effective for building core muscles in a small amount of time," Albin told Fit&Well.
"These movements are for 360 degrees of waist-strengthening. In addition to the rectus abdominis [the technical term for the muscles responsible for the six-pack shape], the lower back and oblique muscles are also involved.
"Keeping those complimentary muscles balanced prevents injuries and improves posture."
Watch Albin demonstrate the 10 exercises in the videos below, and mirror her form to perfect your technique for each one.
Watch Grace Albin's 10-move core workout
To turn these 10 moves into a workout, Albin recommends performing them back to back as a circuit, completing 12 repetitions of each. If you're newer to core workouts, try doing two rounds of this circuit, or if you're looking for a more challenging session, finish four rounds in total.
This way, this workout has something to offer a variety of exercisers, and that's not the only way you can scale it to suit your fitness level.
"Even though it's an advanced routine that challenges experienced athletes, it is modifiable for new participants," Albin says. "For the first five exercises, beginners can modify these moves by keeping their hands on the floor for balance.
"The last five moves can by modified by keeping your feet on the floor rather than lifting them, as I demonstrated."
If you want to try this workout, Albin's top tip is to avoid rushing through the movements to finish as fast as possible. After all, she says, "form matters much more than speed".
"The best way to make this workout effective is to go slowly and glide smoothly through the exercises; your movements should be controlled, never jerky.
"Resist the urge to arch your lower back or slouch your upper back during any Pilates exercise. Instead, keep that spine and long and straight. Your neck should also feel comfortable and natural 100% of the time, never clenching or straining."
If you enjoyed this workout, you might want to try our Pilates plan for beginners (opens in new tab). Or, if you want more ways to train your trunk, take a look at our feature on the best core workout for beginners (opens in new tab).
Harry Bullmore is a fitness writer covering everything from reviews to features for LiveScience, T3, TechRadar, Fit&Well and more. So, whether you're looking for a new fitness tracker or wondering how to shave seconds off your 5K PB, chances are he's written something to help you improve your training.
When not writing, he's most likely to be found experimenting with a wide variety of training methods in his home gym or trying to exhaust his ever-energetic puppy.
Prior to joining Future, Harry wrote health and fitness product reviews for publications including Men's Health, Women's Health and Runner's World. Before this, he spent three years as a news reporter with work in more than 70 national and regional newspapers.