Build stronger legs with this six-move workout – all you need is a pair of dumbbells
Strengthen your legs in just 30 minutes with this dumbbell-only routine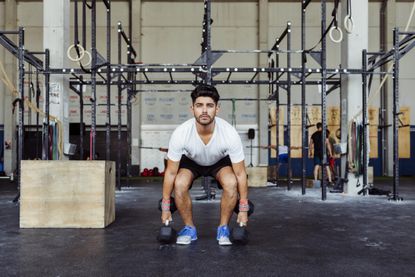 (Image credit: Future)
You don't need to spend ages in the gym if you want to build stronger legs. This minimal equipment leg workout can give you a lower body burn in 30 minutes using just a pair of dumbbells and six exercises.
Picking up a set of the best adjustable dumbbells is a great option for this leg day session as you can adjust the load to suit your fitness level. However, you can also give this workout a go with a pair of kettlebells at the gym, and even a couple of cans of beans or water bottles – so long as they're the same weight and add a little extra resistance to each exercise, they'll do the trick.
This lower body workout is designed by the London Fitness Guy, a fitness trainer known for his accessible, time-efficient approach to staying in shape. This session is no different, comprising six moves which are each performed for three or four sets of 15 reps. We recommend taking 60 second breaks between each set to allow your leg muscles to recover slightly so you can attack the next movement.
To see the proper form for each movement, check out the London Fitness Guy's video below.
Watch the London Fitness Guy's six-move lower body dumbbell workout
This workout is an example of a strength training session, stimulating your muscles through resistance-based movements followed by short periods of rest. This causes small tears to appear in your muscle fibers, which your body will repair (provided you consume enough protein through sources like the best protein powders). It's through this process that you can grow and strengthen your muscles.
If you're new to training with weights, we recommend picking a lighter set of dumbbells and performing three sets of each exercise in this workout. However, if you want to test yourself, try four sets of each movement with a heavier load – just make sure it's not so heavy that you compromise on form.
This workout can be added into any exercise schedule, whether you prefer to train at home or at the gym. We prescribe giving your legs at least one day to recover afterwards though, allowing them to adapt so you can hit your next session even stronger. In the meantime, try this upper body workout or give your muscles some well-deserved TLC with these anti-ageing yoga moves.
Harry Bullmore is a fitness writer covering everything from reviews to features for LiveScience, T3, TechRadar, Fit&Well and more. So, whether you're looking for a new fitness tracker or wondering how to shave seconds off your 5K PB, chances are he's written something to help you improve your training.
When not writing, he's most likely to be found experimenting with a wide variety of training methods in his home gym or trying to exhaust his ever-energetic puppy.
Prior to joining Future, Harry wrote health and fitness product reviews for publications including Men's Health, Women's Health and Runner's World. Before this, he spent three years as a news reporter with work in more than 70 national and regional newspapers.