Can an electric bike help get you fit?
How riding ebikes can help you reach your fitness goals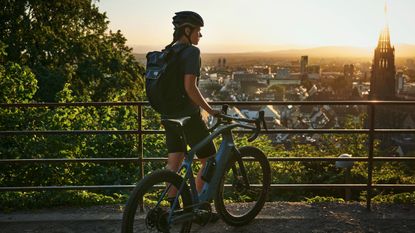 (Image credit: Tino Pohlmann)
Get the Fit&Well Newsletter
Start your week with achievable workout ideas, health tips and wellbeing advice in your inbox.
Thank you for signing up to Fit And Well. You will receive a verification email shortly.
There was a problem. Please refresh the page and try again.
When you think of cycling as a way to get fit, an electric bike might not seem like an obvious choice of bike to use. But having ridden both non-powered and electric bikes, I can tell you that riding an e-bike absolutely can help you towards your fitness goals.
There's a bit of a myth in some cycling circles that riding an electric bike is somehow cheating, or that you don't have to put any effort in because the motor does all the work for you. This is simply not true. Electric bikes are not electrical mopeds where you merely pedal for theatrical effect while the motor does all the work. Instead, the motor assists you. So if you don't pedal, the motor does nothing.
Once you start to pedal, the motor whirrs to life and helps you along. Because you have the help of that motor, you'll find that you can take on some seriously challenging hills that you may have had no chance of conquering on a traditional bike. And if you put some effort in, you will still feel somewhat out of breath at the top, which means you've got your heart rate up and burnt calories. The difference is that you'll reach the top of the hill without having to get off and push.
Additionally, e-bikes usually come with different modes, which offer different levels of assist. While you may start out on the powerful turbo mode, if you want to put a bit more effort into your ride you can dial down the assist to the less powerful eco mode, which means you'll have to pedal a bit harder to keep up the same speed. So if fitness is your goal, then just use the powerful modes for steep climbs and dial back down to a less powerful mode for gentler climbs and flat roads.
Finally, there are two more features that, when combined, can give you a serious workout. In the UK, the law states that an ebike can only assist you up to 15.5mph (25kph). Most reasonably fit riders would be able to easily get to 15.5mph on a flat road on a non-powered bike. On an ebike you'll hit that speed on the flat without breaking a sweat. Second, ebikes are much heavier than non-powered bikes due to the motor and battery: a non-electric road bike might weigh just 9kg while an ebike could easily weigh 15kg. So when you're riding your ebike at 15.5mph and the motor cuts out, be prepared to put some proper effort in if you want to go faster.
I'm a big fan of ebikes because if you're not at the peak of your fitness they give you the chance to get out and ride and build your fitness levels gradually. And if you're already in decent shape, they're great as you can massively extend the distances you ride, even perhaps swapping the car or public transport for an ebike for your daily commute.
I'm also a big fan of gravel bikes. A gravel bike takes the best bits of a road bike (light frame, road-oriented geometry and drop handlebars) and adds in the sort of wide, grippy tyres you might get on a mountain bike. What that leaves you with is a bike that can go pretty much anywhere, from road to gravel to dirt. Add in a motor and you have a bike that can carry you for hours. I've recently spent some time riding the new Canyon Grail:ON gravel ebike which went on sale on July 24, 2020. It's a superb bike and I recommend it wholeheartedly (you can read my Canyon Grail:On review at T3.com) but it has a hefty price tag. There are cheaper options, though, some of which I've listed below.
Get the Fit&Well Newsletter
Start your week with achievable workout ideas, health tips and wellbeing advice in your inbox.
Paul helped make the launch of Fit&Well.com happen. They work as the content director for Future's Tech Lifestyle group, directing other publications such as Tom's Guide, T3, and Total 911. They previously worked as Global Editor-in-Chief at T3, Global Editor-in-Chief at BikeRadar, Global Head of Content at AndroidPIT, and Global Editor-in-Chief of TechRadar.