Chris Hemsworth ate 4,500 cals a day to bulk-up for Thor - here's his diet plan
Building god-like muscle takes a lot of dedication and plenty of food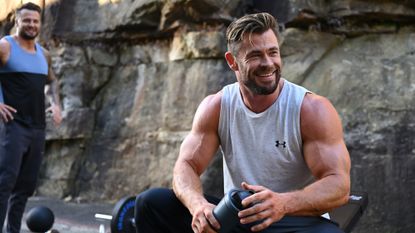 (Image credit: Centr)
If you've ever wondered how much food it takes to fuel Chris Hemsworth's Thor physique, a new interview with his trainer, Luke Zocchi, has shed some light on the star's high-performance diet.
In an interview with Centr (Chris's diet and workout platform, and one of our pick of the best fitness apps), Zocchi noted that the actor had to consume a massive 4,500 calories each day in order to fuel his gun-tastic transformation.
That equated to an eye-popping six meals during the day, plus a large evening meal. Many of Hemsworth's meals included added protein.
During the interview, Zocchi - pictured below with his superhero client - said that when training for the latest Thor movie, Hemsworth's goal was to be "the strongest, fittest and healthiest" he had ever been.
During filming, the actor would eat a meal every 2 to 3 hours, which meant up to six feeds while at work. He'd gain any remaining calories by 'eating a big dinner' after a workout.
His team prepared 450-calorie meals with 30-40% protein, with the remaining nutritional profile split equally between carbs and fat.
And if you think it was a case of scoffing the same high-protein menu day after day, think again - as it turns out Chris enjoys variety in his diet.
"Chris wouldn't eat the same thing every day and I can totally understand why when you're eating so regularly," Zocchi shared.
"For example, sometimes breakfast would be scrambled eggs with vegetables and toast, then the next day it would be steak, salad, and potatoes. When you're eating steak for breakfast, you know it's serious!"
And when he just couldn't face another bite? The star turned to high-cal but healthy smoothie recipes, no doubt whizzed up in his best blender.
"He would normally do two meals, then would find it hard to eat a third meal, so he would substitute in a smoothie with almond milk, frozen banana, a tablespoon of peanut butter, and two scoops of protein, which is a 400-500 calorie snack," Zocchi said, adding: "When you think you can't possibly fit another thing in, liquid is your friend."
As with many Hollywood actors, Chris Hemsworth does some of his own stunts, but the more technical or extreme moves are left to Bobby Holland Hanton, his body-double stuntman.
To convincingly double as Thor, he also had to train intensively and gain over 10kg of lean muscle in just 10 weeks. According to a recent profile with Centr, the stuntman worked out around three times per day and had to eat almost 4,000 calories - with similarly impressive results.
For both, the most crucial ingredient was recovery time. As Holland Hanton found, they had to be "early to bed every night so [they could] get lots of good quality sleep because that's when the muscle magic happens. If you don't give your muscles a chance to heal, they won't grow."
Of course, you don't have to be following the duo's extreme training regime to get into formidable shape. Grabbing a set of the best adjustable dumbbells is a great way to get started.
Then you can focus on learning how to deadlift with dumbbells for a whole-body workout. If you want to build Thor-inspired biceps, consider trying out the best workouts for arms as well - no hammer (just regular weights) required.
James is a London-based journalist and Fitness Editor at Fit&Well. He has over five years experience in fitness tech, including time spent as the Buyer's Guide Editor and Staff Writer at technology publication MakeUseOf. In 2014 he was diagnosed with a chronic health condition, which spurred his interest in health, fitness, and lifestyle management.
In the years since, he has become a devoted meditator, experimented with workout styles and exercises, and used various gadgets to monitor his health. In recent times, James has been absorbed by the intersection between mental health, fitness, sustainability, and environmentalism. When not concerning himself with health and technology, James can be found excitedly checking out each week's New Music Friday releases.