Develop muscle all over and boost your metabolism in just 20 minutes with this quick dumbbell workout
Build strength all over, work your core, and burn fat with this short, effective resistance training session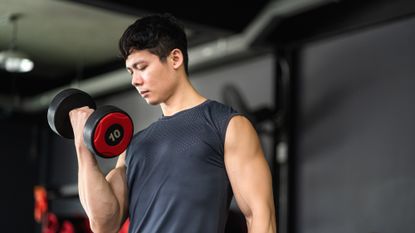 (Image credit: Getty Images)
If you've got two dumbbells and 20 minutes to spare then give this workout a go for a quick and effective session that'll work your whole body.
This routine was created by personal trainer Mikala Czubak (known by her social media handle Fitbymik) who has a Bachelor's degree in Kinesiology (the study of human body movement) and more than 10 years' experience in the fitness industry.
To take part, all you'll need is a yoga mat to soften your surface and two medium weighted dumbbells. To do this you can use fixed-load weights or invest in some of the best adjustable dumbbells which allow you to quickly change the load.
This is a no repeat workout, moving in intervals of 45 seconds of work and 15 seconds of rest. This keeps the intensity high, allowing you to challenge your muscles and raise your heart rate in just 20 minutes.
Accurate form is always important but especially so when working out using weights. To prevent injury, watch the trainer's form and demonstrations first before beginning the routine yourself.
Watch Fitbymik's dumbbell workout
You should always complete a warm-up before exercising. Luckily, Czubak's workout includes this as well as a cool-down. It's important to follow these to help your muscles prepare for, and recover from, the session.
It's an intense workout and manages to pack a lot into a short period. This training style is known as high-intensity resistance training (HIRT), where the aim is to train intensely in short bursts with minimal rest between exercises.
This works your muscles hard, but it also raises your heart rate, so you burn more energy than during an equivalent steady-paced routine. Sustaining this high heart rate also boosts your metabolism, so you'll burn fat throughout the day.
If you're not used to dumbbell workouts like this, it is possible you'll feel some muscle pain the next day. This is known as delayed-onset muscle soreness (DOMS) caused by tiny tears in your muscle fibers.
To help your muscles repair and grow after a tough workout, it's important to help your body recover, either by giving yourself a quick massage with a foam roller, or taking a post-workout shake with one of the best protein powders for weight loss.
Fancy giving some more dumbbell workouts a go? Fit&Well has you covered. Build upper body strength with this core strengthening workout routine, or build lower body muscle with this dumbbell workout.
Lois Mackenzie is a fitness writer producing news, features, buying guides and reviews for Fit&Well and sister site Coach. She is an avid runner and hill walker, and can often be seen sporting her trusty waist lead as she trains for her first marathon with her two border collies in tow. Lois has a Master's in Digital Journalism from Strathclyde University and was previously a senior SEO reporter at Newsquest Media Group.