Develop strong, toned arms with this five-move workout
Grab a pair of dumbbells and work through this simple session for stronger biceps and triceps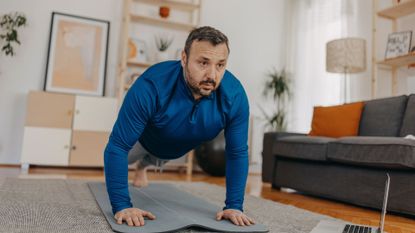 (Image credit: Getty)
It may not be t-shirt season, but that's no reason to shirk arm workouts.
Building your biceps and triceps needn't be overly complicated either, all you really need is some dumbbells twinned with a bit of grit and determination. The best adjustable dumbbells are an ideal choice for at-home training as you can easily change the weight to suit your strength, but a fixed-weight set will also work (as long as they're heavy enough to challenge your muscles).
If you have a set of weights to hand and fancy taking on a simple yet effective arm workout, this five-move session from UK-based fitness trainer James Stirling (AKA the London Fitness Guy) could be just the ticket.
Two exercises focus on the biceps, two target the triceps, and the final move is a spicy isometric hold which challenges you to hold the dumbbells in front of you with your elbows at 90 degrees, keeping your biceps under constant tension.
Perform each exercise back-to-back, completing 12 repetitions of each one (except the isometric hold, which is held for 30 seconds) until all five moves have been done once. Repeat this three times to finish the workout, resting as little as possible between exercises.
Watch Stirling's video below and mirror his technique to ensure you're performing each exercise correctly. Practice a few repetitions of each one to get a feel for the movements, then you'll be ready to jump into the workout.
Watch the London Fitness Guy's dumbbell arm workout
When you ask someone to show off their muscles, they'll usually bend their elbow to flex their biceps. However, the best arm workouts should activate both the biceps and triceps (the larger muscle on the back of your arm).
Working these muscles will not only help you build bigger, stronger arms, but it can also improve your performance when it comes to other muscle-building movements. This is because the triceps are used in compound exercises where you have to straighten the elbow joint, like the bench press and push-up.
If you're short on time, you can use the above workout as a standalone session. Or, if you have more time on your hands, you could add it to the end of an upper-body workout (like this chest and back workout) as a finisher to fully fatigue your arms.
The following day, you'll want to give your arms a break to allow them to recover. Why not try one of the best leg workouts, or get your cardio fix by hopping into the saddle of one of the best exercise bikes.
Harry Bullmore is a Fitness Writer for Fit&Well and its sister site Coach, covering accessible home workouts, strength training session, and yoga routines. He joined the team from Hearst, where he reviewed products for Men's Health, Women's Health, and Runner's World. He is passionate about the physical and mental benefits of exercise, and splits his time between weightlifting, CrossFit, and gymnastics, which he does to build strength, boost his wellbeing, and have fun.
Harry is a NCTJ-qualified journalist, and has written for Vice, Learning Disability Today, and The Argus, where he was a crime, politics, and sports reporter for several UK regional and national newspapers.